Die Söhne der großen Bärin
Director: Josef Mach, 92 Min., Color, Feature Film
Deutsche Demokratische Republik (DDR)
DEFA-Studio für Spielfilme, 1965
Film/Video Format

35 mm

Length in m

2673

Other Title

Dakotas - Die Söhne der großen Bärin

English Title

The Sons Of Great Bear

Premiere Date

Release Date (for Cinema)

Literary Source

Welskopf-Henrich, Liselotte: "Die Söhne der großen Bärin", Romanreihe

Releases

DVD + Blu-ray: ICESTORM Entertainment GmbH / www.icestorm.de
DVD: University of Massachusetts (UMASS) - DEFA Film Library / www.umass.edu/defa
Short Summary (English)
Although the Indians were assured their lands adjacent to the Black Hills by contract, the Whites want to expel them. Meanwhile, gold has been discovered there and the unscrupulous settler Red Fox demands of Mattotaupa, chief of the Bears group belonging to the Dakota tribe, to reveal to him the location of a cave with gold deposits. Mattotaupa refuses and is stabbed to death by Red Fox in the presence of his son Tokei-ihto. Lieutenant Roach orders Tokei-ihto to Fort Smith in order to negotiate. The son of the slain chief suspects that the Whites are planning an ambush, a fear that is confirmed when he encounters Red Fox there. Tokei-ihto refuses to move to a reservation in an infertile area with his tribal group and is incarcerated. When the Dakota Indians have been defeated and resettled, he is released. Tokei-ihto learns of the murder of the senior chief Tashunka-witko. Tokei-ihto now wants to fulfill his legacy, escaping with the subgroup of his tribe to the fertile areas beyond the Missouri in Canada. While the members of the Bears group cross the border; Tokei-ihto encounters Red Fox, his father's murderer. A final life-and-death battle ensues and Tokei-ihto emerges as victor.
Source: Progress Film-Verleih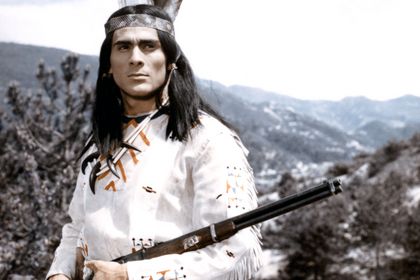 Film Crew
Script

Liselotte Welskopf-Henrich

Cast

Gojko Mitić (Tokei-ihto)
Jiri Vrstala (Red Fox)
Rolf Römer (auch: Rolf Specht) (Tobias)
Hans Hardt-Hardtloff (Major Smith)
Gerhard Rachold (Leutnant Roach)
Horst Jonischkan (Adams)
Jozef Majercik (Tschetansapa)
Jozef Adamovic (Tschopa)
Milan Jablonský (Donner vom Berge)
Hannjo Hasse (Pitt)
Helmut Schreiber (Ben)
José Lepetic (Bill)
Rolf Ripperger (Joe)
Brigitte Krause (Jenny)
Karin Beewen (Cate)
Ruth Kommerell (Tashina)
Kati Székely (Uinonah)
Zofia Slaboszowska (Mongshongshah)
Slobodanka Marković (Sitopanaki)
Hans Finohr (Hawandshita)
Adolf Peter Hoffmann (Mattotaupa)
Martin Tapák (Schonka)
Horst Kube (Thomas)
Walter E. Fuß (Theo)
Sepp Klose (Tashunka-witko)
Herbert Dirmoser (Alter Rabe)
Günter Schubert (Feldger)
Willi Schrade (Tatokano)
Franz Bonnet (Vater von Tashunka-witko)
Dietmar Richter-Reinick (Leutnant Warner)
Blanche Kommerell (Eenah)
Helena Mach (Heladik)
Brigitte Scholz (Sesoka)
Johannes Wieke (Zivilist)
Cordula Sonnabend (Blitzwolke)
Heiner Koch (Schaske)
Henry Hübchen (Hapedah)

Scenario

Liselotte Welskopf-Henrich

Script Editing

Margot Beichler
Hans-Joachim Wallstein

Sound

Georg Gutschmidt
Bernd Gerwien

Make-Up

Kurt Tauchmann
Christa (auch: Christel) Grewald

Unit Production Management

Heinz Fröhlich
Gerrit List

Dubbing (Dubbing Actor)

Karl Sturm (Tokei-ihto)
Fred Düren (Red Fox)
Ezard Haußmann (Tschetansapa)
Klaus Bergatt (Tschopa)
Lothar Schellhorn (Donner vom Berge)
Horst Schön (Bill)
Ursula Mundt (Mongshongshah)
Gertrud Adam (Sitopanaki)
Horst Manz (Schonka)
Short Summary (German)
Tokei-ihto, Häuptling der "Söhne der großen Bärin" vom Stamme der Dakota, ist von Leutnant Roach nach Fort Smith bestellt worden. Er vermutete einen Verrat der Weißen und hätte lieber mit Oberhäuptling Tashunka-witko gegen sie gekämpft, aber die Ältesten haben anders entschieden. In Begleitung seines persönlichen Feindes Fred Clark, genannt Red Fox, angekommen, bestätigt sich sein Verdacht. Die Weißen wollen die Indianer von ihrem vertraglich zugesicherten Land vertreiben, denn dort wurde Gold gefunden. Tokei-ihto verweigert das Einverständnis, in eine Reservation auf unfruchtbarem Gebiet zu ziehen, und wird eingekerkert. Als die kämpfenden Dakota geschlagen und umgesiedelt sind, lässt man ihn frei. Die anderen seiner Stammgruppe haben ihren Fehler inzwischen eingesehen, und mit Tokei-ihto beschließen sie, ins freie Kanada zu fliehen. Eine erbitterte Verfolgung setzt ein. Während der Stamm die Grenze passiert, stellt Tokei-ihto sich Red Fox zum letzten Kampf und besiegt ihn.
(Quelle: Das zweite Leben der Filmstadt Babelsberg. DEFA-Spielfilme 1946-1992)
Short Summary (Other Languages)
Selv om Sioux-stammen har rettighederne til deres forfædres land i Black Hills, vil de hvide nybyggere og herunder deres leder Red Fox tvangsforflytte stammen, da der bliver fundet guld i området. Indianerhøvdingen Mattotaupa bliver myrdet, og den amerikanske hær intervenerer til fordel for nybyggerne. Den unge indianerhøvding Tokei-ihto må føre sit folk over Missouri-floden i håb om et bedre liv i Canada og samtid hævne drabet på sin far. Red Fox, som udgiver sig for semi-indianer, får hvad han fortjener, men kendetegnede for 'The Sons of Great Bear' er, at der ikke sættes fuldstændig lighedstegn mellem onde karakterer og hvide nybyggere. Hovedrollen som Tokei-ihto spilles af den jugoslavisk fødte Gojko Mitić, som var indianer-stjerne i 11 film, produceret af det østtyske DEFA-studie. (Dänisch, Quelle: Dänisches Filminstitut)
Tokei-ihto, capo dei "figli della grande orsa", della tribù dei Dakota, viene convocato dal sottotenente Roach a Fort Smith. Presagendo un tradimento, l'indiano avrebber prefererito combattere con Tashunka-witko contro di loro, ma il gruppo dei saggi ha deciso diversamente. Accompagnato da Fred Clark, alias Red Fox, suo personale nemico, Tokei-ihto apprende che i bianchi vogliono cacciare gli indiani dalle loro terre in cui è stato trovato l'oro. Rifiutandosi di dare il proprio consenso al trasferimento della sua tribù in una riserva, Tokei-ihto viene messo in prigione e liberato solo dopo la sconfitta dei Dakota. Assieme ad altre tribù decide di fuggire in Canada. Ma prima di oltrepassare la frontiera, Tokei-ihto sconfigge il nemico Red Fox. (Italienisch)