Banquet For Achilles
Difficulties with the labouring classes
German Title: Bankett für Achilles. Schwierigkeiten mit der Arbeiterklasse
Roland Gräf
174 Pages, 19 Images
Paperback, 14,8 x 21 cm
Price: 5,00 Euro (plus shipping)
ISBN: 978-3-00-021061-7

Obtainable at: info@defa-stiftung.de
The Book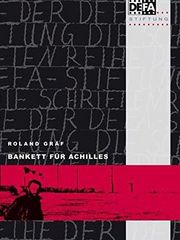 The director Roland Gräf reports about the DEFA film "Banquet For Achilles" (German: Bankett für Achilles) and the complications during it's production. Gräf found numerous records and newspaper articles from different archives that describe the film's exciting history.
The raw cut of "Banquet For Achilles" from January 1975 has been rejected by the DEFA management. The book describes how the film was produced and how it was finally released in cinemas on 20th of November 1975.
In "Banquet For Achilles", Gräf shoots one of the few realistic representations of the workers in the GDR. The film is appreciated for not telling a heroic story but instead focusing on the difficulties of a worker's everyday life.
Reading samples:
The Author
Roland Gräf is considered one of the DEFA's most important filmmakers. In the 1970s and 1980s, he made a couple of films that were characterized by their affinity to social reality. The director, who began his film career as a cameraman, orients himself on the documentary style.