Digitization
Digitizing DEFA films is crucial to ensuring that the cinematic legacy of countless filmmakers remains alive, and their films can be shown in the future.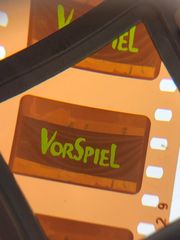 From 1946 to 1992, the DEFA Studios produced an impressive number of films on celluloid film. Some of the materials are now over 75 years old, and the passage of time and continuous screenings have left its mark on the analog material. Although everything has been stored in very good conditions, the shelf life of the sensitive analog materials is limited, endangering this audiovisual cultural heritage.
An additional pressure is that fewer and fewer venues that can play celluloid prints is on the decline. Since cinemas began being retrofitted at the start of the new millennium, flickering projectors have become a rare cinematic experience. These days, cinemas require high-definition (HD) materials, as do television stations and online services. SD quality film transfers from the 1990s and 2000s are no longer the standard and are considered outdated. Digitizing East Germany's film heritage is thus imperative, if we are to continue showing the films and preserving them as the important historic documents they are.
The DEFA Foundation cares for all the films ever made at the East German DEFA Studios, including c. 700 feature films, 450 short films, 950 animated films and 4,500 documentaries and newsreels. Almost all the original film and sound negatives for these films are available and stored at Germany's Federal Archive.
The digitization of this many films, according to new technical standards, is a major challenge, and not only financially. The complex and detailed digitization process also requires personnel and time. Without the support of the dedicated experts and funding of the Film Heritage Funding Program, which is financed by the German Federal Film Board (FFA) and federal and state governments, preserving East Germany's film heritage would not be possible. Thanks to their support, the DEFA Foundation has been able to digitize over 500 films since 2012.