The Imagined Nation
Identity, Body and Gender in DEFA Films
German Title: Die imaginierte Nation. Identität, Körper und Geschlecht in DEFA-Filmen
Bettina Mathes (Ed.)
338 Pages, 38 Images
Paperback, 14,8 x 21 cm
Price: 5,00 Euro (plus shipping)
ISBN: 978-3-00-020896-6

Obtainable at: info@defa-stiftung.de 
The Book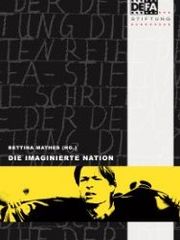 The book contains essays from academics and authors about the film program "Geteiltes Land – Geteilter Sex" at the Humboldt University Berlin in 2004.
Based on some important DEFA-Films, the book shows the connection between nationality, gender, sexuality and separate identity.
No nation can exist without imaginations. This can be studied particularly well in the GDR, whose DEFA film studios made several thousand feature and documentary films over five decades. Cinema in the GDR was quite deliberately used as an instrument for conveying a socialist image of man. Like any medium, cinema is not completely controllable. Images always say much more than their makers intend or the censors see in them. For this reason, DEFA films are not only testimonies of political propaganda; they are first-rate cultural and historical sources, providing unique insights into the collective unconscious of both the GDR and the united Germany.
Among the most important images in which the nation imagines itself are the body and gender relations: the nation wants to be loved, nationality seems as innate as gender. Using some of the most important DEFA films as examples, this anthology explores the close and often contradictory interrelationships between nation, body, gender, sexuality and identity.
In this volume, editor Bettina Mathes collects essays by several female authors and scientists, which were written on the occasion of the film series "Geteiltes Land - Geteilter Sex" in spring 2004 at the Humboldt University in Berlin.
Samples (in german):
The Editors
The editor and co-author Bettina Mathes is a professor at Pennsylvania State University. Her most recent publication "Under Cover. Das Geschlecht in den Medien" (transcript Verlag 2006) and together with Christina von Braun "Verschleierte Wirklichkeit. Die Frau, Der Islam und der Westen" (Aufbau Verlag 2007).
The Authors
The articles of this volume are written by Marilyn Reizbaum, Bettina Mathes, Grit Horn, Betheny Moore Roberts, Bettina Matthies, Ina Merkel, Andrea Stoisiek, Petra Mix, Katrin Sieg, Amie Siegel.