Abschied
Director: Egon Günther, 106 Min., Black-White, Feature Film
Deutsche Demokratische Republik (DDR)
DEFA-Studio für Spielfilme, 1968
Film/Video Format

35 mm

Length in m

2912

English Title

Farewell

Premiere Date

Release Date (for Cinema)

Literary Source

Becher, Johannes R.: "Abschied", Roman

Releases

DVD: ICESTORM Entertainment GmbH / www.icestorm.de
Short Summary (English)
After a period of maturation, the 17-year-old high school pupil, Hans Gastl, who comes from a sheltered upper middle-class home environment, finally decides to take leave of his past, social background and family. His process of mental maturing mirrors the autobiographical development of the poet, Johannes R. Becher. Gastl, like Becher, matures through confronting the contradictions of his historical epoch and his immediate social environment. While abhorring the malicous "pranks" of his fellowpupils Feck and Freyschlag. Hans feels emotionally drawn to Löwenstein, a Jewish pupil. Hans also very much enjoys his discussions with Hartinger, a working-class boy. However, he rejects the ideas and political position of his father: the district attorney, Dr. Gastl, who believes that war constitutes the highest moral command.
Source: PROGRESS Film-Verleih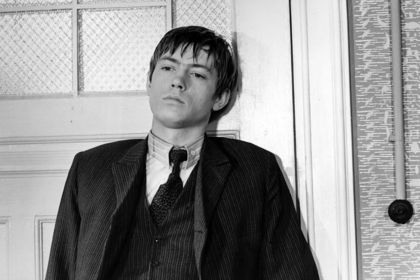 Film Crew
Script

Egon Günther
Günter Kunert

Cast

Rolf Ludwig (Vater Gastl)
Katharina Lind (Mutter Gastl)
Jan Spitzer (Hans Gastl)
Mathilde Danegger (Großmutter)
Doris Thalmer (Christine)
Heidemarie Wenzel (Fanny)
Klaus Hecke (Löwenstein)
Jürgen Heinrich (Hartinger)
Bodo Krämer (Feck)
Wilfried Mattukat (Freyschlag)
Annekathrin Bürger (Magda)
Carl Heinz Choynski (Kreibich)
Manfred Krug (Sack)
Rolf Römer (auch: Rolf Specht) (Hoch)
Ralf Herrmann (Junge Hartinger)
Jörg Jaenicke (Junge Feck)
Andreas Kaden (Junge Hans Gastl)
Holger Paek (Junge Freyschlag)
Fred Delmare (Xaver)
Martin Flörchinger (Bonnet)
Arthur Joop (Förtsch)
Hans Klering (Herr Neubert)
Wolfgang Greese (Waldvogel)
Wilhelm Gröhl (Arnold)
Heinz-Dieter Knaup (Prinz Alfons)
Hans Knötzsch (Lehrer Goll)
Helmut Schreiber (Kunik)
Hanna Donner (Frau Neubert)
Karin Freiberg (Wirtin)
Brigitte Lindenberg (Mutter Hartinger)
Eckhard Bilz (Spion)
Herbert Dirmoser (Spießer)
Heinz Laggies (Wachtmeister)
Fritz (auch: Friedrich) Links (Richter)
Erich Mirek (Vater Hartinger)
Ernst-Georg Schwill (Student)
Werner Wieland (Schuldirektor)
Reimar Johannes Baur (Erzähler)
Kurt Höhne (Tuchmann)
Heinz Kögel (König von Bayern)
Werner Kamenik (Lehrer)
Hans-Eberhard Gäbel (Fechtmeister)
Friedrich Neubert (Harmoniumspieler)
Renate Heymer (Dame)
Walter Schüppel (Beleuchter)
Gerd Thiemann (Manipulator)
Hilmar Bodendieck (Kellner)
Axel Triebel (Polizist)
Otto Krieg-Helbig (Ausrufer)
Willi Neuenhahn (Dicker)
Fritz Mohr (Lehrer)
Rosa Lotze (Dame)
Renate Prütz-Thiede (Dame)
Wolfgang Dietzel (Klavierspielender Knabe)
Sylvia Hafemann (Klärchen)
Bodo Schmidt (Lebemann)
Günter Kunert (Bildhauer)
Fritz Bogedon
Curt W. Franke
Karl-Ernst Sasse
Ilse Voigt
Gert Wien
Jochen Diestelmann

Music

Paul Dessau (Pseudonym: Peter Daniel, Henry Herblay)

Make-Up

Otto Banse
Christa Eifler

Unit Production Management

Horst Schmidt
Karlheinz Haarnagell

DEFA Photography

Peter Dietrich
Wolfgang Ebert
Short Summary (German)
Im August 1914, im allgemeinen Freudentaumel über den bevorstehenden Krieg, trifft der 17-jährige Münchner Bürgersohn Hans Gastl eine Entscheidung: Er wird diesen Krieg nicht mitmachen. Dieser Entschluss bedeutet eine Wende in seinem Leben, Abschied von seiner Klasse, seiner Familie. Seine Vorstellungen vom "Anderswerden" sind noch nebulös, doch sie verbinden sich mit einem sinnvollen Leben in einer gerechten Gesellschaft. Der Entschluss kommt nicht spontan: Schon als Kind rebellierte Gastl, der Sohn eines Oberstaatsanwalts, gegen die Saturiertheit und Scheinmoral im Elternhaus. In der Beziehung zu seinen Mitschülern Feck und Freyschlag war er ständig hin- und hergerissen zwischen Bewunderung für deren Mut und Abscheu vor den üblen Streichen. Er denkt an die Freundschaft mit dem Juden Löwenstein und dem Arbeiterjungen Hartinger und die tragisch endende Liebe mit der Prostituierten Fanny.
(Quelle: Das zweite Leben der Filmstadt Babelsberg. DEFA-Spielfilme 1946-1992)
Short Summary (Other Languages)
Nell'agosto del 1914, all'alba della prima guerra mondiale, il 17enne Hans Gastl, un giovane borghese di Monaco di Baviera, decide di non voler partecipare ai combattimenti e dare una svolta alla sua vita: preso congedo dagli amici e dai propri famigliari, aspira a una vita piena di soddisfazioni in una società più giusta. La sua decisione non stupisce: già da piccolo, giunto ai limiti della sopportazione, Hans, figlio di un procuratore generale, si era ribellato alla falsa moralità della sua famiglia. Nel rapporto con i compagni Feck e Freyschlag non sa mai se ammirare il loro coraggio o provare avversione per i loro brutti scherzi. Hans ripensa all'amicizia con Löwenstein, un ragazzo ebreo, con Hartinger, figlio di operai e al tragico amore con la prostituta Fanny. (Italienisch)
En août 1914, au milieu des transports de joie face à la guerre imminente, le jeune fils de bourgeois munichois de 17 ans Hans Gastl prend une décision: Il ne participera pas à la guerre. Cette décision représente un grand tournant dans sa vie, la séparation avec sa classe et sa famille. Sa conception d'"être diffèrent" est encore peu clair, mais pour lui, elle est proche d'une vie plein de sens dans une société juste. Cette résolution n'est pas soudaine: enfant déjà, le jeune Gastl, fils d'un procureur général, se rebellait contre la morale petit-bourgeois de ses parents. Il est tiraillé entre dégout face aux actes malhonnêtes de ses camarades Feck et Freyschlag et admiration pour leur courage. Mais pense plus à son amitié avec le juif Löwenstein et du jeune fils de travailleur Hartinger et la fin tragique de son amour pour la prostituée Fanny. (Französisch)