Addio, piccola mia
Director: Lothar Warneke, 123 Min., Color, Feature Film
Deutsche Demokratische Republik (DDR)
DEFA-Studio für Spielfilme, 1978
Film/Video Format

35 mm

Length in m

3361

Other Title

Georg Büchner

English Title

Addio, piccola mia

Premiere Date

Release Date (for Cinema)

Releases

DVD: ICESTORM Entertainment GmbH / www.icestorm.de
Short Summary (English)
In 1833, Georg Büchner, a medical student and young poet, left Straßburg for Hesse, Leaving behind his beloved Louise Jaeglé. Their parting, he imagined, would only be for a short period of time. However, Hesse, at this time, is a tempest of violent political battles, but without any basis of mass support, the rebellion is easily and bloodily nipped in the bud.
Source: PROGRESS Film-Verleih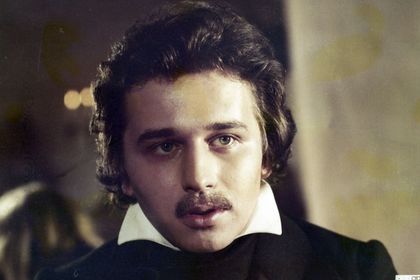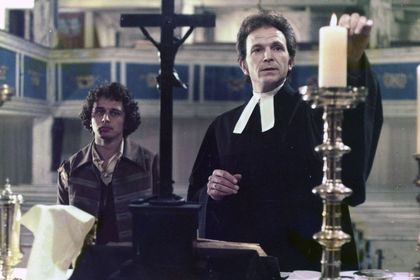 Film Crew
Cast

Hilmar Eichhorn (Georg Büchner)
Wolfgang Arnst (Redner)
Gertrud (auch: Trude) Bechmann (Oma Zeuner)
Hans Bergermann (Bauer)
Lydia Billiet (Tante Jules)
Ralph Borgwardt (Vater N.)
Peter Brang (Glaser)
Klaus Brasch (Nievergelter)
Carola Braunbock (Türmersfrau)
Ilona Brömmer (auch: Brömmer-Weiß) (Dame)
Justus Carrière (Böckel)
Carl Heinz Choynski (Simon)
Horst Drinda (Dr. Ernst Büchner)
Christoph Engel (Gendarm W.)
Jörg Foth (Musiklehrer)
Joachim Giering (Gendarm M.)
Detlef Gieß (Student)
Jörg Gillner (Wärter)
Gerhard Gläser (Bauer)
Gotthold Gloger (Arbeitgeber)
Werner Godemann (Onkel Reuse)
Manfred Gorr (Studiosus)
Klaus Grau (Auktionator)
Gabriele Grauer (Dienstmädchen)
Wolfgang Greese (Pfarrer Jaeglé)
Karin Gregorek (Frau Weidig)
Lothar Großmann (Ein Herr)
Thomas Gumpert (Ein Herr)
Gert Gütschow (Großherzog)
Michael Gwisdek (Ludwig Weidig)
Annemone Haase (Frau B.)
Harald Halgardt (Du Thil)
Edzard Haußmann (Sänger)
Jürgen Hessler (Gendarm)
Karl Ernst Horbol (Schütz)
Birgit Hubatschek (Elisabeth)
Heinz Hupfer (Familienvater)
Lars Jung (Minnigerode)
Friedrich-Wilhelm Junge (Prinz)
Peter Kalisch (Livrierter)
Uwe Karpa (Seifensieder)
Thea Keune (Köchin)
Heide Kipp (Verzweifelte)
Heinz-Dieter Knaup (Gerichtspräsident)
Dietrich Körner (Richter Georgi)
Christine Krüger (Färberin)
Roland Kuchenbuch (Wärter)
Marina Kuschel (Babette)
Heinz Laggies (Verwalter)
Maximilian Loeser (Zeuner)
Christa Loeser (Tante Reuse)
Ute Lubosch (Louise Jaeglé)
Jürgen Mai (Clemm)
Rainer Müller (Kuhl)
Curt Meißner (Wärter)
Willi Neuenhahn (Arbeiter)
Joachim Pape (Gendarm M.)
Albert R. Pasch (Reisender)
Peter Pauli (Ein Mann)
Wolfgang Penz (Hausdiener)
Hans-Otto Reintsch (Becker)
Otto Rosemeier (Postillon)
Antje Ruge (Mutter Minnigerode)
Rüdiger Schaar (Pole)
Erich Schäfer (Torschließer)
Frank Schenk (von Wittgenstein)
Udo Schenk (Blonder)
Carlo Schmidt (Berittener)
Christine Schorn (Caroline Schulz)
Heike Schroetter (Reisende)
Peter Sodann (Färber)
Hannes Stelzer (Pedell)
Gerd Staiger (Hygienedoktor)
Harald Warmbrunn (Präuninger)
Dieter Weise (Dr. Schönlein)
Karl-Heinz Welzel (Reisender)
Lutz Wesolek (Guillaume)
Theresia Wider (Zimmermädchen)
Helga Ziaja (Dienerin)
Horst Ziethen (Älterer)
Walter Ruge (Baader)
Bodo Schmidt (Wirt)
Rudolf Woschick (Soldat)
Emil Fuhrmann (Schuldiener)
Hans-Peter Körner (Bauer)
Konrad Wolf (Hörer)
Heiner Carow (Hörer)
Kurt Maetzig (Hörer)
Günter Reisch (Hörer)
Konrad Petzold (Hörer)
Gottfried Kolditz (Hörer)
Ralf Kirsten (Hörer)
János Veiczi (Hörer)
Lothar Warneke (Hörer)
Roland Oehme (Hörer)
Siegfried Kühn (Hörer)
Joachim Hasler (Hörer)
Herrmann Zschoche (Hörer)
Helga Schütz (Hörerin)
Erwin Stranka (Hörer)
Horst E. Brandt (Hörer)
Claus Dobberke (Hörer)
Ute Krüger (Marktfrau)
Rudolf Schindler (Schiffsoffizier)
Roland Lomas (Kind)
Luzi Weiding (Kind)
Marko Gierisch (Kind Alexander B.)
Matthias Arrlt (Kind Ludwig B.)
Mandy Geisendorf (Kind Luise B.)
Sabine Pohl (Kind Mathilde B.)
Steffen Thoms (Kind Wilhelm B.)

Assistant Director

Dieter Bölke (Assistenzregie)
Eleonore Dressel

Music

Johann Sebastian Bach
Wolfgang Amadeus Mozart
Gerhard Rosenfeld

Sound

Günter Witt
Gerhard Ribbeck

Musical Performance

Ekkehard Tietze (Orgel)
Rolf-Dieter Arens (Klavier)

Make-Up

Frank Zucholowsky
Brigitte Welzel
Karin Kirbst

Unit Production Management

Werner Teichmann
Peter Gärtner
Short Summary (German)
Der Medizinstudent und Dichter Georg Büchner verabschiedet sich 1833 in Straßburg von seiner Geliebten Louise und kehrt in seine hessische Heimat zurück. Er lernt dort den Pfarrer Weidig kennen, den Kopf einer revolutionären Verschwörung. Sie gründen die "Gesellschaft für Menschenrechte", schreiben den "Hessischen Landboten", eine Aufklärungsschrift für die Massen, die sie in ihre Aktivitäten einbeziehen wollen. Der Freund Minnigerode und Weidig werden verhaftet, der steckbrieflich gesuchte Büchner flieht nach Straßburg zu Louise, dort vollendet er "Dantons Tod". Er fühlt sich in Straßburg nicht sicher und geht nach Zürich. Büchner schreibt den "Woyzeck" und arbeitet wissenschaftlich. Am 21. Februar 1837 stirbt er im Alter von 23 Jahren an Typhus.
(Quelle: Das zweite Leben der Filmstadt Babelsberg. DEFA-Spielfilme 1946-1992)
Short Summary (Other Languages)
Nel 1833 il poeta tedesco Georg Büchner, all'epoca ancora studente di medicina a Strasburgo, saluta la sua amata Louise per rientrare in Assia. Qui conosce Padre Weidig, capo di una congiura rivoluzionaria. Insieme fondano la "Società per i diritti dell'uomo" e il "Messaggero dell'Assia" uno scritto che inneggia le masse alla rivolta. Mentre l'amico Karl von Minnigerode e Padre Weidig vengono catturati, Büchner fugge a Strasburgo da Louise e completa "La Morte di Danton". Non sentendosi al sicuro si trasferisce ad Amburgo, dove scrive il "Woyzeck" e lavora in ambito scientifico. Il 21 febbraio del 1873, a soli 23 anni, Büchner muore di tifo. (Italienisch)
Biographie du dramaturge allemand Georg Büchner. L'action se passe dans les années 1830. (Französisch)
(source: Archives Seine Saint Denis)