Affaire Blum
Director: Erich Engel, 109 Min., Black-White, Feature Film
Deutschland (Sowjetische Zone)
DEFA-Studio für Spielfilme, 1948
Film/Video Format

35 mm

Length in m

3009

Other Title

Aber eines Tages; Der Magdeburger Mord; Affaire Jacob Blum

English Title

The Blume Affair; The Blum Case

Premiere Date

Release Date (for Cinema)

Releases

DVD: ICESTORM Entertainment GmbH / www.icestorm.de
DVD: University of Massachusetts (UMASS) - DEFA Film Library / www.umass.edu/defa
Short Summary (English)
In detective-story style, The Blum Affair portrays conservative nationalism as it existed in Germany prior to Hitler's rule. The plot is based on an actual 1926 court case from Magdeburg, Germany, in wich a Jewish manufacturer was nearly convicted after being falsly accused of murder. One of the few German movies that dealt with the anti-Semitic roots of Nazism, this film remains an important historical document of the time.
Source: DEFA Film Library - Shadows and Sojourners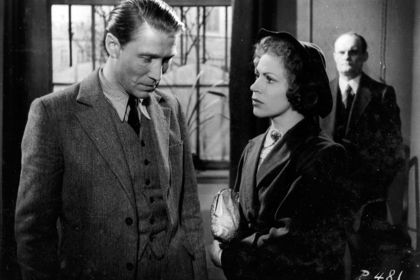 Film Crew
Camera

Friedl Behn-Grund
Karl Plintzner

Cast

Kurt Ehrhardt (Doktor Jacob Blum)
Karin Evans (Sabine Blum)
Hans Christian Blech (Karlheinz Gabler)
Gisela Trowe (Christina Burmann)
Helmuth Rudolph (Wilschinsky)
Alfred Schieske (Kriminalkommissar Otto Bonte)
Herbert Hübner (Landgerichtsdirektor Hecht)
Paul Bildt (Untersuchungsrichter Conrad)
Ernst Waldow (Kriminalkommissar Schwerdtfeger)
Hugo Kalthoff (Lorenz)
Arno Paulsen (Wilhelm Platzer)
Maly Delschaft (Anna Platzer)
Blandine Ebinger (Lucie Schmerschneider)
Friedrich Maurer (Rechtsanwalt Dr. Wormser)
Gerhard Bienert (Karl Bremer)
Renée Stobrawa (Frau Bremer)
Margarete Schön (Sophie Konrad)
Werner Peters (Egon Konrad)
Klaus Becker (Hans Fischer)
Hildegard Adolphi (Alma)
Albert Venohr (Waffenhändler)
Emmy Burg (Therese)
Jean Brahn (Merkel)
Arthur Schröder (Hinkeldey)
Richard Drosten (Zahnarzt)
Reinhard Koldehoff (Tischbein)
Herbert Malsbender (Redakteur)
Otto Matthies (Reporter)
Gertrud Boll (Dienstmädchen bei Blum)
Anita Hinzmann (Dienstmädchen bei Konrad)
Eva Bodden (Sekretärin bei Wilschinsky)
Lilli (auch: Lili; Lilly) Schoenborn (auch: Schönborn; Schönborn-Anspach) (Patientin)
Margarete Salbach

Assistant Director

Zlata Mehlers
Ludwig Lober

Make-Up

Kurt Aust
Lotte Schmidt-Kersten

Unit Production Management

Fritz Brix
William Neugebauer
Awards
Nationalpreis II. Klasse der DDR (1949): Nationalpreis II. Klasse - Erich Engel
Short Summary (German)
Ein authentischer Fall aus Magdeburg zur Zeit der Weimarer Republik. Der jüdische Fabrikant Jacob Blum wird aufgrund einer Aussage des Ganoven Gabler wegen Mordes an seinem Buchhalter verhaftet. Für den antisemitischen Untersuchungsrichter ist der Fall klar. Nur ein Jude kann der Täter sein. Weder Entlastungsbeweise noch die eindeutige Spur, die zu Gabler selbst führt, kann ihn umstimmen. Im letzten Moment gelingt es dem Kommissar Bonte, von Blums Freunden aus Berlin geholt, den wahren Täter, Gabler, mithilfe von dessen Freundin zu überführen. Der Justiz bleibt nur noch, den skandalösen Fall totzuschweigen.
Filmtext: R.A. Stemmle: Affaire Blum. Berlin: Deutscher Filmverlag 1948.
(Quelle: Das zweite Leben der Filmstadt Babelsberg. DEFA-Spielfilme 1946-1992)
Short Summary (Other Languages)
Il film narra la vera storia di Jacob Blum, costruttore ebreo di Magdeburgo ai tempi della Repubblica di Weimar. Accusato dal furfante Gabler di aver assassinato il suo contabile, Blum finisce in prigione. Il giudice istruttore, noto antisemita, non ha dubbi: l'assassino è un ebreo. Neanche gli elementi a discarico o le prove contro lo stesso Gabler gli fanno cambiare idea. Grazie alla testimonianza della fidanzata del furfante, il commissario Bonte, ingaggiato dagli amici berlinesi di Blum, dimostra la colpevolezza di Gabler. Alla giustizia non resta che sottacere lo scandaloso episodio. (Italienisch)