Alfons Zitterbacke
Director: Konrad Petzold, 65 Min., Color, Feature Film
Deutsche Demokratische Republik (DDR)
DEFA-Studio für Spielfilme, 1965
Film/Video Format

35 mm

Length in m

1843

English Title

Alfons Wobblecheek

Release Date (for Cinema)

Literary Source

Holtz-Baumert, Gerhard: "Alfons Zitterbacke, die heitere Geschichte eines Pechvogels", Jugendbuch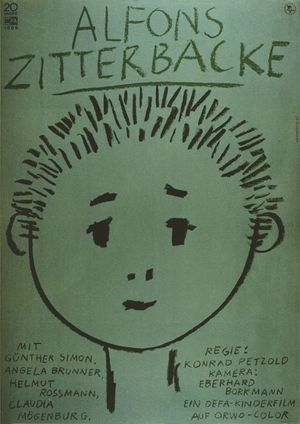 Short Summary (English)
Alfons Zitterbacke is an extremely imaginative and bright boy. He has a thirst for action and an overwhelming desire to do great things. In his dreams, his future takes on wonderful proportions: he envisions himself as either an astronaut or champion sportsman who is celebrated by his fans. Unfortunately, the reality of his day-to-day life is rather bleak an dreary. The other kids tease him because of his name: they rhyme Zitterbacke with "Hühnerkacke" (chicken shit). Naturally, these rhymes vex Alfons, and he often wishes that he had a surname like Müller, Schulze or Schmidt" Alfons also has problems with his father, who chastises him for his weak muscles. In order to please his father and become strong and muscular, the boy devours a hugh amount of eggs - additional problems for Alfons are the upshot of this. On every imaginable and unimaginable occasion, Alfons puts everyone's back up - despite his great pains and the active support of Micki, his girlfriend. In every encounter, Alfons ends up at the losing end - just when it seems as if Alfons will finally box himself out of the corner, something happens to throw a wrench in the works. Alfons and Micki have to concede that his situation will probably remain as it is for a long time to come"
Source: PROGRESS Film-Verleih
Film Crew
Script

Joachim Düring
Konrad Petzold

Cast

Helmut Rossmann (Alfons)
Claudia Mögenburg (Micki)
Günther Simon (Vater Zitterbacke)
Angela Brunner (Mutter Zitterbacke)
Helge Vollbrecht (Mäxchen)
Uwe Pietsch (Peter)
Wolfgang Behrendt (Bruno)
Detlef Wallenschuß (Detlef)
Erik S. Klein (Alfred)
Evamaria Bath (Alfreds Frau)
Marion Niklaus (Ilse)
Alois Herrmann (Opa Thielecke)
Werner Lierck (Besitzer der Geisterbahn)
Hans-Edgar Stecher (LKW-Fahrer)
Werner Kamenik (Tankwart)
Otto Zedler (Schalterbeamter)
Max Hohl (Straßenkehrer)
Hans Maikowski (Polizist)
Martin Wede (Motorradfahrer)
Else Wolz (Frau in der Gespensterbahn)
Alfhild Deleuil (Frau in der Gespensterbahn)
Beate Hanspach (Empfangsdame in der Poliklinik)
Horst Jonischkan (Lehrer Giertzig)
Sina Fiedler (Frau in der Straßenbahn)
Monika Mösing (Dünnes Mädchen)
Max Klingberg (Opa auf dem Rummelplatz)
Sylvia Petzold (Mädchen auf dem Rummelplatz)
Horst Kube (Karussellmann)
Regina de Reese (Mutter von Micki)
Justus Fritzsche (Polizist)
Andreas Petzold (Dreikäsehoch)
Marianne Epheser (Mutter des Dreikäsehochs)
Fredy Barten (Mann mit Obstkiepe)
Dietrich Kunze (Student)
Otto Karge (Hausmeister)
Nico Turoff (Zahnarzt)
Trude Brentina (Frau Tieftrunk)
H. Hüttig (Zwilling)
M. Hüttig (Zwilling)
Regina Herzog (Mutter von Ilse)
Anna-Maria Horn (Verkäuferin)
Beate Pammler (Mädchen in der Gespensterbahn)

Production Design

Erich Krüllke
Werner Pieske

Make-Up

Bernhard Kalisch
Karin Wilke

Unit Production Management
Short Summary (German)
Alfons ist ein aufgeweckter, fantasievoller Junge und träumt von der Zukunft, während er alle Hände voll zu tun hat, seine Alltagsprobleme zu lösen. Von den Kindern wird er wegen seines Namens verspottet, der Vater beanstandet seine schwachen Muskeln. Er will, dass sein Sohn ein "ganzer Mann" wird. Und der gibt sich reichlich Mühe, wobei ihm Freundin Micki eine treue Stütze ist. Wenn er aber an einem stillen Plätzchen ruht, dann versetzt er sich in die Zukunft, wo er sich als umjubelter Sportler oder gar Kosmonaut auf Weltraumabenteuern sieht.
(Quelle: Das zweite Leben der Filmstadt Babelsberg. DEFA-Spielfilme 1946-1992)
Short Summary (Other Languages)
Alfons è un ragazzo sveglio ed estroso: benché occupato a risolvere i problemi quotidiani, sogna del suo futuro. Mentre i bambini lo sfottono per il suo cognome, Alfons, aiutato dalla sua amica Micki, si sforza per soddisfare il desiderio del padre che, rinfacciandogli la sua debolezza, lo vorrebbe un uomo "tutto d'un pezzo". Quando riesce ad isolarsi in un posto tranquillo, Alfons immagina di diventare un giorno un atleta o un cosmonauta. (Italienisch)