Auf der Sonnenseite
Director: Ralf Kirsten, 101 Min., Black-White, Feature Film
Deutsche Demokratische Republik (DDR)
DEFA-Studio für Spielfilme, 1961
Film/Video Format

35 mm

Length in m

2752

Other Title

Wollen wir wetten; Große Sprünge

English Title

On The Sunny Side

Premiere Date

Release Date (for Cinema)

Releases

DVD: ICESTORM Entertainment GmbH / www.icestorm.de
Short Summary (English)
The story of the steel melter, Martin Hoff, whose factory delegates him to a drama school corresponds to the real life of the actor, Manfred Krug. Like his (film) hero, Krug works as a steel melter, does artwork, sings and acts, and is sent to drama school. Likehis hero, who behaves anarchically and conspicuously, Krug is soon expelled from school.
From this point on, the biography of Krug and Martin Hoff parts away. At the farewell party Hoff meets a young woman. She fascinates him completely, especially as ahe does not immediately give in to his bold charm but simply cold-shoulders Martin. He simply cannot take this treatment, especially because he has made a bet with some friends. He sets out to look for the unknown woman and actually manages to find her on a building site. To his amazement, she turns out to be the architect in charge, Ottilie Zinn. Martin has to go to great lengths to get Ottilie´s attention. His work is exemplary and he shows off his artistic talents. Finally, he succeeds in winning over the woman he admires. He also delegated to drama school once again.
Source: Progress Film-Verleih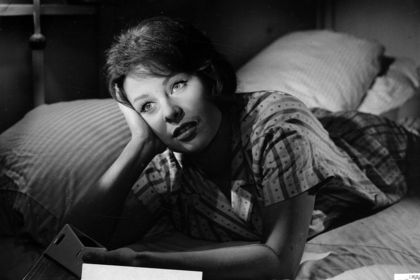 Film Crew
Script

Heinz Kahlau
Gisela Steineckert
Ralf Kirsten

Cast

Manfred Krug (Martin Hoff)
Marita Böhme (Ottilie Zinn)
Heinz Schubert (Schnepf)
Fred Mahr (Jens Krüger)
Gert Andreae (Matze Wind)
Günter Naumann (Raupenfahrer)
Peter Sturm (Intendant)
Carola Braunbock (Sprecherziehungsdozentin)
Gerd E. Schäfer (Schauspieldozent)
Werner Lierck (Direktor der Bau-Union)
Horst Friedrich (Abteilungsleiter LVB)
Willi Schwabe (THS Direktor)
Willi Neuenhahn (Zuschauer)
Rolf Herricht (Wettpartner)
Wilfried Weschke (Wettpartner)
Rolf Römer (auch: Rolf Specht) (Wettpartner)
Horst Buder (Wettpartner)
Heinz Lyschik (Wettpartner)
Evelyn Schüler (Wettpartnerin)
Erika Dobslaff (Wettpartnerin)
Werner Senftleben (Kulturhausleiter)
Kurt Mehlhausen (Kulturfunktionär)
Gerd Löschke (Kulturfunktionär)
Karl-Ernst Sasse (Rhythmik-Dozent)
Hans-Eberhard Gäbel (Fechtdozent)
Otto Stark (Pfeifender)
Manfred Dorschan (Schlafender)
Peter Dommisch (Klatscher)
Axel Triebel (Portier der "Oase")
Karin Reif (Chansonette / Zugmädchen)
Erika Schädlich (Matzes Mädchen)
Walter E. Fuß (Postbote)
Reinhard Michalke (Junger Arbeiter)
Hans Hardt-Hardtloff (LKW-Fahrer)
Gisela Schulze-Markgraf (Aprilmädchen)
Fred Delmare (Aufsichtsbeamter)
Joachim Tomaschewsky (Taxifahrer)
Gerty Heymann (Alte mit Hund)
Brigitte Nietzner (Zugmädchen)
Waltraud Katner (Zugmädchen)
Ingeborg Holan (Kantinenfrau)
Barbara Teuber (Verwaltungsmädchen)
Margot Boestel (Verwaltungsmädchen)
Christa Uhlig (Verwaltungsmädchen)
Lothar Wenzel (Zimmerkollege)
Jutta Müller (Mutter mit Kind)
Horst Müller (Vater des Kindes / Chorleiter)
Astrid Much (Bardame)
Veronika Axmann (Mädchen mit hübschen Beinen)
Willi Krohn (Kellner)
Wilhelm Weber (Intendantsmitarbeiter)
Richard Nendel (Intendantsmitarbeiter)
Jutta Wachowiak (Sängerin / Schauspielschülerin)
Lucia Gallo (Tanzmeisterin)
Gisela Rimpler (Sängerin)
Helga Böhm (Sängerin)
Erika Grünberg (Duschmädchen / Tänzerin)
Inge Otto (Duschmädchen / Tänzerin)
Traute Anders (Duschmädchen / Tänzerin)

Assistant Camera

Hans-Joachim (auch: Jochen) Zillmer

Music

Andre Asriel
Die Jazz-Optimisten (Musikgruppe)

Musical Performance

Manfred Krug (Gesang)
Die Jazz-Optimisten (Musikgruppe)

Make-Up

Klaus Grobbecker
Karin Geißler

Unit Production Management

Consulting

Erich Stockmann (Technik)
Awards
Heinrich-Greif-Preis I. Klasse (1962): Heinrich-Greif-Preis I. Klasse - Heinz Kahlau
Heinrich-Greif-Preis I. Klasse (1962): Heinrich-Greif-Preis I. Klasse - Ralf Kirsten
Heinrich-Greif-Preis I. Klasse (1962): Heinrich-Greif-Preis I. Klasse - Gisela Steineckert
Heinrich-Greif-Preis I. Klasse (1962): Heinrich-Greif-Preis I. Klasse - Hans Heinrich
Heinrich-Greif-Preis I. Klasse (1962): Heinrich-Greif-Preis I. Klasse - Manfred Krug
Kunstpreis der FDGB (1962): Kunstpreis des FDGB - Gisela Steineckert
Short Summary (German)
Stahlschmelzer Martin Hoff ist ein begabter Musiker und Schauspieler, weshalb ihn sein Betrieb auch zur Schauspielschule delegiert. Da er aber auch äußerst selbstbewusst und ziemlich aufmüpfig ist, fliegt er bald wieder. Bei seiner Abschiedsfeier begegnet er einer zauberhaften Frau, die ihn jedoch einfach stehen lässt - wegen seines aufdringlichen Verhaltens. Eine Wette mit Freunden und auch eine innere Stimme veranlassen ihn, die Unbekannte zu suchen. Auf einer Baustelle soll sie sein, und da findet sich Martin nun ein. Er ist nicht wenig überrascht, als ihm die Gesuchte als Bauleiterin Ottilie Zinn entgegentritt. Martin zieht alle Register seines Können, arbeitsmäßig und künstlerisch, um Ottilie zu erobern, was ihm letztlich auch gelingt. Außerdem bekommt er wieder eine Delegierung zur Schauspielschule.
(Quelle: Das zweite Leben der Filmstadt Babelsberg. DEFA-Spielfilme 1946-1992)
Short Summary (Other Languages)
Martin Hoff, operaio in un'acciaieria, è anche un bravissimo musicista e attore. L'azienda lo manda per questo alla scuola di recitazione, ma il ragazzo, caparbio ed egocentrico, si fa presto espellere. Alla sua festa d'addio incontra una donna incantevole infastidita, però, dai modi insistenti del ragazzo. Una scommessa con gli amici, ma soprattutto l'impellenza di rivederla, spingono Martin a cercare la bella sconosciuta. La ritroverà su un cantiere edile diretto dalla stessa Ottilie Zinn. Pur di conquistarla Martin sfodera le sue capacità lavorative e artistiche. Con la ragazza fra le braccia, Martin verrà anche ripreso alla scuola di recitazione. (Italienisch)