Aus dem Leben eines Taugenichts
Director: Celino Bleiweiß, 95 Min., Color, Feature Film
Deutsche Demokratische Republik (DDR)
DEFA-Studio für Spielfilme, 1973
Film/Video Format

35 mm

Length in m

2617

English Title

Excerpts From The Live Of A Good - For - Nothing

Premiere Date

Release Date (for Cinema)

Literary Source

von Eichendorff, Joseph Freiherr: "Aus dem Leben eines Taugenichts", Novelle

Releases

DVD: ICESTORM Entertainment GmbH / www.icestorm.de
Short Summary (English)
The protagonist, a ne´er-do-well, is a romantic young bloke who leaves his father's mill and sets out on his own to conquer the world. His pockets are empty, but he has a vivid imagination, a nice voice and a violin under his arm. Along the way, he meets two beautiful women, and they take him to their castle. Warbling his little songs, he works in the palace gardens, always cheerful, and everyone takes pleasure in seeing him.
He, however, doesn't want to remain in the confined world of the castle's inhabitants. He becomes a tax collector, but because of the monotonous nature of his work, his throat constricts and he losses his singing voice. He falls in love with a beauty, and because she appears to be unattainable, his desire and artistic sensibility is animated and he consequently learns how t sing again. Finally, our ne´er-do-well end up in Italy, and there he runs into Rinaldo Rinaldini's band of robbers. And once again he meets "his" beauty, but this time he is finally able to win her heart, and together they set out to find a country that is congenially predisposed towards musicians and their songs.
Source: PROGRESS Film-Verleih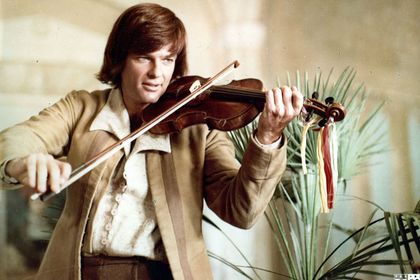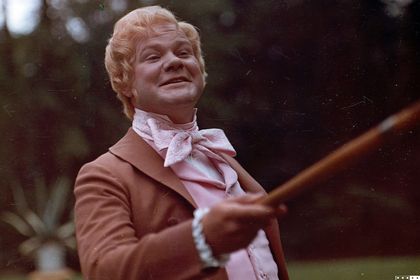 Film Crew
Film Editing

Monika Schindler (geb. Behrendt)

Cast

Arno Wyzniewski (Maler)
Christel Bodenstein (Guido - Flora)
Peter Biele (Graf Leonhard)
Walter Lendrich (Gärtner)
Hannes Fischer (Portier)
Ottofrizt Gaillard (Zierlicher Herr)
Jochen Kretschmer (Zyniker)
Gheorge Gima (Kleiner Mann)
Roland Knappe (Herr Klarinett)
Werner Schoch (Amtmann)
Dean Reed (Taugenichts)
Anna Dziadyk (Die Schöne)
Hannelore Elsner (Gräfin)
Monika Woytowicz (Kammerjungfer)
Gerry Wolff (Rinaldo Rinaldini)

Scenario

Wera Küchenmeister
Claus Küchenmeister

Make-Up

Willi Gesche
Marianne Lange
Waldemar Pokrywka

DEFA Photography

Wolfgang Ebert
Alexander Kühn
Short Summary (German)
Auf der Suche nach dem Glück durchstreift ein junger Mann die Lande - kein Geld in den Taschen, aber die Violine im Arm und den Kopf voller Lieder. Zwei schöne Frauen nehmen ihn mit aufs Schloß, wo er sich als Gärtner verdingt. Doch die Schloßgesellschaft behagt ihm nicht, und er zieht weiter. Die Tätigkeit als Zolleinnehmer, die er anschließend ausübt, läßt ihn trübsinnig werden. Von einer schönen Frau aus der Lethargie geweckt, zieht er abermals weiter. In Italien schließt er sich der Bande von Rinaldo Rinaldini an und will fortan nur noch für sie seine Lieder spielen. Da begegnet ihm wieder ein Schöne, und diesmal ist es die große Liebe - mit ihr will er das Land seiner Wünsche suchen.
(Quelle: Das zweite Leben der Filmstadt Babelsberg. DEFA-Spielfilme 1946-1992)
Short Summary (Other Languages)
Alla ricerca di fortuna, un giovane si mette in viaggio. E' senza un soldo, ma con un violino e tante canzoni in testa. Due belle signore lo portano con sé al castello, dove lavora come giardiniere. Stanco della vita di corte, il ragazzo si rimette in cammino. Il nuovo impiego come esattore gli mette malinconia e così, attirato dalla bellezza di una donna, riprende a viaggiare. In Italia si aggrega alla banda di Rinaldo Rinaldini e giura di voler suonare solo per loro. Proprio in quel momento incontra l'amore della sua vita, con cui cercherà il Paese dei suoi sogni. (Italienisch)