Bankett für Achilles
Director: Roland Gräf, 88 Min., Color, Feature Film
Deutsche Demokratische Republik (DDR)
DEFA-Studio für Spielfilme, 1975
Film/Video Format

35 mm

Length in m

2416

English Title

Banquet For Achilles

Premiere Date

Release Date (for Cinema)

Releases

DVD: ICESTORM Entertainment GmbH / www.icestorm.de
Short Summary (English)
For thirty years, Karl Achilles has been working at the chemical collective in Bitterfeld. But now his last day as a master at the plant has come. He is about to retire; even if Karl, who finds ending his working life difficult, wanted to stay on, it would not be possible. He has to make way for younger graduates. His rich work experience cannot prevent this. Achilles now wants to make up for what he has neglected in thirty working years: a close family life, tending to the garden and his hobby - floriculture.
Karl's colleagues have arranged a farewell dinner for the retiring master at an outdoor restaurant. But on his last day of work, before the farewell dinner, he meets all sorts of people: both colleagues and people, who do not work at the plant. Two young amateur filmmakers try to capture Karl's rich and contradictory life cinematographically. A mosaic of the biography of a person who found fulfilment in his work and now has to look for the meaning of his life anew.
Source: PROGRESS Film-Verleih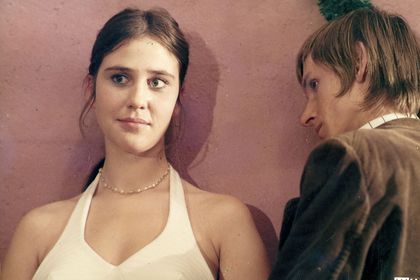 Film Crew
Film Editing

Monika Schindler (geb. Behrendt)

Cast

Erwin Geschonneck (Achilles)
Elsa Grube-Deister (Marga)
Gert Gütschow (Walura)
Jutta Wachowiak (Ursel)
Fred Delmare (Kanarienvogel)
Ute Lubosch (Beate)
Carl Heinz Choynski (Bahre)
Dieter Franke (Bäuerlein)
Christa Löser (Frau Röder)
Horst Lebinsky (Rogalla)
Wolfgang Winkler (Baumann)
Fred-Arthur (auch: Fred-Artur) Geppert (Wirt)
Walter Bechstein (Wollschläger)
Walter Lendrich (Gärtner)
Hermann Beyer (Dr. Huhn)
Hilmar Baumann (Gartennachbar)
Günter Rüger (Wiesner)
Gudrun Ritter (Frau Bäuerlein)
Karl Thiele (Kurt)
Lothar Tarelkin (Klaus)
Katharina Bürger (Kind Steffi)
Gerd Grasse (Roßberg)
Johannes Maus (Berghahn)
Carmen-Maja Antoni (BGL-erin)
Eberhard Rossa (Mope)
Gerhard Jittler (Arbeiter)
Ellen Weber (Sängerin)
Dieter Bellmann (Sprange)
Georg Binder (Wolga-Fahrer)
Martin Stephan (Junger Arbeiter)
Erich Petraschk (Reinhold)
Rudi Reich (Arbeiter)
Frank Kalcher (Musiker)
Fritz Jucht (Musiker)
Wolfgang Gramsall (Werkschutz)
Frank Zucholowsky (Friseur)
Theresia Wider (Reisende)
Gerald Trümmel (Junger Arbeiter)
Ilona Ringer (Trauergesellschaft)
Hannes Stelzer (Trauergesellschaft)
Herbert Gebuhr (Trauergesellschaft)
Ernst Schulz (Schlafender Alter)
Christiane Meyer (Mopes Schwester)
Hannes Schönemann (Ein Mann)
Harald Seime (Pantomime)

Assistant Director

Gabriele Garsoffky
Dieter Schönemann

Assistant Camera

Dietram Kleist
Frank Bredow

Sound

Peter Foerster
Gerhard Ribbeck

Make-Up

Frank Zucholowsky
Brigitte Welzel

Unit Production Management

Helmut Bransky
Thomas Bürger
Short Summary (German)
Karl Achilles, 65 Jahre alt und dreißig Jahre im Chemie-Kombinat Bitterfeld tätig, geht in Rente. Bitterkeit befällt ihn an seinem letzten Arbeitstag. Er ist noch kräftig und aktiv, aber er weiß auch, dass er den Anforderungen, die an ihn als Meister gestellt werden, nicht mehr gewachsen ist. Deshalb geht er freiwillig. Ein Jüngerer, der Hochschulabsolvent Bahre, macht schon Probesitzen auf Achilles' Arbeitsplatz. Bereichsleiter Walura gibt ein Bankett zur ehrenvollen Verabschiedung - nebst Prämie und der üblichen Lobhudelei. Und zu Hause laufen die Vorbereitungen für die private Feier am Abend, von seiner neuen Lebensgefährtin organisiert. Auch die Kinder sind gekommen. Das alles macht Achilles den Abschied vom Betrieb, den er seit 1945 mit aufgebaut hat, nicht leichter. Auf seinem Weg durch die Stadt macht er Rast auf einer Parkbank, neben zwei Rentnern. Er zerstört sein Blumenbeet auf der Industriehalde, wo er besonders widerstandsfähige Blumen züchtete, um die verunstaltete Landschaft zu verschönen. Er flüchtet von der Familienfeier. Am nächsten Morgen geht er zu seinen Blumenbeeten und richtet sie wieder her.
(Quelle: Das zweite Leben der Filmstadt Babelsberg. DEFA-Spielfilme 1946-1992)
Short Summary (Other Languages)
Le départ à la retraite de Karl Achilles, 65 ans, après trente ans d'activité dans le combinat chimique de Bitterfeld. (Französisch: Cinémathèque francaise, 2003)
Les derniers jours de la vie active d'Achilles, travailleur au combinat chimique de Bitterfeld, et après la petite fête qui suit sa mise à la retraite après 30 ans de bons et loyaux services. (Französisch)
(source: Archives Seine Saint Denis)
Il 65enne Karl Achilles, per trent'anni operaio nel complesso chimico di Bitterfeld, va in pensione. L'ultimo giorno di lavoro prova un senso d'amarezza: benché ancora forte e attivo, sa di non essere più all'altezza del suo incarico. Pronto a prendere il suo posto è Bahre, un giovne appena diplomato. Per congedarsi onorevolmente dal suo dipendente, Walura, il direttore del reparto, gli organizza un banchetto con tanto di ricompensa e lodi smodate. A casa fervono i preparativi per la festa in famiglia, organizzata dalla nuova compagna di Karl e alla quale parteciperanno i figli di lui. L'addio dall'azienda che lui stesso, nel 1945, ha aiutato a costruire non è facile. Passeggiando per la città si ferma su una panchina accanto a due pensionati. Decide di distruggere un'aiuola fiorita, che lui stesso aveva coltivato vicino alla discarica industriale per abbellire il paesaggio e rinuncia alla festa in famiglia. L'indomani torna alla aiuola per sistemarla. (Italienisch)