Beethoven - Tage aus einem Leben
Director: Horst Seemann, 108 Min., Color, Feature Film
Deutsche Demokratische Republik (DDR)
DEFA-Studio für Spielfilme, 1976
Film/Video Format

35 mm

Length in m

2949

Other Title

Der Compositeur

English Title

Beethoven - Days in a Life

Premiere Date

Release Date (for Cinema)

Releases

DVD: ICESTORM Entertainment GmbH / www.spondo.de/defa
DVD: University of Massachusetts (UMASS) - DEFA Film Library / www.umass.edu/defa
DVD + Blu-ray: Goethe-Institut
Short Summary (English)
In the time-line depicted in the film (1813 - 1819), Ludwig van Beethoven is at the height of his fame. As an internationally recognized composer, his work is widely played and greatly celebrated by the public - but, his domestic circumstances are nevertheless depressing. His hearing continually deteriorates until finally he becomes totally deaf, and also his relationship with his two brothers is exceedingly strained: Johann and Karl could never really understand their brilliant brother, and Ludwig held his two brothers in contempt because of their petty bourgeois airs. And finally, not only Beethoven's constant shortage of money of his "undying love" anguished and depressed him.
As Beethoven did not attempt to hide his deeply ingrained democratic beliefs, the reactionary Metternich regime's spies constantly monitored his every move. Beethoven's problems were compounded by his unruly temperament as well as his deafness which caused him to be even more mistrustful - indeed, he often felt misunderstood even by his friends. Beethoven, in a fatherly manner, was fondly attached to his nephew Karl, to whom he finally dedicates his life. Beethoven also found consolatory joy and inspiration in the beauty of nature. And now we finally see Beethoven, in concert with the music from the 9th Symphony which is being created - once again, he's on the lookout for a new flat - as he moves out of his historical epoch into ours.
Source: PROGRESS Film-Verleih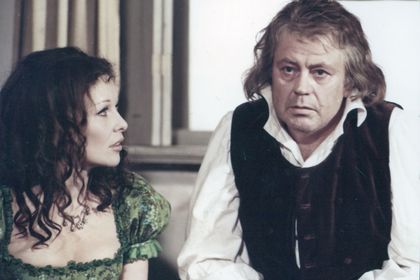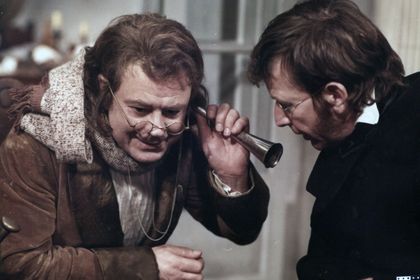 Film Crew
Script

Günter Kunert
Horst Seemann

Cast

Donatas Banionis (Ludwig van Beethoven)
Stefan Lisewski (Johann van Beethoven)
Hans Teuscher (Karl van Beethoven)
Renate Richter (Josephine Brunswiek)
Eberhard Esche (Sekretär Beethovens)
Fred Delmare (Mälzel)
Katja Paryla (Beethovens Haushälterin Johanna)
Günter Wolf (Geheimer)
Leon Niemczyk (Rasumowski)
Erika Pelikowsky (Haushälterin)
Günter Rüger (Notenstecher)
Gerry Wolff (Breuning)
Herwart Grosse (Kralovetz)
Marita Böhme (Konzertsängerin S.)
Rolf Hoppe (Schuppanzig)
Peter Köhncke (Polizeioffizier)

Assistant Director / Co-Director

Peter Bohnenstengel
Ulrich Kanakowski

Sound

Gerhard Ribbeck
Klaus Wolter

Musical Performance

Berliner Staatskapelle (Musikgruppe)
DEFA-Sinfonie-Orchester
Gewandhausorchester Leipzig
Suske Quartett (Musikgruppe)

Make-Up

Horst Schulze
Brigitte Welzel
Frank Zucholowsky
Short Summary (German)
Die Episoden aus dem Leben und Schaffen des auf der Höhe seines Ruhmes stehenden Komponisten umfassen die Jahre 1813 bis 1819 in Wien. Beethovens sinfonisches Werk "Wellingtons Sieg oder Die Schlacht bei Vittoria" wird vom Publikum begeistert aufgenommen. Seine Lebensverhältnisse aber sind eher bescheiden und bedrückend. Ständiger Geldmangel, Streit mit der Haushälterin , Bevormundung durch die beiden Brüder Johann und Karl, Bespitzelung wegen seiner demokratischen Gesinnung, zunehmende Taubheit. Seine Vereinsamung wird immer größer, er erinnert sich seiner "unsterblichen Geliebten" . Dennoch ist seine Schaffenskraft nicht gebrochen. Er trägt sich mit dem Gedanken zu seiner "Neunten Sinfonie" , unter deren Klängen er im Schlußbild in die Gegenwart schreitet.
(Quelle: Das zweite Leben der Filmstadt Babelsberg. DEFA-Spielfilme 1946-1992)
Short Summary (Other Languages)
Gli episodi narrati si riferiscono agli anni di maggior successo a Vienna, dal 1813 al 1819. L'opera sinfonica "La vittoria di Wellington" è accolta con entusiasmo dal pubblico. Ciononostante le sue condizioni di vita sono modeste e opprimenti: la continua mancanza di soldi, i litigi con la padrona, il controllo esercitato dai fratelli Johannes e Karl, i pedinamenti per la sua indole democratica, la crescente sordità. Sempre più in solitudine, Beethoven ricorda la sua "amata immortale". Ma la sua forza creativa creerà la "nona sinfonia", sulle cui note Beethoven avanzerà fino al presente. (Italienisch)
Quelques jours, quelques moments de la vie de Beethoven, tels qu'il les a vécus ou aurait pu les vivre dans les années de 1813 à 1819. (Französisch)
(source: Archives Seine Saint Denis)