Bis dass der Tod euch scheidet
Director: Heiner Carow, 96 Min., Color, Feature Film
Deutsche Demokratische Republik (DDR)
DEFA-Studio für Spielfilme, 1978
Film/Video Format

35 mm

Length in m

2629

Other Title

Und wenn sie nicht gestorben sind...

English Title

Until Death Do Us Part

Premiere Date

Release Date (for Cinema)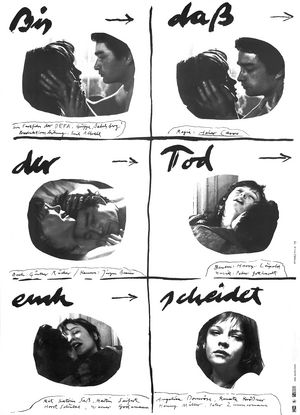 Short Summary (English)
Two young people, Sonja and Jens, both of them working, both of them in socially secure positions, love each other. Their wedding and subsequently married life is heaven on earth in there eyes - especially because they already own a flat and a baby will soon complete their happiness. But then Sonja realizes that being a housewife and a mother does not fulfill her. She misses the contact with colleagues and would like to work again.
Jena is entirely opposed to this idea. Having been deprived of a harmonious family life in his childhood, he now demands substitute a harmonious married life from Sonja. She seems to submit to his demand, but then she takes the examination required to become a skilled worker without his knowledge. Jens feels betrayed and becomes violent. Because he regrets this, he wants to prove himself and starts a training course which he is not able to master. Out of this despair, he begins to drink. Sonja works secretly. Panic-stricken, she has an abortion. When Jens learns about it, he loses his self-control completely. At this point, Sonja only feels hatred for him. When Jens drinks from a bottle in which Sonja knows that there is some caustic detergent, she does not stop him. But Jens survives. Sonja cannot deal with her guilt. Finally, she openly admits it, also to Jens. Maybe the tragedy will help both of them to mature and make a new start…
Source: PROGRESS Film-Verleih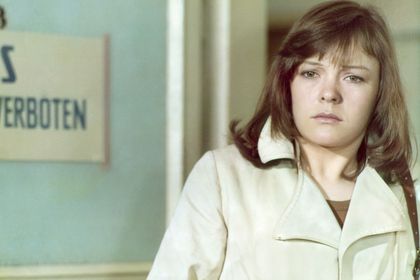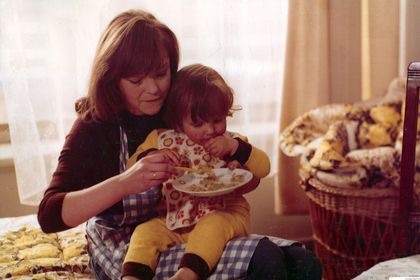 Film Crew
Script

Heiner Carow
Günther Rücker

Cast

Katrin Sass (Sonja)
Martin Seifert (Jens)
Angelica Domröse (Jens´ Schwester)
Renate Krößner (Tilli)
Horst Schulze (geb. 1921) (Verkaufsstellenleiter)
Werner Godemann (Brigadier)
Henny Müller (Sonjas Mutter)
Alfred Struwe (Jens´ Schwager)
Berko Acker (Erik)
Peter Zimmermann (Conny)
Carl Heinz Choynski (Volkspolizist)
Michèle Marian (Connys Freundin)
Lina Patermann (Oma)
Elisabeth Andrees (Tillis Mutter)
Irmgard Kuhlmey (Eriks Mutter)
Joachim Lukas (Eriks Vater)
City (Musikgruppe)
Angela Fensch (Schmales Mädchen)
Roland Günther (Lehrer)
Oskar Daum (Mann mit Hut)
Ullrich Bartel (Arzt)
Silvia Schwabe (Schwester)
Anneliese Thünert (Schwester)
Annemarie Latzel (Schwester)
Jutta Röhl (Schwester)
Mathias Schmidt (Passant)
Elvira Buth (Sonjas Freundin)
Sabine Hentschel (Sonjas Freundin)
Renate Römer (Sonjas Freundin)
Sabine Altmann (Sonjas Freundin)
Elke Bannier (Sonjas Freundin)
Axel Mösges (Kumpel)
Jürgen Kaschula (Kumpel)
Lutz Gransee (Kumpel)
Christian Wolter (Kumpel)
Axel Dieme (Kind)
Raik Schiller (Kind)
Gerda Freund (Standesbeamtin)
Lieselotte Kühn (Briefträgerin)

Assistant Director

Jörg Andrees
Thomas Heise

Assistant Camera

Dietram Kleist
Waltraut Pathenheimer

Script Editing

Barbara Rogall
Dieter Wolf

Music

Peter Gotthardt
Antonin Dvořák

Costume Design

Horst Rosette
Renate Herrmann

Make-Up

Ingeborg Merten
Monika Mörke
Eberhard Neufink

Props

Werner Giesler
Axel Sorgens
Wolfgang Piwon

Unit Production Management

Dieter Krüger
Karl-Heinz Rüsike
Theo Scheibler
Awards
I. Internationales Spielfilmfestival der DDR Karl-Marx-Stadt (1980): Preis für Drehbuch - Günther Rücker
Filmpreis des Jugendmagazins "Neues Leben" (1980): Für das Jahr 1979
Short Summary (German)
Jens, Bauarbeiter, Mitte zwanzig, und Sonja, Verkäuferin, lieben sich, heiraten, haben eine eigene Wohnung. Als Sonja ein Kind bekommt, gibt sie ihre Arbeit auf. Nach einiger Zeit fühlt sie sich zu Hause unterfordert und isoliert. Sie will wieder arbeiten, aber Jens ist strikt dagegen, denn das entspräche nicht seiner Vorstellung von einem harmonischen Familienleben, auf das er als Kind verzichten musste. Sonja fühlt sich bevormundet, die Spannungen nehmen zu. Sie macht heimlich die Facharbeiterprüfung. Als Jens davon erfährt, ist er außer sich und schlägt zu. Die Kollegen wollen helfen, haben aber keinen Erfolg. Die Ereignisse eskalieren. Jens trinkt, verliert jegliche Beherrschung, als er von einer Abtreibung Sonjas hört. Ihre einstige Liebe hat sich in unbändigen Hass verwandelt. Sonja hindert ihn nicht, aus einer Seltersflasche zu trinken, in der sich ein Reinigungsmittel befindet. Als Jens daraufhin in akuter Lebensgefahr schwebt, besinnen sich beide auf ihre Liebe.
(Quelle: Das zweite Leben der Filmstadt Babelsberg. DEFA-Spielfilme 1946-1992)
Short Summary (Other Languages)
Jens, ventenne operaio edile, e Sonia, commessa, si amano, si sposano e comprano casa. Diventata mamma, Sonia smette di lavorare, ma la vita da casalinga non le si addice. Vorrebbe riprendere a lavorare, ma Jens è rigorosamente contrario, puntando alla sua idea di armoniosa vita familiare, che gli è stata negata da bambino. Sonja sentendosi prevaricata decide comunque di affrontare l'esame di specializzazione. Il rapporto si fa teso: Jens è fuori di sé e la picchia. Neanche l'intervento dei colleghi riporta il sereno. Jens inizia a bere e perde il controllo quando scopre che Sonja ha abortito. Il loro amore si è tramutato in odio irrefrenabile. Sonja non impedisce al marito di bere da una bottiglia di acqua minerale piena di detergente. Solo quando Jens sarà in pericolo di vita, i due torneranno ad amarsi. (Italienisch)