Blauvogel
Director: Ulrich Weiß, 96 Min., Color, Feature Film
Deutsche Demokratische Republik (DDR)
DEFA-Studio für Spielfilme, 1979
Film/Video Format

35 mm

Length in m

2635

English Title

Blue Bird

Premiere Date

Release Date (for Cinema)

Literary Source

Jürgen, Anna: "Blauvogel", Erzählung

Releases

DVD: ICESTORM Entertainment GmbH / www.icestorm.de
Short Summary (English)
It is the year 1756. On the North American continent, the English and the French are engaged in a dogged war over the control of Indian lands. Near the St. Lawrence River, settler John Ruster has established a new home. One day, however, his nine-year-old son George wanders away from home and suddenly finds himself in the midest of a pitched battle. The Iroquois Indian tribe kidnaps the young boy and brings him to safety. Midday Sun and Small Bear who have lost their own child, decide to adopt the boy. In a complicated ritual, George receives the name "Bluebird" and is accepted into the Turtle family. George, however, not only misses his own family but he also has difficulties adjusting to Indian customs. Only after several failed escape attempts does he slowly begin to accept the Indian's way of life. As one among equals, he learns to understand the ideas, feelings and customs of his new Indian family. When soldiers attack the Iroquois, George does not hesitate to side with the Indians against the soldiers. In 1763, the English defeat the French. And all kidnapped whites are to be exchanged for captured Indians. Thus, it comes to pass that George, who now has reached young manhood, returns to his own parents. However, he can no longer understand their way of thinking or their way of life. George leaves his family anew, never to return.
Source: PROGRESS Film-Verleih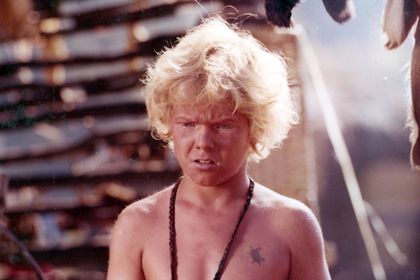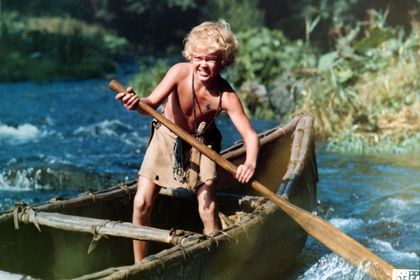 Film Crew
Cast

Robin Jaeger (George als Kind)
Gabriel Oseciuc (George als Erwachsener)
Jutta Hoffmann (Mildred Ruster)
Kurt Böwe (John Ruster)
Jan Spitzer (Andrew)
Niculina Ursaru (Malia als Kind)
Anca Szonyi (Malia als Erwachsene)
Ileana Mavrodineanu (Mittagssonne)
Gheorghe Patru (Kleinbär)
Petrut Traian (Weißhaar)
Gheorghe Haliu (Fuchs)
Valentin Loghin (Rauchiger Tag)
Virgil Platon (Bote)
Vasile Popa (Kidnapper)
Adrian Mihai (Kidnapper)
Gerd Nissler (Alfons)
Violeta Andrei (Alfons Mutter)
Nicolae Peniuc (Der Hund)
Rašvan Vasilescu (Schwarzer Falke)
Inge Krüger (Caroline als Kind)
Anja Scheinert (Caroline als Erwachsene)
Anja Rochow (Elisabeth als Kind)
Marina Krogull (Elisabeth als Erwachsene)
Kasper Plenert (Peter, 2 Jahre)
Alexander Kade (Peter, 9 Jahre)
Ion Angelescu-Moreni (Händler)
Karl-Hermann Risse (Burt)
Norbert Speer (Pastor)
Egon Günther (Archie)
Daffe Aissata (Afrikanerin)
Gheorghe Simonka (Englischer Offizier)
Andrei Ralea (Grenzer)
Gheorghe Cărstea (Grenzer)
Jörg Foth (Maler)
Uwe Rückert (McGary)
David Peet (Hunter)

Assistant Camera

Norbert Kuhröber
Dietram Kleist

Sound

Helga Kadenbach
Rosemarie Linde
Christian Müller

Make-Up

Kurt Adler
Detlef Schulze

Unit Production Management

Manfred Peetz
Peter Schlaak

Dubbing (Dubbing Actor)

Eberhard Prüter (George als Erwachsener)
Renate Rennhack (Mittagssonne)
Ulrich Voss (Kleinbär)
Günther Polensen (Weißhaar)
Hannjo Hasse (Rauchiger Tag)
Walter Wickenhauser (Bote)
Waltraut Kramm (Alfons Mutter)
Fred Ludwig (Händler)
Awards
18. Internationales Festival für Kinder- und Jugendfilme Gijon (1980): Preis der UNICEF
Short Summary (German)
Mitte des 18. Jahrhunderts ist die Familie Ruster nach Amerika eingewandert. Der Vater, ein ehemaliger Knecht, führt mit seiner Familie ein hartes Siedlerleben. Eines Tages wird der neunjährige George, sein zweitjüngster Sohn, von Irokesen entführt. Er wird von einer Indianerfamilie anstelle ihres verstorbenen Sohnes angenommen und bekommt auch dessen Namen: Blauvogel. Der Junge hat Heimweh und Schwierigkeiten, sich den Sitten der Indianer anzupassen. Allmählich aber beginnt er sich wohlzufühlen, avanciert zum gleichberechtigten Mitglied dieser Gesellschaft. Als der Stamm von weißen Siedlern überfallen wird, empfindet er sich den Indianern zugehörig. Nach dem Sieg der Engländer gegen die Franzosen 1863 sollen alle Weißen gegen gefangene Indianer ausgetauscht werden, auch George/Blauvogel. Er entscheidet sich, bei den Indianern zu bleiben.
(Quelle: Das zweite Leben der Filmstadt Babelsberg. DEFA-Spielfilme 1946-1992)
Short Summary (Other Languages)
A metà del XVIII secolo la famiglia Ruster emigra in America, ma la vita da coloni non è facile per questa famiglia di servitori. Un giorno George, il penultimo dei figli di soli nove anni, viene rapito dagli irochesi. Una famiglia di indiani lo adotta al posto del figlio morto, ribattezzandolo con il suo stesso nome: Uccello blu. Il bambino ha nostalgia di casa e difficoltà ad adattarsi alle tradizioni degli indiani, ma lentamente inizia a sentirsi a proprio agio e diventa un membro effettivo di quella società. Di fronte a un attacco dei coloni bianchi, il ragazzo si schiera dalla parte degli indiani. Con la vittoria degli inglesi sui francesi nel 1863, tutti i bianchi devono essere scambiati con prigionieri indiani. Ma George/Uccello blu deciderà di restare dagli indiani. (Italienisch)