Bürgschaft für ein Jahr
Director: Herrmann Zschoche, 92 Min., Color, Feature Film
Deutsche Demokratische Republik (DDR)
DEFA-Studio für Spielfilme, 1981
Film/Video Format

35 mm

Length in m

2545

English Title

On Probation

Premiere Date

Release Date (for Cinema)

Literary Source

Schulze-Gerlach, Tine: "Bürgschaft für ein Jahr", Roman
Short Summary (English)
Nina Kern, a young woman in her mid-twenties, is to be deprived of the guardianship of her three children. She hasn't had a regular job since she and her husband divorced, she spends her nights with dubious friends and neglects her children.
Faced with the alternative of either changing her life completely or losing her children, Nina choses the children, who had in the meantime been put up in a children's home as a result of a temporary court enactment.
Friends and neighbours are prepared to help her overcome the difficulties of a new start. There's Werner, a shy, modest man, driver by profession, who lives with her, and there's one of her neighbours. But first and foremost, there's the music teacher, Mrs. Behrend and Mr.Müller, a civil engineer, who both vouch for her, become her official sponsors and see to it that Nina keeps in touch and on good terms with her children. Before long, Nina is allowed to take in her youngest child, Mireille, again.
Nina is by nature a very light-hearted person, and when her old "acquaintances" look her up, she almost forgets all her good resolutions. She falls in love with handsome Heier, although for him she is only a casual affair. Werner leaves her, and again she is all alone and tries to drown her sorrows in alcohol.
Mrs. Behrend, however, who has been devotedly looking after Nina, does not leave her in the lurch even now.
Nina knows, that she must go the last stretch on the way to a better life by herself. She decides to give her permission for the adoption of Jacqueline, with whom she always had great difficulties
Source: PROGRESS Film-Verleih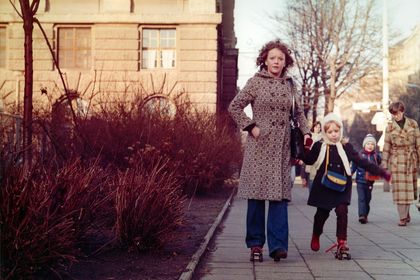 Film Crew
Film Editing

Monika Schindler (geb. Behrendt)

Cast

Katrin Sass (Nina)
Monika Lennartz (Irmgard Behrend)
Jaecki Schwarz (Peter Müller)
Jan Spitzer (Werner Horn)
Christian Steyer (Heiner Menk)
Heide Kipp (Frau Braun)
Barbara Dittus (Heimleiterin)
Ursula Werner (Frau Müller)
Angelika Mann (Renate)
Solveig Müller (Jugendfürsorgerin)
Gabriele Methner (Fränzi)
Dieter Montag (Kern)
Heinz Behrens (Herr Braun)
Uwe Kockisch (Dieter)
Werner Tietze (Vorsitzender Jugendausschuß)
Peter Bause (Heimleiter)
Michaela Hotz (Mireille)
Cornelia Förder (Jacqueline)
Enrico Robert (René)
Trude Brentina (Frau Krampe)
Gerd Michael Henneberg (Dr. Heinemann)
Dieter Knust (Einlasser)
Michael Kann (Junger Mann)
Werner Kanitz (Mann in Kneipe)
Heidemarie Schneider (Junge Frau)
Roland Seidler (Mann mit Schokolade)
Gertraud Klawitter (Vertreterin Jugendausschuß)
Burkhard Plettau (Schöffe)
Annette Felber (Mutter)
Willi Scholz (Direktor Musikschule)
Sebastian Reuter (Musikschüler)
Bernd Stegemann (Mitglied der Clique)
Marie Gruber (Mitglied der Clique)
Michael Lucke (Mitglied der Clique)
Petra Dobbertin (Mitglied der Clique)
Gabor Dorsch (Mitglied der Clique)

Assistant Director

Evelyn Opoczynski (Assistenzregie)
Eleonore Dressel (Regieassistenz)

Assistant Camera

Hans-Joachim Knospe
Waltraut Pathenheimer

Sound

Klaus Tolstorf
Helga Kadenbach (Tonmischung)

Make-Up

Kurt Tauchmann
Christa (auch: Christel) Grewald

Props

Günter Nielbock
Andreas Pfeiffenberger

Unit Production Management

Paul Lasinski
Werner Teichmann
Awards
2. Nationales Spielfilmfestival der DDR Karl-Marx-Stadt (1982): Kostümgestaltung - Anne Hoffmann
2. Nationales Spielfilmfestival der DDR Karl-Marx-Stadt (1982): Preise für Regie - Herrmann Zschoche
2. Nationales Spielfilmfestival der DDR Karl-Marx-Stadt (1982): Szenographie - Dieter Adam
32. Internationale Filmfestspiele Westberlin (1982): Preis für die beste Darstellung einer weiblichen Rolle - Katrin Sass
32. Internationale Filmfestspiele Westberlin (1982): Preis der OCIC
DDR-Kritikerpreis des Verbandes der Film- und Fernsehschaffenden (1982): Bester DEFA-Gegenwartsfilm des Kinoprogrammes 1981
Short Summary (German)
Nina Kern ist eine Frau Ende zwanzig, geschieden, der das Sorgerecht für ihre drei Kinder, die sich bereits im Heim befinden, wegen Vernachlässigung aberkannt werden soll. Obwohl sie das Versprechen, ihren Lebenswandel zu ändern, mehrmals gebrochen hat, gibt man ihr eine letzte Bewährungschance. Ein Bauingenieur und eine Lehrerin übernehmen die Bürgschaft. Sie helfen Nina, wenigstens die jüngste Tochter, die fünfjährige Mireille, aus dem Heim zu bekommen. Nina bemüht sich, der Arbeit in einer Putzbrigade der U-Bahn gewissenhaft nachzugehen und der Tochter eine gute Mutter zu sein. Sie hat Erfolge, muss aber auch Rückschläge verkraften. Obwohl ihre Bewährung am Ende positiv ausfällt, glaubt sie der ganzen Schwere der Belastung nicht gewachsen zu sein. Schweren Herzens verzichtet sie auf die Tochter Jaqueline, mit der sie nicht zurechtkommt.
(Quelle: Das zweite Leben der Filmstadt Babelsberg. DEFA-Spielfilme 1946-1992)
Short Summary (Other Languages)
Nina Kern, una donna divisa di quasi trent'anni accusata di negligenza, sta per perdere la custodia dei suoi tre figli, ora in un collegio. Nonostante abbia più volte infranto la promessa di cambiare stile di vita, ottiene l'ennesimo periodo di prova. Garanti per lei sono un ingegnere edile e un'insegnante che l'aiutano a riprendersi almeno Mireille, la più piccola dei suoi figli di soli 5 anni. Nina s'impegna per essere una buona madre, lavorando in una colonna di pulizia nella metropolitana. Nonostante i successi, non mancano le batoste: concluso con successo il periodo di prova, la giustizia non crede che la donna possa sopportare il peso del suo incarico. A malincuore Nina dovrà rinunciare alla figlia Jaqueline, con la quale non va d'accordo. (Italienisch)