Das blaue Licht
Director: Iris Gusner, 81 Min., Color, Feature Film
Deutsche Demokratische Republik (DDR)
DEFA-Studio für Spielfilme, 1975
Film/Video Format

35 mm

Length in m

2224

English Title

The Blue Light

Premiere Date

Release Date (for Cinema)

Literary Source

Gebrüder Grimm: "Das blaue Licht", Märchen

Releases

DVD: ICESTORM Entertainment GmbH / www.icestorm.de
Short Summary (English)
War has broken out and farmer Jack has to go to war. The mean king, however, simply cheats Jack out of his pay. On his way home, he meets a witch who begs him to retrieve a blue light which she has accidentally dropped into a well. When he realizes that she intends to doublecross him, he refuses to hand over the light and so he remains stuck in the well. He lights the candle and discovers its magical powers. A dwarf appears who must always serve and obey whoever is in possession of the light. But this servant can only bring about what his master is capable of. Having plucked up courage, Jack sets off to see the king again to demand his pay. He is once again sent away empty-handed. And so he abducts the king's daughter who has to serve him as a maid. But the king's bailiffs and bloodhounds track him down. Jack declines an offer made by the king and is sent to the gallows. His life is saved by a gunshot which a robber triggers by mistake. His only wish is to return home. He even turns down the princess in favour of Anne, a poor young woman.
Source: Progress Film-Verleih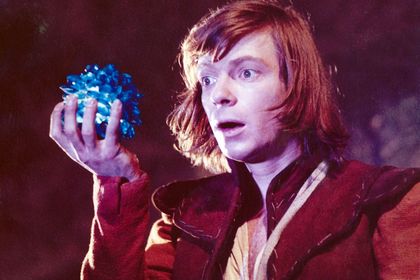 Film Crew
Cast

Viktor Semjonow (Hans)
Fred Delmare (Männlein)
Katharina Thalbach (Prinzessin)
Helmut Straßburger (König)
Blanche Kommerell (Anne)
Marylu Poolman (Hexe)
Christa Löser (Kammerfrau)
Jaecki Schwarz (Knut)
Günter Schubert (Räuber)
Kurt Radeke (Wirt)
Carl Heinz Choynski (General)
Pedro Hebenstreit (Henker)
Jürgen Hölzel (Wächter)
Reka (Dudelsackpfeifer)
Hasso von Lenski (Posten Heinz)
Wilfried Pucher (Hermann)
Joachim Schönitz (Konz)
Heinrich Schramm (Wächter)
Klaus Tilsner (Wächter)
Klaus Ebeling (Soldat)
Uwe Schmidt (Singender Mann)
Jochen Lenk (Eine fragwürdige Gestalt)
Hans Schmidt (Eine fragwürdige Gestalt)
Victor Keune (Eine fragwürdige Gestalt)
Willi Janotte (Bauer in der Schenke)

Sound

Klaus Wolter
Helga Kadenbach

Unit Production Management

Heinz Schwoch
Hubert Koll
Holger Bohm

DEFA Photography

Jürgen (auch: Hans-Jürgen) Hoeftmann
Short Summary (German)
Der Bauer Hans ist als Soldat in den Krieg gezogen. Zurückgekehrt und von seinem König um den Sold betrogen, macht er sich auf den Weg nach Hause. Da begegnet er einer Hexe, die ihn bittet, ihr ein Licht aus dem Brunnen zu holen. Er behält es, als die Hexe ihn hintergehen will, und entdeckt dessen Zauberkraft. Beim Entzünden erscheint ein Männlein, das dem Besitzer des Lichts dienen muss, aber es vermag nur so viel, wie dieser sich selbst traut. Mutig geworden, geht Hans noch einmal zum König, um seinen Sold zu verlangen. Er wird wiederum abgewiesen, und so entführt er dessen Tochter, die ihm nun den Haushalt führen muß. Die Häscher des Königs fangen ihn, der Galgen ist schon aufgestellt, da rettet der aus Versehen abgegebene Kanonenschuss eines Räubers sein Leben.
(Quelle: Das zweite Leben der Filmstadt Babelsberg. DEFA-Spielfilme 1946-1992)
Short Summary (Other Languages)
Il contadino Hans si è arruolato per andare in guerra. Tradito dal suo re, che non gli ha concesso la paga militare, rientra a casa, ma durante il cammino incontra una strega che lo prega di andarle a prendere un lume in fondo al pozzo. Capendo l'inganno, Hans tiene il lume per sè scoprendone i poteri magici. Accendendo il lume, infatti, compare un omino capace di soddisfare tutti i desideri che il proprietario del lume ha il coraggio di esprimere. Hans ritorna dal re e pretende il suo compenso. Nuovamente respinto, rapisce la figlia del re prendendola a servizio. Catturato dai soldati del re, Hans viene condannato alla forca, ma verrà salvato da un colpo di cannone, partito per sbaglio a un bandito. (Italienisch)