Das kalte Herz
Director: Paul Verhoeven, 105 Min., Color, Feature Film
Deutsche Demokratische Republik (DDR)
DEFA-Studio für Spielfilme, 1950
Film/Video Format

35 mm

Length in m

2856

English Title

The Cold Heart

Premiere Date

Release Date (for Cinema)

Literary Source

Hauff, Wilhelm: "Das Kalte Herz", Märchen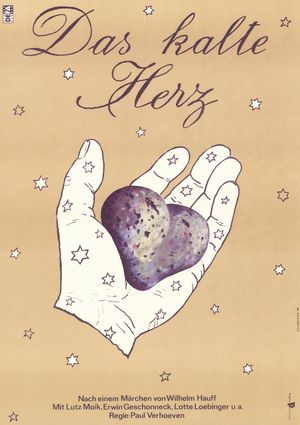 Short Summary (English)
Peter Munk, a charcoal burner, lives in the heart of the Black Forest He is very poor and, because of his work, looks filthy, which is why he is despised as an outsider by the vi [lagers. Because of this, he has given up all hope of marrying his beloved Lisbeth. As a last resort, he asks the good spirit of the forest, the Glass Manikin Treasurehouse, for assistance. Help is forthcoming but he does not manage to keep his wealth. He is a failure. He abandons his bride and summons the evil spirit, Dutch Michael.
Peter is promised all the riches on earth if he is willing to exchange his heart for a cold stone. The young charcoal burner consents and, from this moment on, he becomes richer and richer - but also brutal and ruthless. He directs his wrath even against his wife Lisbeth when he finds out how charitable she is towards the poor. In a fit of rage, he beats his wife to death. On[y then does he regains his senses and realizes what evil emanates from his cold and stony heart Once again, the benevolent Glass Manikin has to come to his aid. But Peter can on[y be redeemed if he retrieves his true heart from the evil spirit. With wiles and ruses, he outwits the spirit. And the Glass Manikin brings Lisbeth back to life.
Source: Progress Film-Verleih
Film Crew
Script

Paul Verhoeven
Wolff von Gordon

Camera

Bruno Mondi
Ernst Kunstmann (Trick)

Cast

Lutz Moik (Peter Munk)
Hanna Rucker (Lisbeth)
Paul Bildt (Das Glasmännlein)
Erwin Geschonneck (Der Holländer-Michel)
Lotte Loebinger (Peter Munks Mutter)
Paul Esser (Eszechiel)
Hannsgeorg Laubenthal (Hannes)
Walter Tarrach (Der Amtmann)
Alexander Engel (Lisbeths Oheim)
Herbert Kiper (Hochzeitslader)
Karl Hellmer (Meister Anton)
Karl-Heinz Deickert (Elias)
Eva Probst (Bärbel)
Egon Brosig (Festredner in Amsterdam)
Heinz Förster-Ludwig (Wibbel)
Bernhard Goetzke (Bauer am Karussell)
Peter Hein (Klaus)
Viktor Janson (Mijnheer)
Walter Klam (Wirt in Amsterdam)
Friedrich Honna (Lebkuchenverkäufer)
Ruth Lommel ("Die Schöne")
Marlise Ludwig (Alte Frau mit Schmuck)
Friedrich Maurer (Schnapsverkäufer)
Wolfgang Erich Parge (Schützenmeister)
Willy (auch: Willi) Prager (Armer Bauer)
Renée Stobrawa (Wirtin in Köln)
Otto Stoeckel (Wirt im Schwarzwald)
Walter Strasen (Büttel)
Franz Torns (1. Glashüttengeselle)
Heinz Voß (2. Glashüttengeselle)
Franz Weber (Buchhändler)
Gerd Prager (Mickriger Holzhändler)
Alfred Land (Dicker Holzhändler)
Willi Narloch (Bauernsohn)
Lieselore Arnold (Schwiegertochter)
Reinhard Sieg (Glasbläser)
Hans Obermeyer (Kaspar)
Bruno Lopinski (Holzhändler)
Charles Hans Vogt (Holzhändler)
Heike Putzwald (Kleines Mädchen)
Käthe Reich (Alte, reiche Bäuerin)
Walter Weinacht (Alter Bauer)
Helmuth Bautzmann (Bauer)
Angela Brunner (Jungfrau)
Emma Sommer (Jungfrau)
Rudolf von Hoefen (Alter Bauer)
Franziska Dörr (Ältere, hagere Frau)
Elfriede Nickel (Junge Bäuerin)
Ari Hein (Brautjungfer)
Ursula Wojahn (Mädchen im Karussell)
Hans Rakoczi (Seiltänzer)
Nico Turoff (Breitschultriger Bauer)
Gerhard Knape (Flößer)
Hans-Joachim Hanisch (Flößer)
Bernhard Röhr (Flößer)
Kurt Kassube (Flößer)
Brigitte Seufert (Freundin)
Brigitte Conrad (Freundin)
Waltraut Kramm (Freundin)
Elfie Dugal (geb. Dugall) (Freundin)
Ingeborg Hoffmann (Freundin)
Jürgen Tramburg (Kind)
Heidemarie Walter (Kind)
Gabriele Grätz (Kind)
Friedrich Heyden (Schankbursche)
Peter Federmann (Schankbursche)
Hans Kwiet (Schankbursche)
Hans Kramski (Schankbursche)
Theo Delmes (Schankbursche)
Maria Eggert (Schankmädchen)
Ursula Mundt (Schankmädchen)
Gerda Blisse (Schankmädchen)
Dorothea Lada (Schankmädchen)
Marga Becker (Schankmädchen)
Perzy Werner (Schütze)
Walter E. Fuß (Schütze)
Will Dugal (Schütze)
Joachim Hagemann (Schütze)
Friedrich Teitge (Schütze)
Johannes Bergfeldt (auch: Bergfeld) (Schütze)
Hans Krull
Eduard Matzig

Assistant Director

Franz Barrenstein
Hermann von Rohde
Hanna Bark

Assistant Camera

Joachim Hasler
Günter Eisinger

Costume Design

Walter Schulze-Mittendorff

Make-Up

Fritz Hartmann
Lydia Braatz
Willi Nixdorf
Gerhard Seiffert
Herbert Zensch

Unit Production Management

Design

Hilde Altmann-Vogt (Choreografie)
Awards
VI. Internationales Filmfestival Karlovy Vary (1951): Preis für den besten Farbfilm
Short Summary (German)
Da wo der Schwarzwald am dichtesten ist, lebt der Köhler Peter Munk. Als er die schöne Lisbeth heiraten will, wird ihm seine Armut schmerzlich bewusst, und er bittet das Glasmännlein, den guten Geist des Waldes, um Hilfe. Er bekommt sie auch, doch er verspielt sie leichtfertig. Nun ruft er den bösen Geist, Holländer-Michel. Der verspricht ihm allen Reichtum der Welt, wenn er sein Herz gegen einen kalten Stein eintauscht. Peter ist einverstanden, und von Stund an wird er reich und reicher, aber auch brutal und gemein. Erst als er Lisbeth aus Wut über ihre Gutmütigkeit erschlägt, kommt er zur Besinnung. Noch einmal soll ihm das Glasmännlein helfen. Für Peter gibt es jedoch nur Hoffnung, wenn er sein wahres Herz von Michel zurückerhält. Peter muss eine List anwenden, um wieder der werden zu können, der er einst war.
(Quelle: Das zweite Leben der Filmstadt Babelsberg. DEFA-Spielfilme 1946-1992)
Short Summary (Other Languages)
Il carbonaio Peter Munk vive nel cuore della Foresta Nera. Il giorno in cui decide di sposare la bella Lisbeth, si rende amaramente conto della sua povertà. Si rivolge così all'omino di vetro, lo spirito benigno del bosco, che lo aiuterà, ma Peter perderà tutti i soldi al gioco. Michel l'olandese, lo spirito maligno, gli promette tutte le ricchezze del mondo se scambierà il suo cuore con un sasso. Acconsentendo, Peter diventa sempre più ricco, ma anche più spietato e cattivo. Tornato in sé solo dopo aver ucciso Lisbeth per la sua bontà, Peter richiede aiuto all'omino di vetro. Potrà salvarsi solo facendosi ridare il suo cuore. Il carbonaio dovrà così escogitare un piano per tornare a essere quello di una volta. (Italienisch)
Le charbonnier Peter Munk vit à l´endroit où la Forêt-Noire est la plus dense. Lorsqu'il veut épouser la belle Lisbeth, sa pauvreté se fait cruellement sentir. Il demande alors de l´aide à un faune de la foret, le Glasmännlein. Il reçoit l´aide du faune, mais agit à la légère. Il doit alors faire appel à un esprit malfaisant de la foret, le Holländer-Michel. Ce dernier lui promet toute la richesse du monde si Peter échange son coeur contre une pierre froide. Peter accepte et devient d´heure en heure plus riche, mais aussi brutal et méchant. Ca n´est que lorsqu´il éclate de colère contre Lisbeth à cause de sa bonhomie qu´il recouvre la raison. Le Glasmännlein doit à nouveau l´aider. Le dernier espoir de Peter est de récupérer son coeur chaud de Michel. Pour ce faire, il doit recourir à un stratagème afin de pouvoir redevenir celui qu´il était avant. (Französisch)