Das Kaninchen bin ich
Director: Kurt Maetzig, 113 Min., Black-White, Feature Film
Deutsche Demokratische Republik (DDR)
DEFA-Studio für Spielfilme, 1965
Film/Video Format

35 mm

Length in m

3120

English Title

The Rabbit Is Me

Premiere Date

Release Date (for Cinema)

Literary Source

Bieler, Manfred: "Das Kaninchen bin ich", Roman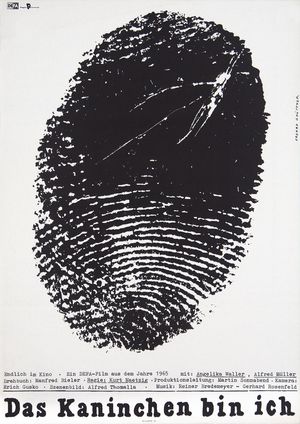 Short Summary (English)
Made in 1965 to encourage discussion of democrization of East German society, this film was quickly banned by officials as an attack on the state. "The Rabbit is Me" earned critical praise after 1989 as one of the most important and courageous works ever filmed by DEFA. In it, a young student has an affair with a hypocritical judge who had once sentenced her brother for his political activities; she eventually confronts him with his opportunism and contribution to injustice.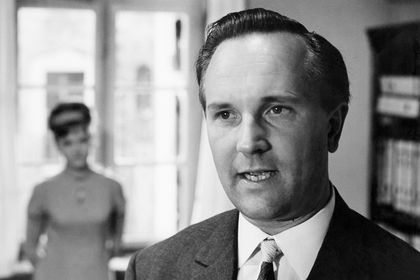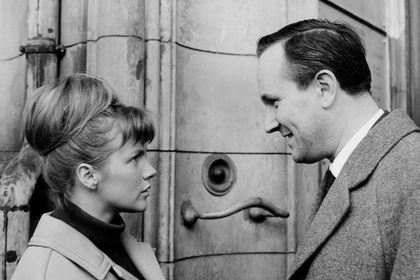 Film Crew
Script

Manfred Bieler
Kurt Maetzig

Cast

Angelika Waller (Maria Morzeck)
Alfred Müller (Richter Paul Deister)
Ilse Voigt (Tante Hete)
Wolfgang Winkler (Dieter)
Irma Münch (Gabriele Deister)
Rudolf Ulrich (Grambow)
Helmut Schellhardt (Bürgermeister)
Annemarie Esper (Edith)
Willi Schrade (Sportlehrer Ulli)
Willi Narloch (Kellner Oskar)
Bernd Bartoszewski (Kriminalist)
Maria Besendahl (Wirtin)
Peter Borgelt (Richter)
Christoph Engel (Major Hellmich)
Hans Hardt-Hardtloff (Vorsitzender der Fischreigenossenschaft)
Rosemarie Herzog (Sekretärin)
Walter Jupé (Schuldirektor)
Hans Klering (Älterer Strafgefangener)
Erhard Köster (Beetz)
Walter Lendrich (/Kleiner Wachmeister im Gericht)
Hans Sievers (Kriminalist)
Werner Wieland (Dr. Merker)
Dieter Wien (Staatsanwalt Hoppe)
Else Wolz (Frau des Strafgefangenen II)
Albert Zahn (Wachtmeister II)
Renate Pohl (Barfrau)
Harald Moszdorf (Mann um die 40)
Walter E. Fuß (Straßenbahner)
Willi Neuenhahn (Straßenbahner)
Ruth Kommerell (Frau des Strafgefangenen I)
Ingrid Evers (Serviererin)
Lothar Warneke (Junger Mann)
Armin Mechsner (Tänzer)
Roland Kuchenbuch (Tänzer)
Rolf Mey-Dahl (Tänzer)
Ursula Schön (Hella)
Anneliese Grummt (Protokollantin)
Gustav Stähnisch (Beisitzer)
Günter Drescher (Polizist)
Günther Polensen (Verteidiger)
Rita Hempel (Küchenfrau)
Frank Michelis (Josef)
Fred Ludwig (Helmut)
Harkishan Singh (Araber)
Carmen-Maja Antoni (Schülerin)
Dorothea Volk (Sekretärin)
Otto Busse (Straßenpassant)
Max Klingberg (Straßenpassant)
Gerd Scheibel (Straßenpassant)
Rose Becker (Straßenpassantin)
Friedrich Teitge (Straßenpassant)

Assistant Director

Hanna Georgi
Siegbert Fischer

Music

Reiner Bredemeyer
Gerhard Rosenfeld

Make-Up

Rosemarie Stäglich
Lothar Stäglich

Unit Production Management

Oskar Ludmann
Dieter Anders
Short Summary (German)
Maria Morzeck ist 19 Jahre alt und arbeitet als Kellnerin. Eigentlich wollte sie Slawistik studieren und Dolmetscherin werden. Doch weil ihr Bruder Dieter wegen "staatsgefährdender Hetze" zu drei Jahren Zuchthaus verurteilt wurde, ließ der Staat sie nicht zum Studium zu. Maria verliebt sich in den wesentlich älteren Paul Deister, erfährt, dass er der Richter war, der Dieter zu der hohen Strafe in dem dubiosen Prozess - unter Ausschluss der Öffentlichkeit - verurteilt hat. Sie verwirft die anfängliche Absicht, die Beziehung zu Dieters Gunsten zu nutzen, will die Liebe und den Fall auseinanderhalten. Doch sie möchte von Paul die ganze Wahrheit wissen. Sein Verhalten macht deutlich, dass er Gesetze wie Menschen nur für seine Karriere benutzt. Maria verlässt ihn enttäuscht. Als der vorzeitig entlassene Bruder von dem Verhältnis erfährt, schlägt er seine Schwester zusammen. Sie zieht aus der gemeinsamen Wohnung aus, entschlossen, um ihren Studienplatz zu kämpfen.
(Quelle: Das zweite Leben der Filmstadt Babelsberg. DEFA-Spielfilme 1946-1992)
Short Summary (Other Languages)
Maria Morzeck, 19 anni, lavora come cameriera, nonostante avrebbe preferito studiare slavistica e diventare interprete. Poiché suo fratello Dieter è stato condannato a tre anni di riformatorio per incitamento all'odio verso lo stato, lo stato non le ha permesso di studiare. Maria si innamora del molto più vecchio Paul Deister, viene a sapere che è stato il giudice che ha condannato Dieter alla pesante pena nel dubbio processo - a porte chiuse. Dapprima convinta di voler sfruttare questo rapporto per salvare il fratello, Maria decide infine di tener le due cose separate. A Paul chiederà comunque di rivelarle la verità. Il suo comportamento le rivela che Paul sfrutta le persone e le leggi solo per fare carriera. Maria lo abbandona, delusa. Scoprendo la relazione, Dieter, rilasciato anticipatamente di prigione, malmena la sorella, che andrà via di casa e lotterà per un posto all'università. (Italienisch)
Maria Morzeck a 29 ans et travaille comme serveuse. Elle aurait voulu étudier les langues slaves et devenir interprète. Mais son frère Dieter ayant été accusé de "propagande contre l'Etat" et condamné à trois ans de prison, elle ne fut pas autorisée à entrer à l´université. Maria tombe amoureuse de Paul Deistre, bien plus âgé qu'elle, avant d´apprendre qu'il est le juge qui, lors d'un procès douteux et mené à huis-clos, a condamné son frère à la prison ferme. Elle rejette son intention première d'utiliser cette relation pour aider son frère et préfère séparer amour et procès. Mais elle souhaite apprendre toute la vérité de Paul. Son comportement montre clairement qu'il utilise lois et individus pour sa carrière. Déçue, elle le quitte. Lorsque son frère, relâché plus tôt de prison, apprend la relation de sa soeur, il la bat. Elle quitte alors leur appartement commun et décide de se battre pour sa place d'étudiante. Une critique du carriérisme et du système judiciaire de la RDA. (Französisch)
Maria, một cô gái Đông Đức, trẻ, tự tin, không được phép học đại học vì anh trai cô bị kết tội "tuyên truyền chống phá nhà nước CHDC Đức". Bởi vậy cô phải kiếm sống bằng nghề bồi bàn. Cô yêu Paul, một người đàn ông đứng tuổi. Nhưng rồi cô phát hiện ra rằng Paul chính là luật sư đã kết án anh trai cô trong một hoàn cảnh hoàn toàn không rõ ràng. Maria rơi vào cơn giằng xé nội tâm: một bên là tình yêu, một bên là anh trai, cho tới khi cô nhận ra bộ mặt thật của Paul…
Bộ phim năm 1965 của đạo diễn Maetzig bị cấm ở CHDC Đức cho tới năm 1990 vì nó phê phán gay gắt hệ thống tư pháp của nước này. (Vietnamesisch)