Das Licht auf dem Galgen
Director: Helmut Nitzschke, 102 Min., Color, Feature Film
Deutsche Demokratische Republik (DDR)
DEFA-Studio für Spielfilme, 1976
Film/Video Format

35 mm

Length in m

2812

English Title

The Light On The Gallows

Premiere Date

Release Date (for Cinema)

Literary Source

Seghers, Anna: "Das Licht auf dem Galgen", Erzählung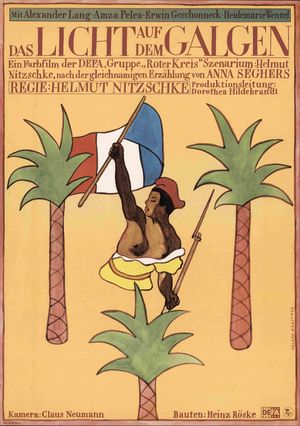 Short Summary (English)
Europe in 1793. For years, England and France have been at war with each other. Now, France sends three men to the British colony of Jamaica to organize a slave revolt. The envoys are Debuisson, the grandson of a Jamaican rum manufacturer, who knows the island very well, his old friend Sasportas, and the sailor Galloudec. After having established contact with the fragmented rebel groups, they receive the surprising news of Napoleon's takeover in France. Whereas Debuisson, who by now has gotten used to his role as a rich heir, wants to wait for new instructions from home, his companions are determined to press ahead with the revolt. When a slave kills a British guard, the situation escalates. Debuisson betrays his former ideals to save his life and Sasportas is hung. Only Galloudec manages to flee back to France.
(Quelle: filmportal)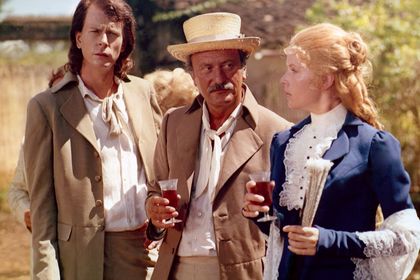 Film Crew
Cast

Alexander Lang (Sasportas)
Amza Pellea (Debuisson)
Jürgen Holtz (Galloudec)
Erwin Geschonneck (Bering)
Szymon Szurmiej (Stefford)
Gloria Herrera (Ann)
Raffael Sosa (Douglas)
Heidemarie Wenzel (Elisabeth)
Käthe Reichel (Tante)
Tito Junco (Bedford)
Samuel Claxton (Cocroft)
Julio Hernandez (Cuffee; Greis)
Milan Bosiljcic-Beli (Bloomfield)
Herbert Köfer (Myrtle)
Beauty Milton (Kate)
Axel Triebel (Vetter James)
Volkmar Kleinert (Galdy)
Rolf Hoppe (Pfarrer Clark)
Mario Turra (Farmer Collings)
Enrique Almirante (Aufseher Glavish)
Willi Neuenhahn (Oheim)
Adolfo Llaurado (Swaby)
Klaus Bamberg (Raleygh)
Iglesias Pedroso (Finsterer Feldsklave)
Albert Ndindah (Kutscher bei Berings)
Horst Friedrich (Biedermeier)
Werner Riemann (Englischer Sergeant)
Thoko Mathebula (Köchin Lucy)
Juana Barro (Sängerin)
Walter Bechstein (Geheimschreiber)
Ismail Hassan (Auffälliger Kutscher)
Mahoma Mwaungunu (Gärtner)
Lothar Förster (Wirt der "Admiral Pen")
Katharina Rothärmel (Nichte)
Elvira Grecki (Nichte)
Anna-Katharina Franck (Nichte)
Louis Romero (Schwarzer Sklave)
Juan Perez (Schwarzer Sklave)
Daniel Collaco (Schwarzer Sklave (Collingsfarm))
Ralph J. Boettner (Sir Svettenham)
Uwe Schmitt (Sohn von Sir Svettenham)
Horst Giese (Schneider)
Giso Weißbach (Cousin)
Wolfgang Flieder (Cousin)
Peter Heiland (Cousin)
Bodo Schmidt (Schnauzbärtiger Soldat)
Hannes Stelzer (Kreischender Soldat)
Thomas Neumann (Cousin)
Frank Auer (Kranker weißer Junge)
Folklore-Ensemble Trinidad

Assistant Director

Harald Fischer
Detlev Gehrke

Assistant Camera

Klaus Goldmann
Frank Bredow

Scenario

Helmut Nitzschke
Gert Billing

Music

Karl-Ernst Sasse (Musikberatung)

Sound

Georg Gutschmidt
Konrad Walle
Christian Müller

Costume Design

Marianne Schmidt
Günther Schmidt

Make-Up

Lothar Stäglich
Christa (auch: Christel) Grewald

Unit Production Management

Horst Schmidt
Ralf-Detlef Biok
Hans-Uwe Wardeck

Dubbing (Dubbing Actor)

Helmut Schellhardt (Debuisson)
Norbert Christian (Stefford)
Ute Boeden (Ann)
Jochen Thomas (Douglas)
Kurt Böwe (Bedford)
Dieter Schaarschmidt (Cocroft)
Hasso Zorn (Cuffee)
Hans Teuscher (Bloomfield)
Barbara Dubinsky (Kate)
Heinz Schröder (Aufseher Glavish)
Ilse Voigt (Köchin Lucy)
Short Summary (German)
Aus Frankreich, das sich seit Jahren mit England im Krieg befindet, werden 1793 drei Männer in die englische Kolonie Jamaika abgesandt, um einen Aufstand der Sklaven zu organisieren: Debuisson, er ist der Enkel eines jamaikanischen Rumfabrikanten und auf der Insel aufgewachsen, sein Freund Sasportas und der Matrose Galloudec. Mit Mühe knüpfen sie Verbindungen zu den zersplitterten Rebellen, gewinnen Unzufriedene für ihr Vorhaben. Da kommt die Nachricht, dass Napoleon Konsul geworden ist. Debuisson will den Aufstand verschieben, bis er Instruktionen der neuen Regierung in Frankreich erhält. Außerdem gefällt er sich inzwischen in der Rolle des reichen Erben. Die anderen sind nicht einverstanden. Als ein Schwarzer einen Aufseher erschlägt, überstürzen sich die Ereignisse. Galloudec kann fliehen, Debuisson verrät die revolutionäre Idee und rettet damit sein Leben, Sasportas bekennt sich zu ihr und wird gehängt.
(Quelle: Das zweite Leben der Filmstadt Babelsberg. DEFA-Spielfilme 1946-1992)
Short Summary (Other Languages)
Nel 1793 la Francia, da anni in guerra con l'Inghilterra, invia tre uomini in Jamaika affinché organizzino una sommossa di schiavi in una colonia inglese. Entrare in contatto con i ribelli non è facile per Debuisson, nipote di un produttore di Rum cresciuto sull'isola, per il suo amico Sasportas e per Galloudec, un marinaio. Ciononostante radunano anche altri sostenitori. Informato dell'elezione di Napoleone a console, Debuisson vuole rimandare la rivolta in attesa di specifiche indicazioni dal nuovo governo. Inoltre gli piace interpretare il ruolo del ricco ereditiero. Gli altri dissentono. Con l'uccisione di una delle guardie, la situazione precipita. Galloudec fa in tempo a scappare, Debuisson svela il progetto rivoluzionario e si mette in salvo. Solo Sasportas, ammettendo il suo coinvolgimento, verrà impiccato. (Italienisch)