Das Licht der Liebe
Director: Gunther Scholz, 83 Min., Color, Feature Film
Deutsche Demokratische Republik (DDR)
1990
Film/Video Format

35 mm

Length in m

2264

English Title

Light Of Love; The Light Of Love

Premiere Date

Release Date (for Cinema)

Literary Source

Hertz, Henrik: "König Renés Tochter", dänisches Versepos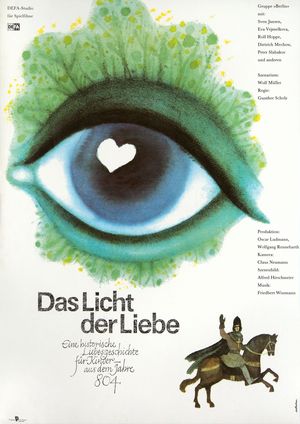 Short Summary (English)
Emperor Charles the Great wants to force his vassals to make peace through marriage. He decrees that Reglindis, the daughter of the Margrave of Thringia, and Bogumil, the son of Slavomir, King of the Slavs, are promised to each other; both are still in diapers. Bogumil is entrusted to the protection of the Thuringian, so that he, Bogumil, although born a pagan, can be raised as a Christian. The Margrave, however, who is not at all in favor of this pacifying union and in fact wants to prevent it at all cost, simply has the youth sent to a nunnery and allows him to be raised there for better or worse as a nameless orphan. His true identity is strictly obscured; the nuns simply call him "youngster" (Bengel). "Who am I? Where do I come from?" These are the questions which torture the young adult, who is endowed with a warm heart and ears which stick out prominently. With luck and intelligence "youngster" discovers a secret scroll of documents in the library of the cloister which not only reveals that he is the son of the King Slavomir and that his name is Bogumil, but also that he has a promised bride named Reglindis. At this point nothing can hold him. He immediately leaves the cloister and wanders out into the world: looking for his identity, looking for his promised bride. And he finds her, the blind Reglindis, whom her father, the Margrave, treats like the apple of his eye. The charming Reglindis is a happy person. She does not know that she is blind. At the command of her father all the people in her vicinity must avoid all words which refer to optical impressions. Whoever violates this order faces the death penalty. The two young people, promised to each other in earliest childhood, are consumed by a passionate love for one another ...
Bogumil tells his love of what he sees. Soon he is caught like a fish in a net. The Margrave demands his execution. At the same time a famous doctor declares himself ready to attempt a painful eye operation. Reglindis begs her father to spare the life of her lover; he decides that if the operation fails, the Bogumil must die. But love triumphs. Love does not blind Reglindis, but makes her see!
(source: 41. Internationale Filmfestspiele Berlin 1991 Dokumentation)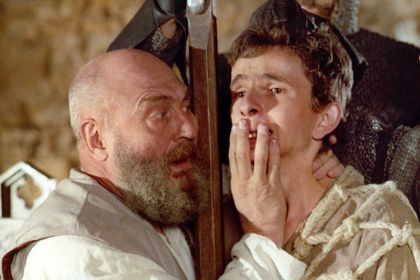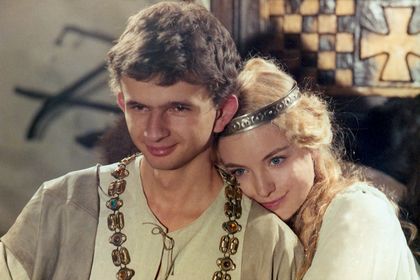 Film Crew
Cast

Sven Jansen (Bengel)
Eva Vejmelková (Reglindis)
Rolf Hoppe (Markgraf)
Peter Slabakow (Schwarzer Reiter)
Dietrich Mechow (Arzt)
Linde Sommer (Äbtissin)
Bärbel Bolle (Nonne)
Anita Herbst (Nonne)
Regina Keller (Nonne)
Janine Kreß (Nonne)
Maren Schumacher (Nonne)
Gisa Stoll (Nonne)
Ursula Sukup (Nonne)
Barbara von Steuben (Nonne)
Eva-Maria Eisenhardt (Nonne)
Wera Paintner (Nonne)
Elfi Gäbel (Nonne)
Johanna Lesch (Nonne)
Gertraud (auch: Trude) Kreißig (Nonne)
Tereza Pegnerová (Gigi)
Gudrun Okras (Amme)
Manfred Zetzsche (Kaiser Karl)
Peter Bause (König)
Hellena Büttner (König Slavomirs Frau)
Paul Berndt (Gigis Vater)
Marc Hetterle (Wache)
Romeo Riemer (Wache)
Henning Orphal (Wache)
Rainer Kunze (Wache)
Gerd-Gunthart Hellwig (Wache)
Joachim Schönfeld (Wache)
Korina Stolz-Franke (Frau des Markgrafen)
Marike Scholz (Kind)
Jörg Schüttauf (Mönch)
Mario Gericke (Gehängter)
Klaus Manchen (Slawenführer)
Joachim Lätsch (Bauer)
Michael Jokisch (Bauer)
Olaf Müller (Bauer)
Anke Teickner (Bäuerin)

Assistant Director

Magda Greßmann
Thomas Kliche

Sound

Bernd-Dieter Hennig
Konrad Walle (Tonmischung)
Hugo Gries (Geräusche)

Make-Up

Jürgen Holzapfel
Irmela Holzapfel
Heide Hass

Production Management

Oskar Ludmann
Wolfgang Rennebarth

Unit Production Management

Andreas Berndt
Lutz Rabbach

DEFA Photography

Hans-Joachim (auch: Jochen) Zillmer

Dubbing (Dubbing Actor)

Arianne Borbach (Reglindis)
Werner Kanitz (Schwarzer Reiter)
Short Summary (German)
Anno 804 in Thüringen. Ein Waisenjunge, Bengel genannt, lebt im Kloster und wird wegen seiner Hässlichkeit von den Nonnen gehänselt. Er pflegt einen von allen gemiedenen Schwarzen Reiter, der die Pest haben soll, gesund. Der Reiter erzählt ihm vom verschwundenen Bogumil, Sohn des Slawenkönigs Slawomir, der auf Anordnung Karls des Großen die Tochter des Markgrafen von Thüringen, Reglindis, heiraten sollte. Und er fragt Bengel nach seiner Herkunft. Bengel glaubt nun, Bogumil zu sein. Er geht zum Schloss und begegnet dort einem wunderschönen Mädchen, das auch ihn für schön hält. Es ist Reglindis, sie ist blind. Das Mädchen spürt die innere Schönheit des Jungen und ist ihm sehr zugetan. Ihr Vater jedoch will ihn beseitigen. Bengel entgeht zweimal knapp dem Tode, der Schwarze Reiter beweist auf eindrucksvolle Weise seine Identität mit Bogumil, und schließlich kommt es doch zum Happy End.
(Quelle: Das zweite Leben der Filmstadt Babelsberg. DEFA-Spielfilme 1946-1992)
Short Summary (Other Languages)
Nell'804 in Turingia, un orfano, soprannominato birba, vive in un convento di suore, che lo prendono in giro per la sua bruttezza. Il ragazzo guarisce il cavaliere nero, che tutti evitavano credendolo appestato. Per ringraziarlo il cavaliere gli narra la storia di Bogumil, figlio di Slawomir, il re degli schiavi, che per ordine di Carlo Magno, avrebbe dovuto sposare Reglindis, la figlia del Margravio di Turingia, se non fosse scomparso. Chiedendogli delle sue origini, il cavaliere fa credere a birba di essere Bogumil. Il ragazzo si reca al castello dove incontra una bellissima ragazza, che lo trova altrettanto bello. E' Reglindis, ma è cieca. La ragazza riconosce la bellezza interiore di birba e ne rimane affascinata, ma suo padre si oppone. Scampato due volte alla morte, il ragazzo, con l'aiuto del cavaliero nero, proverà di essere Bogumil e la storia troverà il suo lieto fine. (Italienisch)
L'empereur Charlemagne veut containdre ses vassaux à vivre en paix en arrangeant entre eux des marriages. Il décide ainsi de l'union entre Reglindis, la fille du margrave de Thuringe, et Bogumil, le fils du roi des Slaves, Slawomir; ils sont tous les deux encore au berceau. On confie Bogumil au Thurigien afin qu'il recoive une éducation chrétienne. Mais le margrave, qui n'a que faire de cette union pacificatrice et veut empêcher à tout prix le mariage, fait places le garcon dans un couvent de religieuses où on l'élève tant bien que mal comme un orphelin anonyme. Le secret le plus strict entoure ses vraies origines. Les religieuses l'appellent simplement "Gamin". "Qui suis-je?. Et d'où est-ce que viens?". Ces questions tracassent l'adolescent qui est pourvu d'un coeur compatissant et d'oreilles en feuilles de chou. La chance et le bon sens étant de son côté, "Gamin" découvre dans la bibliothèque du couvent un parchemin secret lui rélévant non seulement qu'il s'appelle Bogumil, mais aussi qu'il a une fiancée. Et il la trouve, l'aveugle Reglindis, à laquelle son père le margrave tient comme à la prunelle de ses yeux. La gracieuse Reglindis est une enfant heureuse. Elle ignore qu'elle est aveugle. Sur ordre du margrave tout son entourage évite l'usage de mots évoquant des impressions visuelles et ce sous peine de mort. Les deux jeunes gens, promis l'un à làutre depuis leur plus tendre enfance, s'éprennent d'un amour enflammé ...
Bogumil décrit tout ce qu'il voit à sa bien-aimée. Les sbires du margrave ont vite fait de s'emparer de lui et le margrave exige sa mort. A la même époque se trouve à la cour un célèbe médicin qui est prêt à tenter une douloureuse opération des yeux. Comme Reglindis supplie son père d'épargner Bogumil, le margrave décide qu'il devra mourir au cas où l'opération échoue. Mais l'amour est vainqueur, il ne rend pas Reglindis aveugle - bien au contraire, il lui rend la vue! (Französisch)
(source: 41. Internationale Filmfestspiele Berlin 1991 Dokumentation)