Das tapfere Schneiderlein
Director: Helmut Spieß, 83 Min., Color, Feature Film
Deutsche Demokratische Republik (DDR)
DEFA-Studio für Spielfilme, 1956
Film/Video Format

35 mm

Length in m

2294

English Title

The Valiant Taylor

Premiere Date

Release Date (for Cinema)

Literary Source

Gebrüder Grimm: "Das tapfere Schneiderlein", Märchen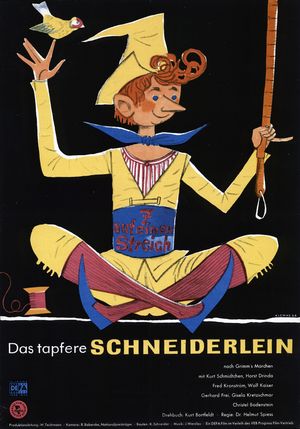 Short Summary (English)
The journeyman tailor disposes of seven flies at one go. Encouraged by this achievement, he decides to take to the road. After successfully overcoming some dangers, he reaches the court. His home-made sash bears witness to his "heroic feat" and the king therefore wants to engage him to drive off the kingdom's worst enemies. However, the courtiers just don't like this knight. They attempt to get rid of him by means of numerous dangerous tasks.
But thanks to his sharpness and some faithful helpers, the tailor is unbeatable.
The king flees with the royal household and the people put the tailor on the throne. For his bride, he does not choose the extravagant princess but the graceful maidservant Traute.
Source: Progress Film-Verleih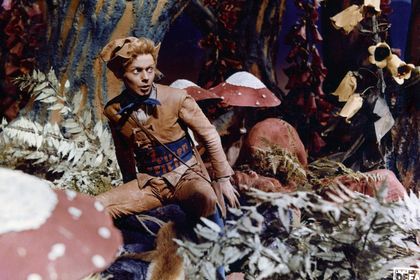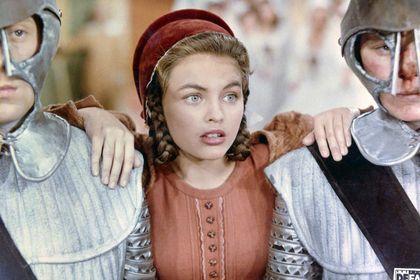 Film Crew
Cast

Kurt Schmidtchen (Das tapfere Schneiderlein)
Christel Bodenstein (Traute)
Gisela Kretzschmar (Prinzessin Liebreich)
Horst Drinda (Prinz Eitel)
Fred Kronström (König Griesgram)
Gerd Michael Henneberg (Schatzmeister Gier)
Fritz Wolff (Leibdiener Zimperlich)
Fred Mahr (Gärtner Sommer)
Wolf Kaiser (Riese)
Gerhard Frei (Riese)
Ellen Plessow (Schneidermeisterin)
Fredy Barten (Schneidermeister)
Helene Riechers (Musfrau)
Christian Balhaus (Knappe Thilo)
Waltraut Kramm (Junge Bäuerin)
Grete Carlsohn (Bäuerin)
Paul Zeidler (Bauer)
Walter Torge (Einhorn)
Helmuth Rudolph (Wildschwein)
Lothar Ziebell (Junger Bauer)
Egon Vogel (Ritter)
Georg Helge (Ritter)
Willi Endtresser (Ritter)
Hans König (Ritter)
Georg Irmer (Ritter)
Peter Dommisch (Ritter)
Karl Sturm (Ritter)

Assistant Camera

Günter Marczinkowsky
Walter Küppers

Production Design

Karl Schneider
Karl Bekker

Costume Design

Walter Schulze-Mittendorff

Make-Up

Gerda Behrendt
Erich Haase

Unit Production Management

Christel Kruse
Otto Schröder
Short Summary (German)
Grimms Märchen erzählt die Abenteuer eines armen Schneidergesellen, den das Erschlagen von sieben Fliegen auf einen Streich mutig macht. Er zieht in die Welt und kommt nach glücklich überstandenen Gefahren an den Hof des Königs. Die Krieger und Höflinge erschreckt der "Ritter 'Sieben-auf-einen-Streich'". Mit zahlreichen lebensgefährlichen Aufgaben versuchen sie, ihn loszuwerden. Aber das Schneiderlein ist unschlagbar dank seiner List und einigen treuen Helfern. Da flieht der König mit seinem ganzen Hofstaat, und das Volk setzt den Schneider auf den Thron, mitsamt der Magd Traute als Frau.
(Quelle: Das zweite Leben der Filmstadt Babelsberg. DEFA-Spielfilme 1946-1992)
Short Summary (Other Languages)
La fiaba dei fratelli Grimm racconta delle avventure di un povero apprendista sarto, divenuto impavido dopo aver ucciso sette mosche con un solo colpo. Dopo aver vagato per il mondo superando numerose insidie, il ragazzo, giunto alla corte del re, si presenta come "Cavaliere Setteinuncolpo". A corte, per sbarazzarsi di lui, gli fanno affrontare pericoli mortali, che il piccolo sarto supera senza problemi, facendo fuggire il re. Il piccolo sarto salirà al trono con sua moglie, la domestica Traute. (Italienisch)