Das Traumschiff
Director: Herbert Ballmann, 84 Min., Black-White, Feature Film
Deutsche Demokratische Republik (DDR)
DEFA-Studio für Spielfilme, 1956
Film/Video Format

35 mm

Length in m

2305

English Title

The Dream - Boot

Premiere Date

Release Date (for Cinema)
Short Summary (English)
The two half-orphans Reni and Rolf are 13 and 10 years old and they live with their grandmother in Berlin. Their father has died during the war, their mother works at a Baltic Sea port. Here she meets a captain who wants to marry her. When their mother tells them about the planned wedding, Reni and Rolf are reluctant to meet the captain. When eventually they arrive at the harbor, they express a lot of reservations against their mother's new boyfriend. Even the size of his ship is a disappointment to them. An exciting sea trial, however, welds the new family together and the captain manages to win over the children.
(Quelle: filmportal)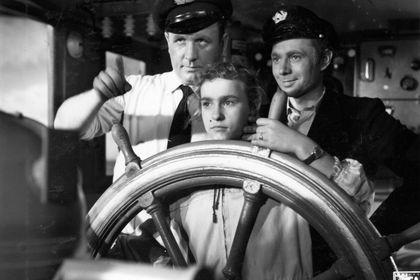 Film Crew
Cast

Günther Schinske (Rolf, 10 Jahre)
Bärbel Breitsprecher (Reni, 13 Jahre)
Günther Simon (Kapitän Franz Müller)
Gisela Uhlen (Michaela Gast)
Charlotte Küter (Großmutter)
Erich Franz (Koch Albert)
Kurt Ulrich (Steuermann Krüger)
Heinz Voss (Maschinist Berndt)
Hubert Arndt (Maschinenassistent Tüngel)
Claus Peter Lüttgen (Schiffsjunge Heini)
Karl-Heinz Schulz (Matrose Pohl)
Kurt Dunkelmann (Kapitän der "Hamburg")
Hans-Joachim (auch: Hans) Schoelermann (Dr. Stammler)
Horst Oberländer (1. Offizier)
Augustin Kovacz (Funkgast)
Brigitte Lindenberg (Lehrerin Irmgard)
Paul Pfingst (Busfahrer)
Dieter Kaufmann (Matrose)
Isabell Franke (Lotte)
Siegmar Böhme (Günther)
Horst Wagner (Emil)
Klaus Thomas (Heinz)
Edmund Kirchner (Monteur)
Werner Ehrenreich (Pförtner)

Assistant Director

Ruth Sanden
Doris Borkmann

Unit Production Management
Short Summary (German)
Zwei Berliner Kinder, die 13-jährige Reni und der zehnjährige Rolf, leben bei ihrer Großmutter, da die Mutter in einem Ostseehafen arbeitet und selten zu Hause ist. Der Vater ist im Krieg gefallen. Als die Kinder die Nachricht erhalten, dass die Mutter einen Kapitän heiraten will, und sie an die Ostsee kommen sollen, um ihn kennenzulernen, sind sie total dagegen. Sie wollen keinen Fremden. Im Hafen angekommen, ist Rolf außerdem enttäuscht, weil der Kapitän keinen großen Frachter, sondern nur einen Schlepper hat. Auf einer Probefahrt, die zum Abenteuer wird, gewinnt der Fremde Schritt für Schritt die Zuneigung der Kinder.
(Quelle: Das zweite Leben der Filmstadt Babelsberg. DEFA-Spielfilme 1946-1992)
Short Summary (Other Languages)
Rolf e Reni, due fratelli berlinesi, vivono con la nonna perché, da quando il papà è caduto in guerra, la mamma lavora in un porto sul Baltico, rientrando raramente a casa. Appresa la notizia che la mamma intende sposare un capitano, i bambini si rifiutano di recarsi sul Baltico, determinati a non accettare estranei in famiglia. Una volta in loco sono ancor più delusi che il capitano non comandi un enorme mercantile, ma solo un rimorchiatore. Eppure il viaggio-avventura a bordo della nave, farà cambiar loro idea. (Italienisch)