Das zweite Gleis
Director: Joachim (auch: Hans-Joachim) Kunert, 80 Min., Black-White, Feature Film
Deutsche Demokratische Republik (DDR)
DEFA-Studio für Spielfilme, 1962
Film/Video Format

35 mm

Length in m

2187

Other Title

Das dunkle Zimmer, Mann im Zwielicht, Tiefe Brunnen

English Title

The Second Track

Premiere Date

Release Date (for Cinema)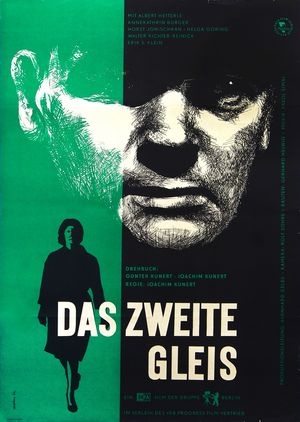 Short Summary (English)
There has been a theft at a goods station. Brock, the stationmaster and generally respected, has recognised one of the thieves. However, when brought face to face with the culprit he denies having seen him. Moreover, he asks to be transferred, claiming this would be in the interest of his daughter,Vera.
The thief, a certain Runge, sees to it that Frank. a young fitter who was his accomplice in the theft, is to "take care of" Brack's daughter. Frank is to make Vera understand that her father is lying when he claims that her mother died during the bombing of Küstrin. But Frank falls in love with Vera...
Together they now try to shed light on the past and discover that Brack and Runge know each other. During World War 11, Brack's wife hid a Jewish refugee. Runge shot dead the refugee and denounced the woman to the Gestapo, while Brock watched on without resisting either the murder or the betrayal of his wife. But he was devoured by shame. He therefore adopted a new identity and remained silent about his past. But when Frank is murdered by Runge, Brack owns up to the events of the past...
Source: Progress Film-Verleih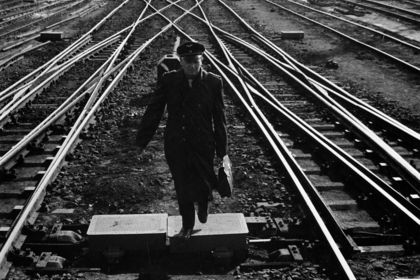 Film Crew
Director

Joachim (auch: Hans-Joachim) Kunert

Script

Günter Kunert
Joachim (auch: Hans-Joachim) Kunert

Cast

Albert Hetterle (Brock)
Annekathrin Bürger (Vera)
Horst Jonischkan (Frank)
Walter Richter-Reinick (Runge)
Helga Göring (Frau Runge)
Erik S. Klein (Gericke)
Johanna Clas (Frau Merkel)
Brigitte Lindenberg (Angestellte im Kinderheim)
Paul Berndt (Kriminalbeamter)
Arno Wyzniewski (Flüchtling)
Klaus Gendries (Wachhabender)
Joachim Zschocke (Trapo-Offizier)
Maria Besendahl (Bäckerin)
Gertrud (auch: Trude) Bechmann (Ältere Frau)
Walter E. Fuß (Lokführer)
Else Sanden (Frau Reissner)
Fred Marlitz (Notenwart)
Oswald Foerderer (Bremser)
Wilhelm Puchert (Fahrdienstleiter)
Ingeborg Chrobok (Lehrerin)
Ursula Rank (Sekretärin)
Paul Knopf (Pförtner)
Axel Dietrich (Elektriker)
Horst Fischer (Trapo-Polizist)
Guido Matschek (Telefonierender)
Dieter Bisetzki (Telefonierender)
Birgit Klein (Vera Merkel als Kind)
Erika Tschauner (Pianistin-Double für Vera)

Assistant Director

Ree von Dahlen
Ulrich Kluck

Make-Up

Günter Hermstein
Ursula Funk

Unit Production Management

Heinz Walter
Karl-Heinz Marzahn
Awards
Heinrich Greif-Preis (1962): Heinrich Greif-Preis 1. Klasse - Günter Kunert
Short Summary (German)
Bei einem Diebstahl auf dem Güterbahnhof erkennt Fahrdienstleiter Brock, ein allseits angesehener Mann, einen der Diebe. Während der Gegenüberstellung jedoch identifiziert er ihn nicht und bittet um Versetzung - angeblich wegen seiner Tochter. Indes hetzt der Dieb, Runge, den jungen Schlosser Frank, den er zum Mitmachen verleitet hatte, auf Brocks Tochter Vera. Er soll sie damit konfrontieren, dass der Vater falsche Aussagen über den Tod der Mutter machte, die angeblich in Küstrin bei einem Bombenangriff umkam. Frank verliebt sich in Vera, und während ihrer gemeinsamen Nachforschungen über die vergangenen Ereignisse finden sie heraus, dass Brock und Runge sich kennen. Während des Zweiten Weltkriegs hat Runge die Schwäche Brocks, dessen Frau einen jüdischen Flüchtling versteckte, ausgenutzt. Er hat den Flüchtling erschossen und Brocks Frau der Gestapo ausgeliefert. Aus Scham, sich damals nicht gewehrt zu haben, hat Brock gelogen und sich eine neue Identität zugelegt. Frank wird von Runge ermordet, Brock bricht sein Schweigen.
(Quelle: Das zweite Leben der Filmstadt Babelsberg. DEFA-Spielfilme 1946-1992)
Short Summary (Other Languages)
Lorsque l'inspecteur Brock faillit à dénoncer un voleur, de mauvais lui reviennent en mémoire. "The Second Track" est le seul film est-allemand à porter sur les anciens nazis menant une vie normale en RDA. Les images remarquablement et la photographie en noir et blanc soulignent le sentiment de culpabilité, de répression et d'oubli, faisant de ce film une vraie découverte. (Französisch)
(Cinéma GOETHE - "Rebelles pour la bonne cause - Le cinéma d'Allemagne de l'Est")
Durante un furto allo scalo merci Brock, il capostazione, riconosce uno dei ladri, ma durante il confronto non lo identifica e, per tutelare sua figlia, chiede di essere trasferito. Nel frattempo Runge, il ladro, convince Frank, il giovane fabbro, a inseguire Vera, la figlia di Brock, per rivelarle le menzogne che suo padre le ha raccontato sulla morte della madre, apparentemente caduta a Küstrin durante i bombardamenti. Frank s'innamora di Vera e durante le indagini per far luce sull'accadut, i due scoprono che Brock e Runge si conoscono. Durante la Seconda Guerra Mondiale Runge si è approfittato di Brock: sapendo che sua moglie nascondeva un profugo ebreo, ha prima ucciso il ricercato, per poi consegnare la moglie di Brock alla Gestapo. Vergognandosi per non aver saputo reagire, Brock ha mentito e cambiato identità. Frank uccide Runge e Brock rompe il suo silenzio. (Italienisch)