Das zweite Leben des Friedrich Wilhelm Georg Platow
Director: Siegfried Kühn, 90 Min., Color/Black-White, Feature Film
Deutsche Demokratische Republik (DDR)
DEFA-Studio für Spielfilme, 1973
Film/Video Format

35 mm

Length in m

2452

Other Title

Zug der Zeit; La 2 vie de F.W.G. Platow

English Title

The Second Life of Friedrich Wilhelm Georg Platow

Premiere Date

Release Date (for Cinema)

Premiere Air Date (for TV)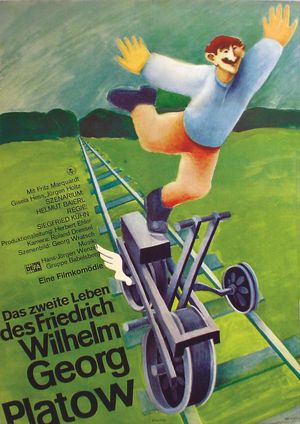 Short Summary (English)
Friedrich Wilhelm Georg Platow worked for the railways his entire working life, He took up service at the small station of Luege 34 years ago. Here he lived happily with his family, And here he suffered much grief when his wife and two children died during a wartime air raid.
Now the line is to be electrified and Platow who cannot cope with the new technology has to work on a secondary local line, Georg, his son, a railway worker as well, is to attend a training course, but Georg refuses to go. Then his father comes to a surprising and highly unusual decision, He pretends to be Georg Platow, making himself twenty years younger than he really is and registers for the course, He feels so good in the role of his son that he even falls in love again, but also Schildt, the lecturer, is making eyes at Malvine, a young, unhappily married woman, besides, Schildt knows the "old" Platow. Finally, he forgets himself and drops a brick when Schildt - rejected by Malvine - pours out his heart to him. Platow's deception is now exposed. He flees the school in shame, but Platow has learned some lessons which he can now convincingly put to the test. The outcome is that he may now work at a largish railway station, coping confidently with the new technology.
Source: Progress Film-Verleih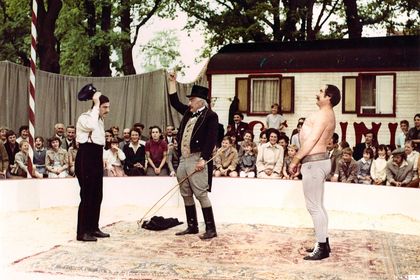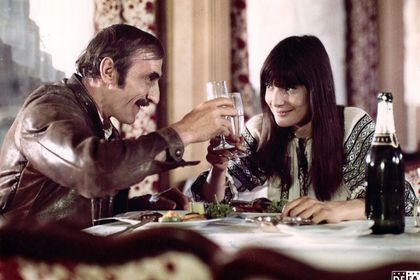 Film Crew
Script

Helmut Baierl
Siegfried Kühn

Cast

Fritz Marquardt (Platow)
Gisela Hess (Malvine)
Jürgen Holtz (Dieter Schildt)
Volkmar Kleinert (Ditfurt)
Barbara Adolph (Sekretärin von Rennmark)
Margit Bendokat (Mädchen mit Tasse)
Carmen-Maja Antoni (Kellnerin)
Hermann Beyer (Zolle)
Hilmar Baumann (Platow, 20 Jahre)
Gertrud (auch: Trude) Bechmann (Alte Frau)
Fred Delmare (Platows Vater)
Eberhard Esche (Wasser)
Ruth Glöss (Blinksiegel)
Anna-Katharina Franck (Platows Frau)
Michail Glusski (Sowjetischer Korporal)
Dieter Franke (Rennmark)
Winfried Glatzeder (Clown)
Hans-Joachim Hanisch (Gutsbesitzer)
Horst Hiemer (Kriegsinvalide)
Rolf Hoppe (Doktor Hoppe)
Heide Kipp (Hotelangestellte)
Willi Neuenhahn (Riese)
Wolfgang Pampel (Wetzel)
Fritz (auch: Friedrich) Links (Dürrer)
Klaus Piontek (Justus)
Günter Margo (Schwarzberockter)
Gudrun Ritter (Schwiegertochter)
Wolf Sabo (Lord-Ober)
Achim Schmidtchen (Ingenieur)
Werner Toelcke (Reporter)
Willi Schrade (Ingenieur)
Axel Triebel (Glatzkopf)
Helmut Schreiber (Zirkusdirektor)
Harald Warmbrunn (Autofahrer)
Johannes Wieke (Eisenbahnaufpasser)
Lothar Warneke (Platows Sohn)
Wolfgang Winkler (Ingenieur)
Siegfried Weiß (Dollwitz)
Puhdys (Musikgruppe)

Music

Hans Jürgen Wenzel (Musikbearbeitung)

Sound

Klaus Tolstorf
Gerhard Ribbeck

Make-Up

Hans-Günter Schulz
Inge Pfenniger
Heinz Wolter

Unit Production Management

Werner Teichmann
Peter Fock

DEFA Photography

Lothar Marten
Dieter Lück
Short Summary (German)
Die Elektrifizierung der Bahn und die Einführung der Elektronik machen den 57-ährigen Schrankenwärter Platow "überflüssig". Er soll in ein Bahnwärterhäuschen an einem Nebengleis abgeschoben werden. In Platow regt sich Widerspruch, er will sich nicht zur Ruhe setzen. Da kommt ihm der Zufall zu Hilfe. Für ihn völlig unverständlich, weigert sich sein Sohn, ebenfalls bei der Bahn, einen Qualifizierungslehrgang zu besuchen. Der Alte sieht seine Chance und tritt beim Lehrgang unter dem Namen seines Sohnes an. Damit begibt er sich in eine Lage, die Folgen hat über die Qualifizierung hinaus. Er muss als vermeintlich zwanzig Jahre Jüngerer eine andere Lebenshaltung finden - was ihm mit Entschlossenheit und Schlauheit auch gelingt. Und am Ende demonstriert er seinen Kollegen mit einer kühnen Draisinenfahrt durch das verzweigte Schienennetz, dass er das Prinzip der neuen elektronischen Schaltung durchaus begriffen hat.
(Quelle: Das zweite Leben der Filmstadt Babelsberg. DEFA-Spielfilme 1946-1992)
Short Summary (Other Languages)
Divenuto "obsoleto" dopo l'elettrificazione delle ferrovie e l'avvento dell'elettronica, il 57enne casellante Platow viene invitato a trasferirsi in un piccolo casello accanto a un binario secondario. Lungi dal voler andare in pensione, Platow frequenta un corso d'aggiornamento pensato per suo figlio, anch'egli collaboratore delle ferrovie. Al termine del corso, ringiovanito di vent'anni, il casellante mostrerà con una corsa in draisina lungo la tentacolare rete di binari, di aver compreso il principio dei nuovi cambi elettornici. (Italienisch)