Dein unbekannter Bruder
Director: Ulrich Weiß, 108 Min., Color, Feature Film
Deutsche Demokratische Republik (DDR)
DEFA-Studio für Spielfilme, 1981
Film/Video Format

35 mm

Length in m

2946

English Title

Your Unknown Brother

Premiere Date

Release Date (for Cinema)

Literary Source

Bredel, Willi: "Dein unbekannter Bruder", Roman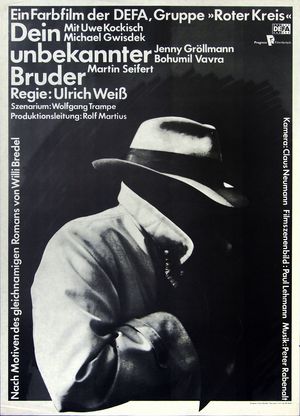 Short Summary (English)
After being released from a concentration camp, Arnold Clasen remains committed to the underground anti-Nazi resistance in Hamburg. Otherwise, he lives quietly and works as a film projectionist. Arnold is in love with Renate but she does not share his political convictions, a fact that only adds to his sense of isolation. When he seeks the friendship of Konrad, a fellow resistor, Arnold cannot help mistrusting him. Suspicions are running high, and in the wake of recent arrests only Walter emerges unscathed. Is he a Nazi informer? Based on Willi Bredel's book of the same name.
Film Crew
Cast

Uwe Kockisch (Arnold)
Michael Gwisdek (Walter / Conferencier)
Jenny Gröllmann (Renate)
Bohumil Vávra (Deisen)
Karin Gregorek (Fräulein Fritsche)
Martin Seifert (Karl)
Michael Gerber (Stefan)
Arno Wyzniewski (Geheimdienstmann)
Stefan Lisewski (Diewen)
Gerry Wolff (Dr. Stammberger)
Carl-Hermann Riese (Parteisekretär)
Peter Dommisch (Harmsen)
Alfred Struwe (Staatsrat Diestelkamp)
Carl Heinz Choynski (Meister Pöller)
Gerd Michael Henneberg (Kommissar Bolten)
Victor Deiß (Haberland)
Detlef Bierstedt (Direktor Gog)
Thomas Just (Kommissar)
Werner Ehrlicher (Minister)
Hannes Stelzer (Arbeitsmann August)
Gisa Stoll (Lina)
Uwe Jellinek (Schonatz)
Eberhard Baur (Zauberer)
Ingrid Dingel (Schlangentänzerin)
Barbara Römhild-Wandelt (Sekretärin)
Eugen Albert (Illegaler)
Klaus Klink (Illegaler)
Verena Zimmermann (Alte Verkäuferin)
Peter Hiller (Mann)
Hans-Uwe Bauer (Mann)
Kurt Radeke (Rechtsanwalt Dr. Hempfel)
Joachim Gottschalk (Assistent)
Holm-Henning Freier (Mann im schwarzen Auto)
Eberhardt Wintzen (Mann im schwarzen Auto)
Eckhardt Bogda (Beamter)
Klaus Ebeling (Unbekannter Mann)
Ralf-Günter Krolkiewicz (SS-Mann)
Peter Jahoda (SS-Mann)
Wolfgang Brumm (SS-Mann)
Olaf Hörbe (Straßenbahnschaffner)
Veronika Vorwerk (Dame in Schweißerhalle)
Beate Besson (Mannequin)
Helga Hänßgen (Mannequin)
Gudrun Heß (Mannequin)
Dagmar Kasigkeit (Mannequin)
Regine Lenz (Mannequin)
Margitta Preil (Mannequin)
Dieter Nickhaus (Kaskadeur)
Michael Vollandt (Kaskadeur)
Gerhard Pumperla (Rottenführer)
Manfred Scherzog (Schaffner)
Wolfgang Tix (Lilliputaner)
Sven Rahn (SA-Junge)

Assistant Camera

Lothar Marten
Christa Köfer
Max Teschner

Sound

Hans-Joachim Kreinbrink
Gerhard Ribbeck (Tonmischung)

Make-Up

Lothar Stäglich
Rosemarie Stäglich

Unit Production Management

Detlef Willecke
Ursula Dombrowski
Awards
2. Nationales Spielfilmfestival der DDR Karl-Marx-Stadt (1982): Annerkennung für Regie, Kamera und Szenographie
Short Summary (German)
Hamburg 1935. Der Antifaschist Arnold Clasen kommt aus der KZ-Haft zurück und schließt sich erneut einer Widerstandsgruppe an. Da er überwacht wird, lebt er unauffällig, meidet den Kontakt mit den Genossen. Nachmittags und abends geht er seiner Arbeit als Filmvorführer in den Orion-Lichtspielen nach. Manchmal trifft er sich mit Renate, die er liebt. Sie stammt aus einer gutbürgerlichen Familie, aber teilt seine politische Haltung. Die Isolation macht ihm zu schaffen, er sucht die Freundschaft zu seinem Kontaktmann Walter. Er möchte jemandem vertrauen, doch das Misstrauen ist groß. Zu der Gefahr von außen kommt der Verrat in den eigenen Reihen. Es gibt Verhaftungen in der Gruppe, Arnold schöpft Verdacht, dass Walter der Verräter ist - und auch er fällt ihm zum Opfer.
(Quelle: Das zweite Leben der Filmstadt Babelsberg. DEFA-Spielfilme 1946-1992)
Short Summary (Other Languages)
A son retour d'un camp de concentration pour prisonniers politiques, Arnold n'est plus certain de vouloir renouer avec son groupe de résistance. Cette rare incursion dans la psychologie de l'antifascisme a fait date dans le cinéma est-allemand. "Ulrich Weiß est le plus grand talent sorti de l'école de Babelsberg dans les années 1970." (Source: Oxford History of World Cinema)
(Französisch: Cinéma GOETHE - "Rebelles pour la bonne cause - Le cinéma d'Allemagne de l'Est")
Nel 1935 Arnold Clasen, un antifascista rientrato ad Amburgo dopo la prigionia in un campo di concentramento, torna a unirsi al movimento della resistenza. Sapendo di essere sorvegliato, conduce una vita normale, evitando il contatto con i compagni. Pomeriggio e sera lavora in un cinema e saltuariamente incontra Renate, una ragazza di buona famiglia borghese che nutre le sue convinzioni politiche e che lui ama. Arnold cerca di fare amicizia con Walter, il suo agente di collegamento. Vorrebbe fidarsi di qualcuno, ma non ci riesce. Ai pericoli esterni, si aggiungono alcuni arresti all'interno del gruppo.Temendo sia stato Walter a tradirli, Arnold cade vittima di quest'ultimo. (Italienisch)