Der arme Müllerbursch und das Kätzchen
Director: Lothar Barke, Helmut Barkowsky, 50 Min., Color, Animation Film
Deutsche Demokratische Republik (DDR)
DEFA-Studio für Trickfilme, 1966 - 1970
Film/Video Format

35 mm

Length in m

1456

Type of Animation

Zeichentrickfilm

English Title

The Poor Miller's Boy and the Kitten

Release Date (for Cinema)

Literary Source

Gebrüder Grimm: "Der arme Müllerbursch und das Kätzchen", Märchen
Short Summary (English)
There once was a poor miller who had no children but only three apprentices to work for him. The two older boys were lazy, mean and stupid, but youngest was hard-working, friendly, and cheerful. When the miller grows too old to work, he send the boys out into the world. Whoever brings back the most beautiful horse will inherit the mill. When the two older boys leave the youngest behind, he meets a magic cat who promises to give him a beautiful horse after he completes three tasks: chop wood with a silver axe, cut down all the grass in the field, and finally, cut down trees and build the cat a home. He returns to the mill to wait for his reward, where he receives not only the horse, but some even better surprises as well! An animated film based on the fairytale by the Brothers Grimm.
(source: University of Massachusetts (UMASS) - DEFA Film Library)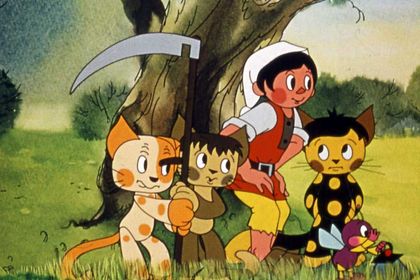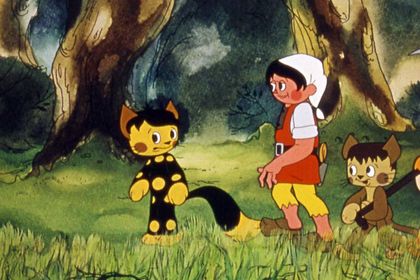 Film Crew
Director

Lothar Barke
Helmut Barkowsky

Script

Lothar Barke
Helmut Barkowsky

Production Management

Eberhard Wiedrich
Bernhard Gelbe

Design

Heinz Münster (Hintergründe)

Animation

Lothar Barke
Helmut Barkowsky
Will Hamacher
Sieglinde Hamacher
Manfred Lau
Heinz Günther
Herbert Kneschke
Irmgard Henker
Eberhard Platz
Christian Biermann
Erika Engelmann
Gabriele (auch: Gabi) Otto

Narrator

Uwe Karpa
Hermann Stövesand
Herbert Sievers
Wolfgang Dehler
Katja Kuhl
Thea Elster
Siegfried Göhler
Awards
X. Sommerfilmtage (1971): Einsatz
Short Summary (German)
Es war einmal ein alter Müller, der hatte drei Burschen: faul, gefräßig und zänkisch die beiden älteren, lustig und freundlich der jüngste. Während letzterer alle Arbeiten machen mußte, stritten die beiden anderen ständig darüber, wer einmal die Mühle übernehmen würde. Das wurde dem Müller zuviel. Er schickte sie zur Bewährung in die Welt. Wer das schönste Pferd nach Hause brächte, sollte die Mühle haben. Die drei zogen ins Land, doch schon am ersten Abend stahlen sich die beiden Älteren heimlich davon, der Jüngste blieb mit einem Glühwürmchen allein. Er machte die Bekanntschaft eines wunderlichen Kätzchens, das ihm das schönste Pferd der Welt versprach, wenn er ihm helfe, drei Aufgaben zu lösen. Der Bursche sagte zu und zerkleinerte einen Riesenberg Holz, mähte eine große Wiese und errichtete für Holz und Gras ein Schutzdach. Dabei mußte er noch gegen einen bösen Kater kämpfen. Als die drei Burschen sich wieder in der Mühle trafen, brachten die beiden Älteren nur Schindmähren mit, der Jüngste aber konnte ein herrliches Roß vorweisen. Der Müller wollte ihm die Mühle geben, doch der Bursche verzichtete, denn das hübsche Mädchen, in das sich das verzauberte Kätzchen zurückverwandelt hatte, war ihm der schönste Lohn.
(Quelle: Die Trick-Fabrik. DEFA-Animationsfilme 1955-1990)