Der Besuch
Director: Klaus Georgi, Color, Animation Film
Deutsche Demokratische Republik (DDR)
DEFA-Studio für Trickfilme, 1968 - 1970
Film/Video Format

35 mm

Length in m

251

Type of Animation

Zeichentrickfilm

Other Title

Serie: Mäxchen Pfiffig und sein Freund Tüte

English Title

A Visitor

Release Date (for Cinema)

Releases

DVD: ICESTORM Entertainment GmbH / www.icestorm.de
Short Summary (English)
A girl visits little Max and Tüte. The two boys immediately become rivals as each tries to outdo the other. The girl is annoyed and bored. The three only get to know each other when the boys start a game and involve her in it.
(Source: Die Trick-Fabrik. DEFA-Animationsfilme 1955-1990)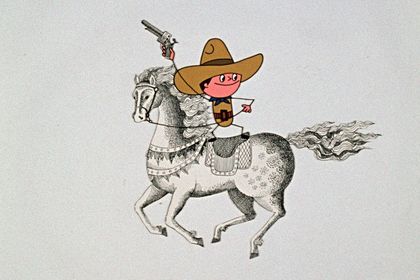 Film Crew
Film Editing

Hanna Fürst (geb. Knieriem)

Music

Günther Karpa
Addy Kurth (Musikbearbeitung)

Design

Klaus Noeske (Hintergründe)

Animation

Evelyn Köhler
Karl Seidel
Karl-Heinz Hofmann
Irmgard Henker
Short Summary (German)
Mäxchen und Tüte erhalten den Besuch eines Mädchens. Sofort werden die beiden zu Rivalen, die sich durch immer größere Angebereien auszustechen versuchen. Das Mädchen ist von den Auseinandersetzungen gelangweilt. Erst als die beiden ein Spiel beginnen, an dem sich die Kleine beteiligen kann, ist der Kontakt zwischen den drei Kindern hergestellt .
(Quelle: Die Trick-Fabrik. DEFA-Animationsfilme 1955-1990)