Der Drache Daniel
Director: Hans Kratzert, 79 Min., Color, Feature Film
Deutsche Demokratische Republik (DDR)
DEFA-Studio für Spielfilme, 1989
Film/Video Format

35 mm

Length in m

2168

Other Title

Robert, der Drache; Der Drache David

English Title

Daniel The Dragon

Premiere Date

Release Date (for Cinema)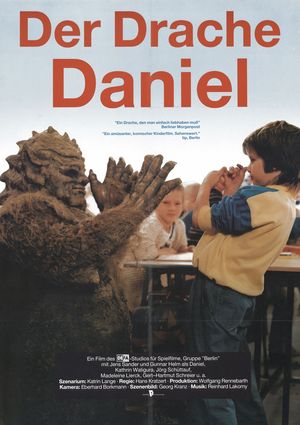 Short Summary (English)
Eight - year- old Daniel lives alone with his father who works as a doctor. The role of his absent mother falls to Daniel's teacher, Miss Sommerfeld.
The class excursion with Daniel's teacher to the dragon's cave becomes an unforgettable event for Daniel. The day that has been so wonderful ends on a note of sadness:
Miss Sommerfeld teils her pupils that she is soon to be married and therefore will leave the town. As a result of his anger and feelings of rejection, Daniel decides to steal a whistle from Mr. Mandelkow, a passionate hobby tinker. However, Daniel doesn't know that wishes can be fulfilled when one blows the whistle...
Daniel has a marvellous idea: through the magical power of the whistle he transforms himself into a dragon. He then kidnaps his teacher and takes her to the cave. Then a misfortune occurs: the whistle is burned by the fire-spitting dragon. What course of action should Daniel now take? With Miss Sommerfeld - who has long since realized who the "dragon" actually is - Daniel flies back to Mr. Mandelkow, who he hopes can be of help. However, Daniel must now face many entanglements: the intervention of Miss Sommerfeld's husband-to-be and the trials that he must master before he can win back his original human form.
Daniel loses his teacher, but he makes new friends...
Source: Progress Film-Verleih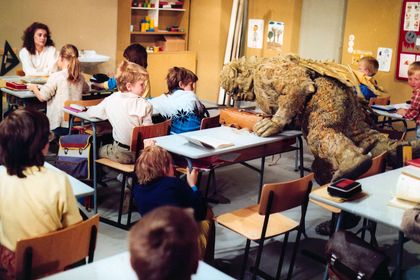 Film Crew
Camera

Eberhard Borkmann
Siegfried Hönicke
Ingo Baar (Drachen-Team: Spezialeffekte / Trickkamera)

Cast

Jens Sander (Daniel)
Gunnar Helm (Daniel als Drache / Kunde)
Kathrin Waligura (Karoline Sommerfeld)
Jörg Schüttauf (Norbert Lenz)
Madeleine Lierck (Frau Melzer)
Gert-Hartmut Schreier (Daniels Vater)
Joachim Zschocke (Herr Mandelkow)
Katarina Tomaschewsky (Direktorin)
Thomas Ewert (Enrico)
Franziska Scholz (Denise-Désirée)
Wolfgang Greese (Museumsmitarbeiter)
Wolfgang Winkler (Oberförster)
Peter Pauli (Feuerwehrchef)
Torsten Bauer (Junger Lehrer)
Thomas Putensen (Brigardemitglied)
Margret Tasch (Kindergärtnerin)
Gertraut Last (Ältere Krankenschwester)
Sabrina Fiedler (Anna)
Anna Kratzert (Sandra)
Theresia Wider (Kundin)
Karin Beewen (Kundin)
Brigitte Struwe (Kundin)
Rose Becker (Kundin)
Horst Günter Fiegler (Kunde)

Sound

Peter Foerster
Werner Schulze
Helga Kadenbach (Tonmischung)

Unit Production Management

Wolfgang Teich
Heidrun Schwoch

Design

Georg Kranz (Drachen-Team: Leitung / Entwürfe)
Helga Jeschke (Drachen-Team)

Animation

Erich Günther (Drachen-Team)

DEFA Photography

Hans-Joachim (auch: Jochen) Zillmer
Short Summary (German)
Der achtjährige Daniel lebt allein mit seinem Vater. Sie verstehen sich gut, doch Daniel vermisst die Mutter und sieht in der Lehrerin Sommerfeld einen Ersatz. Nach einem Schulausflug zur Drachenhöhle erfährt er, dass die Lehrerin heiraten und den Ort verlassen will. In der Werkstatt des alten Meisters Mandelkow stiehlt er eine Zauberpfeife, die Wünsche erfüllt. Daniel verwandelt sich in einen Drachen und entführt Fräulein Sommerfeld in die Höhle. Dort verbrennt die Pfeife. So fliegen die beiden zu Meister Mandelkow, der Daniel zurückverwandeln soll. Doch das ist nicht so einfach. Der Bräutigam der Lehrerin taucht auf und fordert den Drachen zum Kampf. Daniel muss einige Proben bestehen, bis er wieder Mensch wird. Und Fräulein Sommerfeld muß er am Ende doch ziehen lassen.
(Quelle: Das zweite Leben der Filmstadt Babelsberg. DEFA-Spielfilme 1946-1992)
Short Summary (Other Languages)
Daniel, un bimbo di otto anni, vive solo con suo padre. I due vanno d'accordo, ma Daniel sente la mancanza della mamma, che ritrova nella maestra Sommerfeld. Apprendendo, durante una gita alla tana del drago, che la maestra vuole sposarsi e trasferirsi altrove, Daniel ruba una pipa magica dall'officina di mastro Madelkow, si tramuta in un drago, rapisce la maestra e la porta nella sua tana. Bruciata la pipa, i due chiedono a Mandelkow di ritramutare Daniel in un bambino. Ma il drago dovrà affrontare molte sfide per poter spezzare l'incantesimo. Alla fine dovrà anche accettare il trasferimento della maestra. (Italienisch)