Der Fackelträger
Director: Johannes Knittel, 81 Min., Black-White, Feature Film
Deutsche Demokratische Republik (DDR)
DEFA-Studio für Spielfilme, 1955
Film/Video Format

35 mm

Length in m

2240

English Title

The Torch Bearer

Premiere Date

Release Date (for Cinema)
Short Summary (English)
Senior prosecutor Sänger from West Berlin has only one aim, which is to finally get assigned to the Federal Court of Justice. In order to achieve his goal, all he needs is a sensational lawsuit. He finds it when his drunken janitor rampages in a suburban train and gets arrested by the East Berlin railway police and thrown into a drunk tank. Sänger sues Johannes Müller, who has handed the janitor over to the police, for abduction of a West German citizen. The lawsuit meets with great media interest. Sänger, however, miserably fails and looses the case.
(Quelle: filmportal)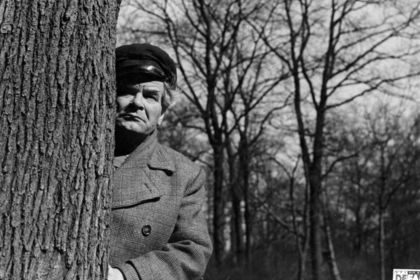 Film Crew
Script

Friedrich Karl Hartmann
Walter Jupé

Film Editing

Johanna Rosinski
Wally Gurschke

Cast

Hermann Kiessner (Dr. Sänger)
Loni Michelis (Frau von Dr. Sänger)
Friedrich Gnaß (Kabischke)
Harry Hindemith (Dr. Hartmann)
Horst Kube (Johannes)
Ruth Maria Kubitschek (Dora)
Georg Thies (Gottfried)
Margret Homeyer (Ingeborg)
Norbert Christian (Gorßkopf, Assessor)
Charlotte Brummerhoff (Bittrich)
Horst Schönemann (Dr. Schleitz)
Wolf Beneckendorff (Generalstaatsanwalt)
Hans W. Hamacher (Senator)
Annemarie Hase (Ziebusch)
Wolfgang Erich Parge (Schulze III)
Gerd Michael Henneberg (Schulze IV)
Egon Vogel (Standesbeamter)
Paula Ronay (Dame in der S-Bahn)
Günther Ballier (Herr in der S-Bahn)
Gustav Püttjer (Bahnarbeiter)
Herbert Mewes-Conti (1. Polizeioffizier)
Erik S. Klein (Volkspolizist)
Johannes Maus (Taxifahrer)
Augustin Kovacz (Bahnpolizist)
Wladimir Marfiak (Oskar)
Oskar Höcker (Justizwachtmeister)
Albrecht (auch: Albert) Bethge (Vorsitzender)
Charles Hans Vogt (Justizwachtmeister)
Valentin Klaus (Schaffner)
Elisabeth Bartels (Fahrdienstleiterin)
Paul Pfingst (Stummpolizist)
Kurt Getke (Lammschneider)
Isolde Eckhoff (Passantin)
Hubert Temming (Zapfer)
Theo Mack (Polizeipräsident)
Ursula Weiß (Sekretärin)
Hans Knorr (2. Polizeioffizier)
Brigitte Gorzelany (Mädchen in der S-Bahn)
Hans Appel (Arbeiter)
Walter Killmann (Arbeiter)
Perzy Werner (Richter)
Walter Salow (Richter)

Make-Up

Franz Richter
Kurt Jerzynski

Unit Production Management

Erich Kühne
Otto Schröder
Short Summary (German)
Der Westberliner Oberstaatsanwalt Eitel-Friedrich Sänger hofft auf eine Beförderung an den Bundesgerichtshof und sucht krampfhaft einen Fall, der seine Eignung untermauern könnte. Da kommt ihm sein Hausmeister Kabischke ungewollt entgegen. Der randaliert volltrunken in der S-Bahn und muss daraufhin seinen Rausch bei der Ostberliner Transportpolizei ausschlafen. Johannes Müller, der Kabischke den volksdemokratischen Behörden übergeben hatte, wird in Westberlin als Menschenräuber verhaftet. Sänger plant einen Sensationsprozess gegen Müller, erleidet aber gegen dessen Rechtsanwalt Dr. Hartmann eine Niederlage. Den Posten beim Bundesgerichtshof bekommt er trotzdem - immerhin hat er Gesinnung bewiesen.
(Quelle: Das zweite Leben der Filmstadt Babelsberg. DEFA-Spielfilme 1946-1992)
Short Summary (Other Languages)
Nella speranza di essere promosso a giudice della Corte Suprema, il procuraore generale di Berlino ovest Eitel-Friedrich Sänger cerca disperatamente un caso con cui dimostrare la sua abilità. L'aiuto gli arriverà dal portiere Kabischke, consegnato alla polizia dell'est dopo aver commesso atti vandalici in stato di ebrezza. Johannes Müller, che ha consegnato Kabischke alla polizia della RDT, viene arrestato per sequestro di persona. Sänger fiducioso di vincere il processo contro Müller, verrà sconfitto dall'avvocato di quest'ultimo. Ciononostante otterà la promozione, perché ha agito secondo validi principi. (Italienisch)