Der kleine Kuno
Director: Kurt Jung-Alsen, 51 Min., Black-White, Feature Film
Deutsche Demokratische Republik (DDR)
DEFA-Studio für Spielfilme, 1959
Film/Video Format

35 mm

Length in m

1407

English Title

Little Kuno

Release Date (for Cinema)
Short Summary (English)
What do grown-ups actually do at night? Little Kuno has been asking himself this question a lot lately. One day, the curious six-year-old decides to get the bottom of it and sneaks outside his house at night. He wanders around the streets aimlessly and experiences some very exciting things: He witnesses an operation of the fire brigade, surreptitiously watches the NVA practice for a parade on the occasion of the oncoming Republic Day, he meets a colored singer, and he runs into a member of the People's police who takes him to the newspaper printing press where the boy's father works. The odyssey, however, is not finished. Kuno is allowed to visit a locomotive plant along with a journalist, and eventually his mother, a train conductor, takes him home in a streetcar. After Kuno has received a broad impression of what grown-ups are up to while he is asleep, he feels satisfied and decides to not bother his parents anymore.
(Quelle: filmportal)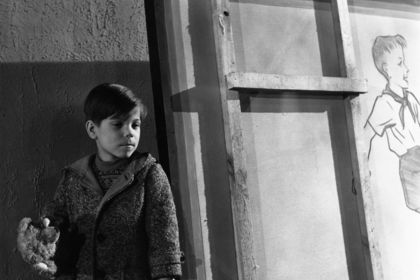 Film Crew
Cast

Siegfried Ewert (Kuno)
Margit Schaumäker (Kunos Mutter)
Rudolf Ulrich (Kunos Vater)
Charlotte Küter (Frau Plünnecke)
Helga Raumer (Fernsehtechnikerin)
Günther Simon (Volkspolizist)
Horst Kube (Volkspolizist)
Martin Flörchinger (Arzt)
Stefan Lisewski (Soldat)
Rolf Ludwig (Reporter)
Bärbel Breitsprecher (Reiseleiterin)
Ilse Kuklinski (Nachbarin)
Vera Oelschlegel (Junges Mädchen)
Erika Stiska (Krankenschwester)
Jochen Diestelmann (Volkspolizist)
Fritz Ernst Fechner (Klaus)
Rainer Mette (Peter)
Hans Fiebrandt (Peters Vater)
Christine Fischer (Peters Mutter)
Petra de Nardi (Petra)
Sabine Thalbach (Petras Mutter)
Erich Fritze (Volkspolizist im Streifenwagen)
Werner Kamenik (Bühnenarbeiter)
Werner Lierck (Gustav)
Rüdiger Volkmer (Junger Mann)
Dieter Perlwitz (Soldat)
Maria Hesse (Straßenbahnschaffnerin)
Peter Gröger (Pressefotograf)

Unit Production Management

Christian Urban
Paul Schimanski
Eberhard Rühmling
Short Summary (German)
Der sechsjährige Kuno hat schon lange einen Wunsch: Er möchte einmal miterleben, was die Erwachsenen in der Nacht machen, wenn er schläft. Eines Abends sind die Eltern nicht zu Hause, und so rückt er aus, begibt sich auf den Weg durch das nächtliche Treiben. Er begegnet einem schwarzen Sänger, erlebt die Feuerwehr beim Einsatz und eine Paradeübung der Armee für den bevorstehenden Tag der Republik, wird von einem Volkspolizisten erwischt und beim Vater in der Zeitungsdruckerei abgeliefert. Ein Reporter nimmt ihn mit ins Lokomotivwerk, und am Ende fährt er mit seiner Mutter, einer Schaffnerin, in der Straßenbahn nach Hause. Seine Neugier ist befriedigt, und er beschließt, seinen Eltern nie wieder Sorgen zu bereiten.
(Quelle: Das zweite Leben der Filmstadt Babelsberg. DEFA-Spielfilme 1946-1992)
Short Summary (Other Languages)
Nonostante abbia solo sei anni, Kuno coltiva da tempo un desiderio: scoprire cosa fanno gli adulti la notte quando lui dorme. Una sera, approfittando dell'assenza dei genitori, decide di esplorare la vita notturna. Incontra così un cantante di colore e assiste a un intervento dei pompieri e alle esercitazioni per la parata militare per il giorno della Repubblica. Sorpreso da un poliziotto, viene riaccompagnato dal padre che lavora in una tipografia. Un reporter lo porta con sé in una fabbrica di locomotive, mentre sua madre, che lavora come controllore, lo riaccompagnerà a casa in tram. Placata la sua curiosità, Kuno decide di non far mai più stare in pensiero i suoi genitori. (Italienisch)