Der Lotterieschwede
Director: Joachim (auch: Hans-Joachim) Kunert, 70 Min., Black-White, Feature Film
Deutsche Demokratische Republik (DDR)
DEFA-Studio für Spielfilme, 1958
Film/Video Format

35 mm

Length in m

1942

English Title

The Lottery Swede

Premiere Date

Release Date (for Cinema)

Literary Source

Andersen Nexö, Martin: "Der Lotterieschwede", Novelle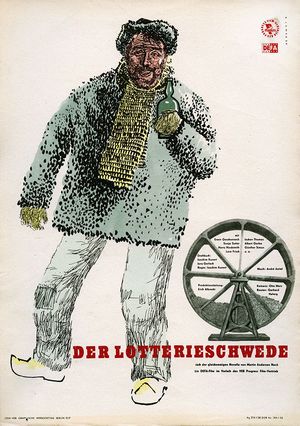 Short Summary (English)
The film is set on the island of Bornholm in 1880. Johan Jönsson, a quarry labourer, his wife and their children eke out a bare living. He buys a lottery ticket and has great hopes of a happy and good life. But his fortune is not forthcoming.
When one of his children falls ill, Jönsson refuses to part with any money to pay the doctor. Instead, he has his lottery ticket renewed. The child dies. Tormented by feelings of guilt, Johan becomes addicted to alcohol. After gambling away all his money, someone else wins the first prize with a lottery ticket. Johan commits suicide. But his son realizes that you cannot rely on a lottery ticket - or some kind of wishful thinking - for your happiness in life. Rather, it is necessary to become politically active and to work towards changing social conditions
Source: Progress Film-Verleih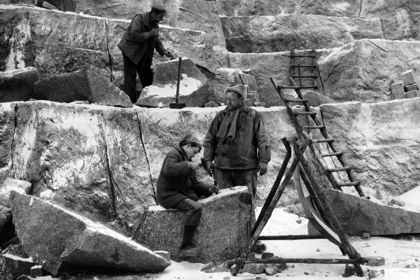 Film Crew
Director

Joachim (auch: Hans-Joachim) Kunert

Script

Joachim (auch: Hans-Joachim) Kunert
Jens Gerlach

Cast

Erwin Geschonneck (Johan Jönsson, der Lotterieschwede)
Sonja Sutter (Frau Jönsson)
Bernd Poch (Per Jönsson)
Guido Thielsch (Lars Jönsson)
Irene Gelbe (Sigrid Jönsson)
Harry Hindemith (Bergendal)
Jochen Thomas (Lindquist)
Hans Emons (Svendsen)
Gerhard Lau (Elström)
Gustav Püttjer (Hinkebein)
Helmut Müller-Steinhoff (Zanoni)
Albert Garbe (Krämer Petersen)
Bernd Schulz (Sohn des Krämers)
Günther Simon (Arzt)
Lore Frisch (Wirtsfrau Julie)
Horst Kube (Wirt)
Marga Legal (Frau Bergendal)
Hans Klering (Postbeamter)
Peter A. Stiege (Apotheker)
Werner Tronjeck (Handwerker)
Friedrich Teitge (Gast)
Hans Schwenke (Gast)
Waldemar Jacobi (Kutscher vom Arzt)
Johanna Zschokke (Dame)
Otto Krone (Arbeiter)

Unit Production Management

DEFA Photography

Heinz (auch: Hein) Wenzel
Short Summary (German)
Die erste große Prosaarbeit Nexös führt auf die Insel Bornholm, im Jahre 1880. Der Steinbruch-Arbeiter Johan Jönsson fristet mit seiner Frau und den Kindern ein armseliges Leben. Mit einem Lotterielos, durch das er sich einen großen Gewinn verspricht, will er der Not entfliehen. Doch es bringt ihm kein Glück. Statt sein bisschen Geld für einen Arzt auszugeben, um sein krankes Kind behandeln zu lassen, verlängert er das Los. Das Kind stirbt, und Johan verfällt, von Gewissensbissen geplagt, dem Alkohol. Nachdem er alles verspielt hat, bringt das Lotterielos einem anderen den Hauptgewinn. Johan begeht Selbstmord, sein Sohn Per hat indessen begriffen, dass Glücksspiel nicht das Mittel ist, das erbärmliche Dasein der Arbeiter zu verändern.
(Quelle: Das zweite Leben der Filmstadt Babelsberg. DEFA-Spielfilme 1946-1992)
Short Summary (Other Languages)
La prima grande opera in prosa di Martin Andersen Nexø ci porta sull'isola di Bornholm, dove, nel 1880, il minatore Johan Jönsson conduce con moglie e figli una vita miserevole nella speranza di scampare alla povertà grazie a un biglietto della lotteria, che, tuttavia, non gli porterà fortuna. Anziché spendere un po' di soldi per curare suo figlio, Johan preferisce tentare la sorte. Il bambino muore e Johan, morso dai sensi di colpa, si da all'alcol. Dopo essersi giocato anche l'ultimo centesimo, perderà anche il biglietto della lotteria che si rivelerà vincente. Johan si suicida, mentre suo figlio Per capirà che non è certo con il gioco d'azzardo che si può cambiare l'infelice vita degli operai. (Italienisch)