Der nackte Mann auf dem Sportplatz
Director: Konrad Wolf, 101 Min., Color, Feature Film
Deutsche Demokratische Republik (DDR)
DEFA-Studio für Spielfilme, 1973
Film/Video Format

35 mm

Length in m

2766

English Title

The Naked Man on the Sports Field

Premiere Date

Release Date (for Cinema)
Short Summary (English)
Sculptor Kemmel is a respectable, married man who leads an almost bourgeois life. He is working on a relief which is to be put up in a village - but he just cannot get it right. Then he tries to chisel a worker's head - but even this goes wrong. Kemmel seems to be stuck in a creative crisis.
On one of his visits to his hometown and the region where he grew up, friends and acquaintances come up with a brilliant idea: he should make a sculpture for the local sports field. The only thing they cannot agree on is who this monument is to portray. A football player? Some other sportsman? Kemmel spends a long time searching - trying to meet suitable people, cautiously getting closer to them, interviewing and modelling them.
And, finally, he creates the monument: a naked runner. But this is definitely not what the villagers bargained for. A sense of helplessness pervades. Not until a famous professor speaks a few approving words is the problem solved: the nude man is placed where he belongs - on the sports field.
Source: Progress Film-Verleih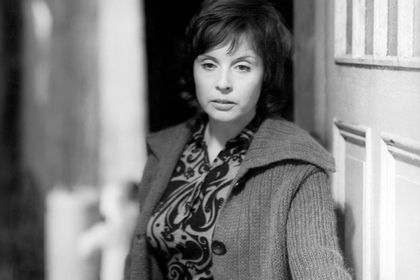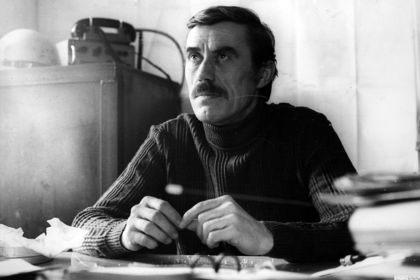 Film Crew
Script

Konrad Wolf
Wolfgang Kohlhaase

Cast

Kurt Böwe (Kemmel)
Ursula Karusseit (Gisi)
Martin Trettau (Hannes)
Elsa Grube-Deister (LPG-Vorsitzende)
Marga Legal (Referentin)
Ute Lubosch (Regine)
Vera Oelschlegel (Fräulein Fritze)
Katharina Thalbach (Frau des Soldaten)
Ursula Werner (Angela)
Erika Pelikowsky (Tante Marie)
Andreas Schmid (Michael)
Christian Baugatz (Pfarrer)
Reimar Johannes Baur (Igor Klippfisch)
Gerhard Bienert (Wilhelm)
Rudolf Christoph (Besichtiger)
Dieter Franke (SG-Vorsitzender)
Klaus Gehrke (Taxi-Fahrer)
Matti Geschonneck (Soldat)
Wolfgang Heinz (Professor Hanke)
Hermann Hiesgen (Fußballfanatiker)
Rolf Hoppe (Tautz)
Thomas Langhoff (Kollege)
Walter Lendrich (SG-Kassierer)
Klaus Manchen (Genossenschaftsbauer)
Dieter Mann (Kollege)
Dieter Montag (Vertrauensmann)
Willi Hocke (Verbandsangestellter)
Günter Rüger (Leipziger)
Günter Schubert (Maurer)
Jaecki Schwarz (Fiete)
Werner Stötzer (Bürgermeister)
Helmut Straßburger (Mann mit Brille)
Johannes Wieke (Kirchenratsmitglied)
Evelyn Cron (Frau Lattinger)
Robert Hirschmann (Schneider)
Ruth Glöss (Untermieterin)
Bodo Schmidt (Verlobter)
Wilhelm Werner (Hauptmieter)
Siegfried Koch (Totengräber)
Herbert Röder (Mann der LPG-Vorsitzenden)
Regine Albrecht (Reisende)
Ursula Langschweiger (Wirtin)
Heinz Mrowka (Traktorist)
Angelika Dietsch (Fischverkäuferin)
Sonja Werner (Mädchen)
Christine Fischer (Eine Frau)
Peter Krüger (Bauingenieur)
Jürgen Klaus (Erklärer)
Hans-Joachim Wolle (Reporter)
Henn Haas (Besucher)
Sonja Voigt (Besucherin)
Eilfi Zitzmann (Gabi)
Karola Jacobs (Barbara)
Beate Gutzeit (Pummel)

Assistant Director

Doris Borkmann (Assistenzregie)

Music

Karl-Ernst Sasse (Musikbearbeitung)

Musical Performance

Max Dolsdorf (Solo-Gitarre)
Otto Rühlemann (Panflöte)

Make-Up

Jürgen Holzapfel
Irmela Holzapfel

Unit Production Management

Werner Teichmann
Gerd Zimmermann

Design

Einar Schleef (Foto-Reportage)

DEFA Photography

Alexander Kühn
Wolfgang Bangemann
Short Summary (German)
Kemmel ist Bildhauer, ein Künstler, der es sich und anderen nicht leicht macht. Auf die vierzig zugehend, fragt er sich, was er bisher Bedeutendes geschaffen hat. Einige Arbeiten werden von den Leuten nicht angenommen. Sein Relief zum Beispiel, das er für ein Dorf angefertigt hat, verschwindet in einem Abstellraum. Der Arbeiter Hannes, den er als Modell für eine Porträtplastik haben will, zeigt kein Interesse. Dann lässt er sich doch darauf ein. Kemmels Arbeit misslingt, aber die stundenlangen Sitzungen sind für beide ein Gewinn, jeder dringt ein wenig in die Welt des jeweils anderen ein. Kemmel fährt in sein Heimatdorf und bekommt den Auftrag, eine Skulptur für den Sportplatz zu schaffen. Einen Fußballer stellt man sich vor. Was Kemmel schließlich bringt, ist ein Läufer - ein Nackter dazu. Die Leute sind peinlich berührt, ablehnend. Doch die Konfrontation mit dem Werk, der vorsichtig einsetzende Umgang mit ihm, führt sie schließlich dazu, es anzunehmen.
(Quelle: Das zweite Leben der Filmstadt Babelsberg. DEFA-Spielfilme 1946-1992, S. 458)
Short Summary (Other Languages)
Relations difficiles entre un sculpteur et les habitants de son village. (Französisch: Cinémathèque francaise 2003).
El escultor Kemmel martilla sus piedras. Cada mañana se va al taller en el cual se sitúan lado a lado piedras comenzadas, seleccionadas y felizmente terminadas. Kemmel mira sus trabajos con ojos examinadores, para ver si conservan aun despues de la noche su valor. El trabaja permanentamente con todas sus energías ya que la piedra es dura.
Kemmel hace pausas y se prepara una escalopa. Tiene visitas, que toman cervéza con el y despuses sigue trabajando con las piedras. Un artesano con gorro y pantalones viejos, un artista. El hombre parco disfruta en su mondo pequeño, los preciosos momentos en que su trabajo logra el resultado buscado y vive tambien allí las catastrofes cotidianas, sean risibles o tristes. El tiene una mujer, un hijo y a veces una amante. El lleva una vida normal entre gente normal, en un lagur, donde la gran ciudad crece en el paisaje junto a calles pequeñas, jardines, rejas.
Kemmel modela la cabeza de un trabajador pero decide abandonar este trabajo. El no puede impedir, que un relieve, que para el es muy importante, desaparesca en una torre vieja, en lugar de ser mostrado en el pueblo. De el se espera una actitud comica y heroica. Llena de comprensión y de incomprensiones.
Kemmel es un hombre amistoso, el se afana por buscar puntos comúnes, pero a veces resulta dificil, encontrarlos. (Spanisch: Konrad Wolf Retro, Goethe Institut 1992)
Kemmel, uno scultore alla soglia dei quarant'anni, si chiede cos'abbia fatto finora di veramente importante. Alcune sue opere, come il recente rilievo per un villaggio, non piacciono alla gente e finiscono puntualmente nei ripostigli. Anche l'operaio Hannes, a cui Kemmel chiede di posare come modello, non sembra interessato e accetta solo con reticenza. Ma le lunghe sedute andarnno a vantaggio di entrambi - artista e modello scopriranno rispettivamente il mondo dell'altro. Rientrando al suo villaggio, Kemmel accetta di realizzare una scultura per il campo sportivo, ma anziché scolpire un calciatore, come richiestogli, Kemmel scolpisce un corridore, per giunta nudo. La gente è imbarazzata e contrariata, ma il confronto con l'opera e il delicato rapporto con l'artista, faranno accettare la scultura. (Italienisch)