Der Ochse von Kulm
Director: Martin Hellberg, 87 Min., Black-White, Feature Film
Deutsche Demokratische Republik (DDR)
DEFA-Studio für Spielfilme, 1954
Film/Video Format

35 mm

Length in m

2408

English Title

The Ox Of Kulm

Premiere Date

Release Date (for Cinema)

Literary Source

Schweickert, Walter Karl: "Der Ochse von Kulm", Roman
Short Summary (English)
The Bavarian farmer Alois owns a gigantic ox. The feisty animal again and again causes anxiety among the soldiers of the American occupation forces. Eventually, Alois is sentenced to 30 days in prison for this "political offence" of his ox. The only problem is that no one is willing to take responsibility for the wild ox during these 30 days. Thus, the authorities come up with a ludicrous solution: "Prisoner Alois" is assigned to do field work at "livestock owner Alois". At the same time "livestock owner Alois" has to guard "prisoner Alois". Thus, the plan seems to work - but in the end the "two Aloises" present their bills.
(Quelle: filmportal)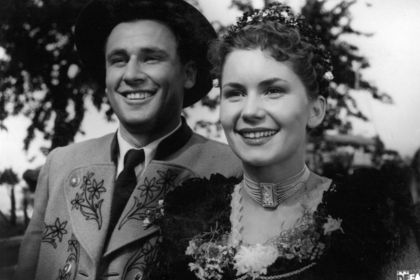 Film Crew
Cast

Ferdinand Anton (Alois)
Lore Frisch (Resel)
Franz Loskarn (Bürgermeister)
Thea Aichbichler (Therese)
Theo Prosel (Meierhofbauer)
Harald Mannl (Waaghuber)
Gustav Trombke (Staatsanwalt)
Wolf Goette (Schneidzwirbel)
Hans Stadtmüller (Bollinger)
Paul Lewitt (Richter)
Raimund Schelcher (Heckenberger)
Sigrid Wilsky (Sekretärin des Staatsanwaltes)
Waltraud Backmann (Amerikanerin)
Harro Tenbrook (Amerikaner)
Hans Lucke (Amerikaner)
Rolf Bergmann (Amerikaner)
Manfred Schäffer (Gefängnispförtner)
Axel Triebel (Beamter)
Harald Grünert (Chef des Liegenschaftsamtes)
Otto Sauter-Sarto (Gewerbeamtsleiter Schnepfinger)
Wolf Kaiser (Gendarm Kranzel)
Ludwig Sachs (Knüpfel)
Franz Arzdorf (Chef des Landwirtschaftsamtes)
Franz Weilhammer (Lachmann)
Lou Seitz (Meierhofbäuerin)
Maximilian Larsen (Polizeipräsident)
Richard Bendey (Postbote)
Jac Diehl (Gemeindediener)
Toni Meitzen (Blasmusiker)
Hildegard Plaschke (Kellnerin)
Waldemar Jacobi (Schutzmann)
Johannes Hoyer (Schutzmann)
Hugo Hubatsch (Begleitbeamter)
Ingrid Barkmann (Wirtin der Bayrischen Bierstube)
Ilona Ringer (Magd)
Liesel Eckhardt (Dorfwahrsagerin)
William (auch: Willi; Willy) Gade (Fahrer des Bierwagens)
Joe Schorn (Polizeiinspektor)
Ulla Reuter (Sekretärin im Gewerbeamt)
Lutz Götz (Bauer Sachs)
Alfred Land (Peter)
Gisela Flohr (Mädchen)
Barbara Schmidt (Mädchen)
Hans Holl (Gerichtsschreiber)
Nico Turoff (Schmied)
Ulrich von der Trenck (Alter Mann)
Fritz Polland (Gendarm)
Werner Toelcke (Polizist)
Herbert Kemlein (Polizist)
Günther Polensen (Polizist)
Werner Butler (Polizist)
Alexander von Klöber (Knecht)
Sepp Klose (Knecht)
Frank Michelis (Knecht)
Hannes Cujath (Militärpolizist)
Günter Sonnenberg (Militärpolizist)
Lisa Mareck (Bäuerin)
Lotte Böttge (Bäuerin)
Lissy Tempelhof (Bäuerin)
Lieselotte Oesterreich (Bäuerin)
Lotte Crusius (Bäuerin)
Wilma Eisermann (Bäuerin)
Trude Brentina (Bäuerin)
Kurt Zwarg (Bauer)
Teddy Wulff (Bauer)
Bruno Atlas-Eising (Bauer)
Walter Schramm (Bauer)
Karl-Wilhelm Streit (Bauer)
Karl Weber (Bauer)
Georg Kröning (Bauer)
Karl Koch (Bauer)
Wilhelm Meves (Bauer)
Wilhelm Otto Eckhardt (Bauer)
Alexander Papendiek (Bursche)
Sigmar Schramm (Bursche)
Dieter Wallrabe (Bursche)
Erdmann Rafalsky (Bursche)
Ernst Ulrich (Beamter)
Erich von Dahlen (Beamter)
Friedrich Teitge (Beamter)
Viktor (auch: Victor) Eckert (Beamter)
Conrad Pfennig (Beamter)
Karli Schwarz (Beamter)
Jo-Hans Teska (Beamter)
Werner Wenzel (Beamter)
Waldemar Jacobi (Beamter)
Wolfgang Bachmann (Beamter)
Joh. Erich Gottschalch (Beamter)

Assistant Director

Ree von Dahlen
Carl Balhaus

Script Editing

Hans-Joachim Wallstein
Gerhard Neumann

Make-Up

Bernhard Kalisch
Elli Lämmer

Unit Production Management

Heinz Walter
Otto Schröder
Short Summary (German)
Auf einer Weide im Bayerischen versetzt ein Ochse Angehörige der amerikanischen Besatzungsmacht in Angst und Schrecken. Für dieses "politische" Vergehen wird der Bauer Alois, Besitzer des Tieres, zu dreißig Tagen Haft verurteilt. Während Alois seine Strafe antritt, tobt der Ochse auf dem Gefängnishof. Niemand kann ihn bändigen, und alle Bauern verweigern es, den Ochsen in Obhut zu nehmen. Die hilflose Verwaltung lässt sich eine irrwitzige Lösung einfallen: Alois muss seine Person spalten. Als Häftling Alois wird er zum Außendienst beim Tierhalter Alois abkommandiert, um den Ochsen zu beaufsichtigen, während er als Tierhalter Alois den Häftling Alois zu beaufsichtigen hat. Die Rechnung, die er anschließend für die doppelte Leistung präsentiert, ist gewaltig.
(Quelle: Das zweite Leben der Filmstadt Babelsberg. DEFA-Spielfilme 1946-1992)
Short Summary (Other Languages)
In un pascolo della Baviera, un bue spaventa a morte i soldati delle truppe d'occupazione americane. Per questo reato "politico" Alois, il contadino padrone dell'animale, viene condannato a trenta giorni di detenzione. Mentre Alois sconta la sua pena, il bue si scatena nel cortile della prigione. Nessuno riesce a domarlo e gli altri contadini si rifiutano di prenderlo in custodia. In preda alla disperazione, l'amministrazione adotta una soluzione folle: il detenuto Alois lavorerà per il fattore Alois, accudendo il suo bue, mentre il fattore Alois avrà il compito di sorvegliare il detenuto Alois. Per i servizi resi, Alois presenterà all'amministrazione una fattura salata. (Italienisch)