Die Abenteuer des Till Ulenspiegel
Director: Gérard Philipe, 85 Min., Color, Feature Film
Deutsche Demokratische Republik (DDR), Frankreich
DEFA-Studio für Spielfilme / Ariane-Film, 1956
Film/Video Format

35 mm

Length in m

2396

Other Title

Ulenspiegel; Les Aventures de Till l'Espiègle

English Title

The Adventure of Till Ulenspiegel

Premiere Date

Release Date (for Cinema)

Literary Source

de Coster, Charles: "Legende vom Ulenspiegel und Lamme Goedzak", Roman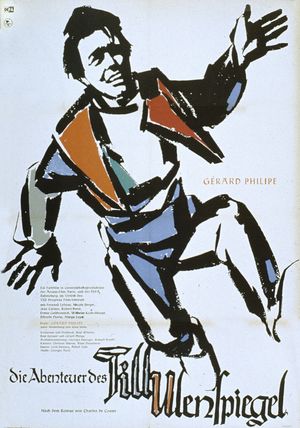 Short Summary (English)
Killing and pillaging as they roam the country, a group of Spanish troops loyal to King Philipp II lay waste to 16th century Netherlands. At the very moment when Till Ulenspiegel and his beloved Nele become engaged, the marauding band of troops reach the Flemish village of Damme, The village is ravaged and torched, and Till must helplessly watch as his own father, Claes, is burned to death at the stake. This experience, however, radically changes Till's life: the young man, who was once the village lark and mischievous prankster, now becomes a fighter against the Spainards and their governor, Alb.
Source: PROGRESS Film-Verleih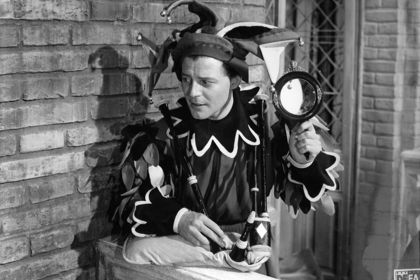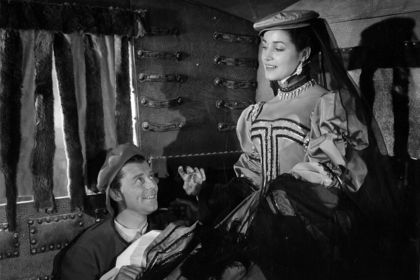 Film Crew
Script

Joris Ivens
René Barjavel
Gérard Philipe

Camera

Christian Matras
Alain Douarinou

Cast

Gérard Philipe (Till)
Jean Vilar (Alba)
Fernand Ledoux (Claes)
Nicole Berger (Nele)
Jean Carmet (Lamme)
Erwin Geschonneck (Stahlarm)
Wilhelm Koch-Hooge (Oranien)
Robert Porte (Juan)
Francoise Fabian (Esperanza)
Raymond Souplex (Grippesous)
Elfriede Florin (Soetkin)
Jean Debucourt (Cardinal)
Georges Chamarat (Simon Praet)
Marga Legal (Katheline)

Scenario

René Wheeler
Gérard Philipe

Production Design

Léon Barsacq
Alfred Tolle

Sound

R. William Sivel
Karl Tramburg

Costume Design

Rosine Delamare
Ingeborg Wilfert

Make-Up

René Daudin
Franz Richter
Bernhard Kalisch

Production Management

Georges Danciger
Richard Brandt

Unit Production Management

Pierre Meyrat
Erich Kühne

DEFA Photography

André Manion
Waltraut Pathenheimer

Dubbing (Dubbing Actor)

Dietrich Haugk (Till)
Adolf Peter Hoffmann (Alba)
Paul R. Henker (Claes)
Hannelore (auch: Hanna, Hanne) Freudenberger (Nele)
Walter Lendrich (Lamme)
Rolf Defrank (Juan)
Brigitte Olm (Esperanza)
Sigurd Lohde (Grippesous)
Alfred Haase (Cardinal)
Walter Richter-Reinick
Albert Venohr

Dubbing (Sound)

Heinz Baldin
Georg Gutschmidt
Short Summary (German)
(Koproduktion DDR/Frankreich)
Die Niederlande im 16. Jahrhundert. Truppen des spanischen Königs Philipp II. halten das Land besetzt, durchziehen es brandschatzend und mordend. Sie kommen auch ins flandrische Damme, wo sich der Possenreißer Till gerade mit seiner Nele verlobt. Der Ort wird verwüstet, geplündert und Tills Vater Claes auf dem Scheiterhaufen verbrannt. Angesichts dieser grausamen Ereignisse wird aus dem Schelm Till ein leidenschaftlicher Kämpfer gegen die Okkupanten und ihren Statthalter Herzog Alba. Mit List führt er die Spanier hinters Licht, bringt ihnen empfindliche Niederlagen bei und ruft das Volk zum Widerstand auf. So rettet er auch dem Anführer der Aufständischen, dem Prinzen von Oranien, das Leben, als Alba diesen ermorden lassen will. Es gelingt den Spaniern nicht, den Aufstand niederzuschlagen, und nach Ausrufung der Unabhängigkeit kehrt Till glücklich nach Damme zu Nele zurück.
(Quelle: Das zweite Leben der Filmstadt Babelsberg. DEFA-Spielfilme 1946-1992)
Short Summary (Other Languages)
Nel XVI. secolo l'Olanda viene occupata, taglieggiata e distrutta dalle truppe del Re spagnolo Filippo II. I soldati raggiungono anche Damme, nelle Fiandre, proprio quando l'irriverente Till si fidanza con Nele. La città viene devastata, saccheggiata e Claes, il padre di Till, mandato al rogo. Di fronte a tali ingiustizie, Till combatte contro il conte Alba e la dominazione spagnola, salvando persino il principe d'Orange, capo dei rivoltosi. Proclamata l'indipendenza, Till ritorna a Damme dalla sua Nele. (Italienisch)
Les Pays-Bas au 16ème siècle. Les troupes du roi espagnol Philipp II occupent le pays, qu'ils sillonnent sans cesse, brulant et assassinant sur leur passage. Ils arrivent au village flamand de Damme, où le baladin Till vient de se fiancer avec Nele. L'endroit est ravagé, saccagé et Till assiste à la mort de son père Clae, brulé sur un bucher. Choqué par cet évènement cruel, le malicieux Till devient un combattant acharné contre les occupants et leur gouverneur le duc Alba. Avec ruse, il dupe les espagnols, leur cause des défaites importantes et pousse le peuple à la révolte. Il sauve ainsi la vie du chef des insurgés, le Prince d'Oranien, alors qu'Alba voulait le faire assassiner. Les espagnols n'arrivent plus à mater la révolte et après la proclamation de l'indépendance, Till rentre heureux en direction de Damme afin de retrouver Nele. (Französisch)