Die Besteigung des Chimborazo
Director: Rainer Simon, 96 Min., Color, Feature Film
Bundesrepublik Deutschland (BRD), Deutsche Demokratische Republik (DDR)
DEFA-Studio für Spielfilme / TORO-Film GmbH, Berlin / Zweites Deutsches Fernsehen (ZDF), 1988 - 1989
Film/Video Format

35 mm

Length in m

2649

Other Title

Die Besteigung des Vulkans

English Title

The Ascent to Chimborazo

Premiere Date

Release Date (for Cinema)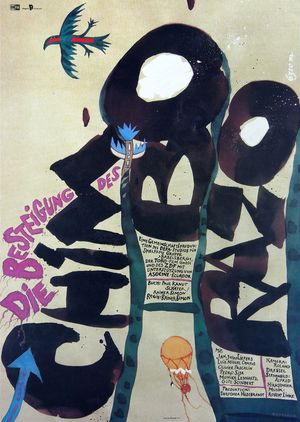 Short Summary (English)
At the age of about thirty, Alexander von Humboldt finally finds himself on the other side of the earth in South America. Together with the French botanist and doctor Aimé Bonpland, the Creole aristocrat Carlos Montufar and an entire caravan of Indians and animals, he breaks camp at a hacienda in the Andes to climb Chimborazo, the highest mountain in the area (6,267 metres), which has never been climbed before. During this difficult journey Humboldt examines, measures and compares plants and animals, the earth, water and the air. Most important are the Indians who accompany him, who carry out the hard work, through whose villages his caravan travels and in whose huts he and his entourage stay overnight. Humboldt becomes acquainted with their way of life and culture so different to the European; he is completely unprejudiced, encountering all of this with inquisitiveness, interest and respect. On the way to Chimborazo, flashbacks tell us how the young Alexander von Humboldt passionately held on to his dream of escaping from the confines of his strict Prussian home to discover the world. We learn how he imaginatively and boldly carried out his own plan in spite of his mother's wish that he become a high-ranking civil servant in the Prussian state, went against the demands of the Prussian court and even overcame his own personal weaknesses to get where he is now. We observe how a young man makes a second discovery of America and how, true to the French Revolution tenets of freedom, equality and brotherliness, he accepted the underprivileged, scorned world of the Indians as a human culture and a way of life on equal footing with any other.
(source: 40. Internationale Filmfestspiele Berlin 1990 Dokumentation)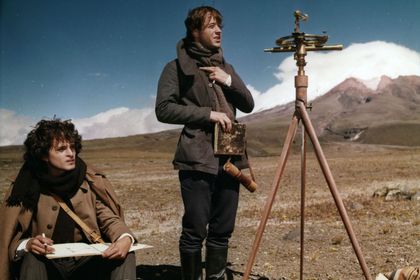 Film Crew
Cast

Jan Josef Liefers (Alexander von Humboldt)
Luis Miguel Campos (Carlos Montúfar)
Olivier Pascalin (Aimé Bonpland)
Pedro Sisa (Pacho)
Monika Lennartz (Frau von Humboldt)
Götz Schubert (Wilhelm von Humboldt)
Hans-Uwe Bauer (Georg Forster)
Sven Martinek (Reinhard von Haeften)
Peter Mohrdieck (Carl Ludwig von Willdenow)
Carl Martin Spengler (Hofmeister Kunth)
Herbert Sand (Blanchard)
Augusto Sacoto (Marqués)
Toty Rodriguez (Marquesa)
Raul Guarderas (Älterer Aristokrat)
Renato Ortega (Jüngerer Aristokrat)
Maria Silveria (Alte Indígena)
Sanunga León (Alte Indígena)
Fortunato Hipo (Schamane)
Pedro Torres (Pfarrer)
Stefan Rehberg (Spörl)
Kathrin Waligura (Frau Spörl)
Helmut Straßburger (Spanischer König)
Margit Bendokat (Spanische Königin)
Christoph Engel (Freiherr von Heinitz)
Juan Guamán (Vorsänger)
Gerhard Hähndel (Junger Offizier)
Heike Herrmann (Madame Blanchard)
Holger Hövel (Französisch singender Junge)
Jakob Michael Fries (Französisch singender Junge)
Gerard Jourde (Guckkastenmann)
Gundula Köster (Alexanders Cousine)
Alfonso León (Uralter Indigena)
Marlies Ludwig (Caroline von Humboldt)
Florian Martens (Marcus Herz)
Katrin Martin (Kinderfrau)
Claudia Michelsen (Henriette Herz)
Jorge Miñarcaja (Träger)
Hector Napolitano (Aufseher)
Klaus Pönitz (Baron)
Claus Stahnke (Anreißer Hafenkneipe)
Jana Simon (Blumenmädchen)
Damián Sisa (Träger)
Jorge Vivanco (Majordomo)
Jürgen Watzke (Minister Hardenberg)
Axel Werner (Wirt)
Javier Ponce (Aristokrat)
Gonzalo Ponce (Aristokrat)
José Donoco (Aristokrat)
Maria José Troya (Rosa)
Gabriele Troya (Tochter)
Monica Molina (Tochter)
Siegrid Heinrich (Harfinistin)
Rudolf Woschick (Patriarch)
Dieter Pose (Majordomo)
Moutlak Osman (Kapitän Leibgarde)
Alexander Winkler (Kammerherr)
Mona Stein (Dame)
Swetlana Skorochodowa (Dame)
Sabine Leuschner (Kind)
Sebastian Füllner (Kind)
Rosemarie Rehahn (Dame der Gesellschaft)
Erika Richter (Dame der Gesellschaft)
Regine Sylvester (Dame der Gesellschaft)
Jutta Voigt (Dame der Gesellschaft)
Margit Voss (Dame der Gesellschaft)
Wieland Becker (ein Herr der Gesellschaft)
Günter Agde (ein Herr der Gesellschaft)
Michael Hanisch (ein Herr der Gesellschaft)
Günter Netzeband (ein Herr der Gesellschaft)
Hans-Jörg Rother (ein Herr der Gesellschaft)
Hannes Schmidt (ein Herr der Gesellschaft)
Santiago Castro
Manuel Miñarcaja
Esteban Miñarcaja
Augustina Miñarcaja
Flor Zulu

Assistant Director

Dietmar Haiduk
Barbara Mädler

Assistant Camera

Dietram Kleist
Wolfgang Ebert
Dieter Lück

Scenario

Paul Kanut Schäfer
Rainer Simon

Sound

Christfried Sobczyk (Ton und Mischung)
Jürgen Mathuschek (Ton-Assistenz)

Make-Up

Klaus Friedrich
Ursula Funk
Andrea Teichmann
Erich Runge

Props

Jörg Danneberg
Andreas Pfeiffenberger
Ingo Schlegel

Unit Production Management

Günter Berger
Kati Wosseng
Lutz Richter-Mendau

DEFA Photography

Wolfgang Ebert
Dietram Kleist

Dubbing (Dubbing Actor)

Björn Schweigert (Pacho)
Alfred Struwe (Marqués)
Gertraud (auch: Trude) Kreißig (Marquesa)
Hans-Ulrich Lauffer (Älterer Aristokrat)
Dieter Memel (Jüngerer Aristokrat)
Erik Veldre (Pfarrer)
Detlef Gieß (Carlos Montúfar)
Hans-Jürgen Pabst (fränkische Stimme)
Immo Sennewald (fränkische Stimme)
Gerd Funk (fränkische Stimme)
Andreas Büttner (fränkische Stimme)
Kathleen Hiecke (Mädchen)
John Green (Engländer)
Corinne Bouillot (Blumenmädchen)
Fred Gehler (Stimme)
Ulrike Gentz (Stimme)
Awards
10. Internationales Festival für Spielfilme mit Natur- und Umweltthematik auf Teneriffa (1991): Spezialpreis der Jury
Short Summary (German)
(Koproduktion DDR/BRD)
Im Jahre 1802 brechen von der nahe Quito (Ecuador) gelegenen Hazienda des Marqués De Selva Alegre drei Männer auf, den damals als höchsten Berg der Welt geltenden Chimborazo zu ersteigen: der 32-jährige Naturforscher Alexander von Humboldt, der französische Botaniker und Arzt Aimé Bonpland und der Einheimische Aristokrat Carlos Montúfar. Trotz größter Strapazen und Gefahren untersucht, misst und registriert Humboldt alles, was er wahrnimmt: Pflanzen, Tiere, Erde, Gestein, Wasser und Luft. Die Expedition führt sie durch die am Fuße des Berges gelegenen Indiodörfer, in denen sie übernachten. Humboldt begegnet der fremden Kultur mit Interesse und vorurteilsfreier Aufgeschlossenheit. Auf dem Weg erinnert er sich der Schwierigkeiten bei der Vorbereitung der Expedition, an die Kleingeistigkeit in Deutschland. Die Männer kämpfen verbissen gegen Schnee, Kälte, Orientierungsschwierigkeiten und dünne Höhenluft und gelangen schließlich in Regionen, die noch nie ein Mensch betreten hat. Den Gipfel erreichen sie nicht, aber eine Höhe von 5540 Metern, mehr als Humboldt gehofft hatte.
(Quelle: Das zweite Leben der Filmstadt Babelsberg. DEFA-Spielfilme 1946-1992)
Short Summary (Other Languages)
Nel 1802 dall'hazienda del Marqués de Selva Alegre, vicino a Quito, il naturalista Alexander von Humboldt, il bonatico e medico francese Aimé Bonpland e l'aristocratico ecuadoreno Carlos Montùfar partono per scalare il Chimborazo, all'epoca la montagna più alta del mondo. Durante il percorso Humbodt misura e annota tutto quello che vede: piante, animali, terreno, roccie, acqua e aria. Ai piedi della montagn dormono nei villaggi indios, ai quali Humboldt si avvicina con interesse e apertura. Questo ricorda allo scienziato le difficoltà incontrate nel preparare la spedizione per colpa dello spirito gretto dei tedeschi. Nonostante la neve, il freddo, la perdita dell'orientamento e l'alta quota, gli uomini raggiungono regioni inesplorate. Non arriveranno alla vetta, ma i 5540 metri raggiunti sono più di quanto Humboldt avesse sperato. (Italienisch)
Alexander von Humboldt a la trentaine quand il se retrouve enfin de l'autre côté du globe, en Amérique. Accompagné de Bonpland, botaniste et médicin, du noble créole Carlos Montufar et de toute une caravane d'Indiens et d'animaux, il part dans les Andes avec l'intention de conquérir le Chimborazo, le sommet le plus haut la de la région (6267 m), que personne n'a jamais atteint. L'ascension est pénible mais cela n'empêche pas Humboldt d'examiner , de mesurer et de comparer les plantes et les animaux, l'eau la terre, l'air. Toutefois ce sont surtout les Indiens qui l'intéressent, ceux qui l'accompagnent et exécutent les travaux les plus durs et ceux dont la caravane traverse les villages et dans les huttes desquels ils passent la nuit. C'est sans le moindre préjugé mais avec curiosité, intérêt et respect que Humboldt aborde leur culture et leurs coutumes étrangères aux Européens. Tandis que l'ascension du Chimborazo se poursuit, nous apprenons par des flashbacks avec quelle passion désespérée le jeune Alexander von Humboldt a rêvé d'explorer le monde, de se libérer du carcan prussien, avec quelle inventivité et quelle détermination il est parvenu à réaliser ce rêve contre la volonté de sa mère qui voulait faire de lui un fonctionnaire de l'état prussien, contre les exigences de la Cour de Prusse et aussi contre sa propre faiblesse. Nous assistons à la seconde découverte de l'Amérique par un jeune homme qui, fidèle aux idéaux de liberté, d'égalité et de fraternité de la révolution française, sut accepter l'univers des Indiens, défavorisé et méprisé de tous, en tant qu'une autre culture de valeur égale. (Französisch)
(source: 40. Internationale Filmfestspiele Berlin 1990 Dokumentation)