Die dicke Tilla
Director: Werner Bergmann, 76 Min., Color, Feature Film
Deutsche Demokratische Republik (DDR)
DEFA-Studio für Spielfilme, 1981
Film/Video Format

35 mm

Length in m

2104

English Title

Fat Little Tilla

Premiere Date

Release Date (for Cinema)

Literary Source

Klein, Rosel: "Die dicke Tilla", Kinderbuch

Releases

DVD: ICESTORM Entertainment GmbH / www.icestorm.de
Short Summary (English)
In some nondescript school located in some nondescript town in the GDR, a newcomer joins the fifth grade dass. The newcomer' s name is Anne - besides wearing glasses, she not only likes to paint, but she also does it especially well. Totally unexpectedly and actually without motivation, Tilla, the strongest member in the class and the leader in all class undertakings, becomes Anne's rival. Whatever the occasion, Tilla always does the talking. Moreover, she is simply adored by her boyfriend Knutschi, who not only enthusiastically supports her in all of her endeavours, but also in her malicious attacks against Anne. Right from the start, there is mutual antipathy between the two girls. However, while Anne doses herself off from the others and retreats into her own dreamworld, Tilla, whenever she can, attempts to badger, humiliate and torment Anne. Tilla, as the titular queen of the class, easily succeeds in her efforts to arouse her fellow pupils against her rival, Anne. However, at some point, Anne starts to fight back and she vindicates herself in the best way she knows: by painting a picture wherein Tilla is depicted as being not only obscenely fat, but vicious and ugly as well. The machinations, intrigues and even scuffling between the two rivals accelerate until finally a bicycle is demolished and a pair of glasses are trampled. However, a surprising turn of events creates a situation wherein not only Anne and Tilla can finally really get to know each other, but which will also allow the possiblitiy of a friendship between the two girls to develop...
Source: Progress Film-Verleih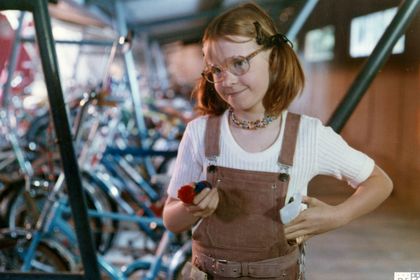 Film Crew
Camera

Werner Bergmann
Ingo Baar

Cast

Carmen Sarge (Tilla)
Jana Mattukat (Anne)
Matthias Manz (Knutschi)
Maurice Woynowski (Felix)
Rebecca Michaelis (Gabi)
Sandra Sauskat (Birgit)
Heinke Fredenhagen (Marion)
Jacob Kühn (Henry)
Mirko Heinke (Michael)
Axel Krien (Jens)
Christian Krause (Ralph)
Mario Krause (Bernd)
Carmen-Maja Antoni (Annes Mutter)
Günter Junghans (Annes Vater)
Carl Heinz Choynski (Tillas Vater)
Peter Bause (Lehrer Eckart)
Dorothea Mommsen (Frau Schimmelpfennig)
Joachim Schönitz (Pausenlehrer)
Dagmar Henkel (Serviererin im Eiscafé)

Assistant Director

Ulrich Kanakowski
Elke Niebelschütz

Assistant Camera

Dieter Lück
Lothar Marten

Music

Kiril Cibulka (auch: Zibulka)

Sound

Christian Müller
Brigitte Pradel
Helga Kadenbach

Make-Up

Heinz Bernhardt
Karin Wacker

Unit Production Management

Paul Lasinski
Werner Teichmann

DEFA Photography

Jörg Erkens
Hans-Ullrich Raschke
Short Summary (German)
Die etwa zehnjährige Tilla gibt in ihrer Klasse den Ton an. Alle machen, was sie will. Als eine Neue kommt, Anne, bricht Feindschaft auf den ersten Blick aus. Anne malt gern, trägt eine Brille und hat lauter Einsen. Tilla hetzt auch die anderen gegen Anne auf, die sie nicht mag, weil sie so anders ist. Der Zwist wird handgreiflich. Tilla demoliert Annes Fahrrad, und die anfangs schüchterne Anne revanchiert sich mit einem Bild, das Tilla als Karikatur darstellt. In einer Notsituation kommen sie sich plötzlich näher, erzählen von sich. Und das gegenseitige Kennenlernen offenbart, dass sie beide die Neigung zu einer neuen Freundschaft empfinden.
(Quelle: Das zweite Leben der Filmstadt Babelsberg. DEFA-Spielfilme 1946-1992)
Short Summary (Other Languages)
Nonostante la sua tenera età, in classe è Tilla a comandare. Con Anne, la nuova compagnuccia, è odio a prima vista. Tilla istiga i compagni contro di lei, solo perché porta gli occhiali, disegna volentieri e a scuola prende ottimi voti. La situazione precipita: Tilla demolisce la bici di Anna, che si rivendica realizzando una caricatura di Tilla. In una situazione d'emergenza, le due bambine si avvicinano e, imparando a conoscersi meglio, diventano amiche. (Italienisch)