Die Elixiere des Teufels
Director: Ralf Kirsten, 106 Min., Color, Feature Film
Deutsche Demokratische Republik (DDR), Tschechoslowakei
Barrandov-Filmstudio, Prag / DEFA-Studio für Spielfilme, 1972
Film/Video Format

35 mm

Length in m

2899

English Title

The Devil´s Elixir

Premiere Date

Release Date (for Cinema)

Literary Source

Hoffmann, E. T. A.: "Die Elixiere des Teufels", Roman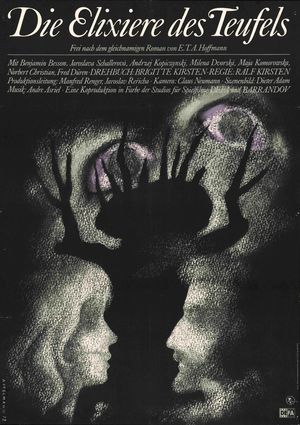 Short Summary (English)
The Abbess of a convent tries in vain to dissuade young Franziskus from taking holy orders. Franziskus has noble ideals - they are, however, wholly out of touch with reality.
After being maltreated by a group of infuriated monks, Franziskus seeks an audience with the Bishop in order to demand just punishment for the culprits. However, once at the bishopric, Franziskus becomes the victim of an intrigue: he is mistakenly thought to be the father confessor of the love-crazed Baroness Euphemie. While at the bishopric, he also meets up with Aurelie, the woman with whom he experienced his first romance.
Franziskus must suddenly flee: he is accused of murdering the Baron and his son - the real murderer is, however, Baroness Euphemie. Finally, Franziskus is arrested and put in jail where he can do nothing but await execution.
Aurelie gives birth to a son. However, the hope that she and Franziskus will ever be able to share a life together is a hope long since deferred. Deciding to save the life of the young man, the Church comes up with a plan. Franziskus is given a cup of poison. In pretence, Franziskus is declared dead. He is then brought to the Bishop's residence where he safely regains consciousnessThe Bishop, however, has his own ideas about what to do with Franziskus: he attempts to alter his character to turn him into a pious servant of the Church.
However, when Franziskus learns that Aurelie is about to take religious vows herself, he publicly impeaches all those who have destroyed both of their lives, and also their mutual love. After Franziskus's public hue and cry, the Bishop arranges his murder - Franziskus is stabbed to death in the pulprl:. But Aurelie, wrth the help of the clown Belcampo, manages to flee.
Source: Progress Film-Verleih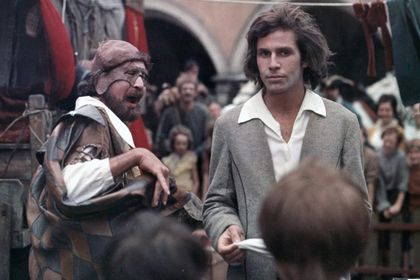 Film Crew
Cast

Benjamin Besson (Franziskus)
Jaroslava Schallerová (Aurelie)
Andrzej Kopiczynski (Victorin)
Milena Dvorská (Euphemie)
Maja Komorowska (Äbtissin / Fürstin)
Fred Düren (Belcampo)
Krzysztof Chamiec (Bischof)
Norbert Christian (Cyrillus)
Radovan Lukavský (Baron)
Jürgen Kluckert (Hermogen)
Edmund Fetting (Richter)
Gerhard Bienert (Prior)
Peter Dommisch (Fürst)
Angela Brunner (Bäuerin)
Zdenka Burdová (Zofe)
Monika Pietsch (Nonne)
Klaus-Peter Pleßow (Seminarist)
Annette Roth (geb. Woska) (Nonne)
Klaus-Rudolf Weber (Seminarist)
Karl-Heinz Weiß (Weltgeistlicher)
Ingeborg Wimmler (Double - Tanz Euphemie)
Klaus Ebeling (Pantomime)
Wolfgang Edel (Pantomime)
Harald Engelmann (Pantomime)
Wolfgang Feldhahn (Pantomime)
Ursula Fischer (Pantomimin)
Pedro Hebenstreit (Pantomime)
Gerd Lüppert (Pantomime)
Karl Maschwitz (Pantomime)
Katja Molotschajewa (Pantomimin)
Januš Rehor (Pantomime)
Renate Wendel (Pantomimin)
Alexander Leuschen (Pantomime)
Erich Braun (Wachtmeister)
Bernd Schnaak (Kaplan)
Dieter Knust (Mönch)
Gerd Groicher (Schlappseilakrobat)
Christine Groicher (Schlappseilakrobatin)
Eberhard Sperlich (Feuerschlucker)
Alfred Krämer (Peitschenschläger)
Michael Vollandt (Kaskadeur)
Heino Kurth (Pantomime)
Alexander Winkler (Pantomime)
Winfried Mank (Pantomime)
Lothar Hanff (Pantomime)
Antje Töpel-Neumann (Pantomimin)
Eva Reinthaller (Pantomimin)
Alexander Onody (Pantomime)
Brigitte Böselt (Pantomimin)
Klaus Sehmisch (Pantomime)
Dietmar Seiffert (Pantomime)
Jürgen Dahms (Pantomime)
Heide Förster (Pantomimin)
Peter Berger (Pantomime)
Hans Vogelreuter (Pantomime)
Eva Szendey (Pantomimin)
Karin Diekmann-Kursawe (Pantomimin)
Roswitha Riedel (Pantomimin)
Sigrid Hubrich-Rehor (Pantomimin)
Helga Schiele (Pantomimin)
Ute Wisnawitzki (Pantomimin)
Christine Rouvel (Pantomimin)
Anita Tank (Pantomimin)
Carmen Kenitz (Pantomimin)
Inka Rost (Pantomimin)
Erika Leßmann (Pantomimin)
Wilfried Jahn (Pantomime)
Manfred Hartmann (Pantomime)
Klaus Kretschmar (Pantomime)
Gerhard Blabusch (Pantomime)
Henko Petrow (Pantomime)
Isolde Pötzsch (Pantomimin)
Angelika Rentsch (Pantomimin)
Ines Dalchau (Pantomimin)
Marie Pechmann (Pantomimin)
Christa Ernst (Pantomimin)
Anita Siegert (Pantomimin)
Dagmar Pograzeba (Pantomimin)
Karl-Heinz Kruse (Pantomime)
Egon Fischer (Pantomime)
Rainer Hartung (Pantomime)
Herbert Hoffmann (Pantomime)
Jürgen Hase (Pantomime)
Rainer Harder (Pantomime)
Georg Richtsfeld (Pantomime)
Gisela König (Pantomimin)

Assistant Director

Doris Borkmann (Assistenzregie)
Miroslav Kubista (Assistenzregie)

Script Editing

Gudrun Deubener (geb. Rammler)

Sound

Konrad Walle
Georg Gutschmidt

Musical Performance

DEFA-Sinfonieorchester (Leitung: Manfred Rosenberg)
Volker Bräutigam (Organist)
Solistenvereinigung des Berliner Rundfunks (Leitung: Dietrich Knothe)

Make-Up

Frank May (geb. Zucholowsky)
Jiri Simon
Brigitte Welzel
Waldemar Pokrywka
Ursula Funk

Production Management

Manfred Renger
Jaroslav Rericha

Unit Production Management

Karl-Heinz Marzahn
Renée Lavecká
Walter Hunger

Design

Harald Engelmann (Choreografie)

Dubbing (Dubbing Actor)

Ursula Werner (Aurelie)
Hannjo Hasse (Victorin)
Annemone Haase (Euphemie)
Barbara Lotzmann (Äbtissin / Fürstin)
Armin Mueller-Stahl (Bischof)
Wolfgang Greese (Baron)
Eugen Eschner (Richter)
Short Summary (German)
(Koproduktion DDR/ČSSR)
Der Jüngling Franziskus ist Mönch geworden, weil er glaubt, in einem Kloster als Gleicher unter Gleichen leben zu können. Er wird jedoch enttäuscht und will zum Bischof, um Gerechtigkeit zu fordern. Auf dem Weg wird er das Opfer einer raffinierten Intrige. Die Baronesse Euphemie, die ihn auf ihrem Gut empfängt, beschuldigt ihn, ihren Mann und dessen Sohn ermordet zu haben. Franziskus, der auf dem Gut seine erste Liebe Aurelie wiedergetroffen hat und davon träumt, sich von seinem Gelübde entbinden zu lassen, muss plötzlich fliehen. Doch man fasst ihn. Von Kirchenvertretern, die den Namen der Institution rein halten wollen, wird er zum Bischof gebracht. Der glaubt, in Franziskus nun einen ergebenen Diener zu haben, doch dieser begehrt auf, als er sieht, daß Aurelie ebenfalls das Gelübde ablegen soll. Er wird ermordet, Aurelie kann entkommen.
(Quelle: Das zweite Leben der Filmstadt Babelsberg. DEFA-Spielfilme 1946-1992)
Short Summary (Other Languages)
Convinto di poter vivere in un convento alla pari degli altri, il giovane Franziskus si fa monaco. Deluso, spera d'incontrare il vescovo per poter chiedere giustizia, ma sarà vittima di un raffinato intrigo. La baronessa Euphemie, che lo accoglie nel suo podere, lo accusa di aver assassinato suo marito e suo figlio. Franziskus, che dopo aver ritrovato nella tenuta Aurelie, suo primo amore, sogna di poter rinunciare al celibato, è improvvisamente costretto a scappare. Catturato, verrà portato davanti al vescovo, che vede in lui un umile servo. Quando Franziskus scopre che anche Aurelie è stata costretta a prendere i voti, si ribella. La sua morte permetterà alla ragazza di fuggire. (Italienisch)