Die Gänse von Bützow
Director: Frank Vogel, 94 Min., Color, Feature Film
Deutsche Demokratische Republik (DDR)
DEFA-Studio für Spielfilme, 1985
Film/Video Format

35 mm

Length in m

2591

English Title

The Geese Of Buetzow

Premiere Date

Release Date (for Cinema)

Literary Source

Raabe, Wilhelm: "Die Gänse von Bützow", Erzählung
Short Summary (English)
On a late autumn day in 1794, Dr. Hane, the mayor of Bützow, a small village in Mecklenburg, observes his habit of visiting the village's dignified and respected goose breeder for lunch. This lady, a spinster called Hornborstel, has long fancied the unwed mayor, and now she figures her time has finally come to lay her cards on the table. Appalled by her marriage proposal, the mayor runs away...
In the hopes of squelching any plans of an impending marriage, the small town despot, who dreams of moving up in the political power structure, enacts a goose decree: under penality of law, it is now forbidden to let animals run about the village freely - which is particularly detrimental to widow Hornborstel. The widow, however, doesn't give up so easily: she concocts an intrigue.
By fanning the fiames of his passion for her, she employs the services of Albus, a schoolmaster, who has long been a hopeless fancier of the goose farmer. With Albus now in tow, Hornborstel arouses the anger of the workers, inciting a revolt against the mayor and his goose decree. In Bützow, the French Revolution finds its ludicrous counterpart in the rallying cry of "freedom for the geese". It only takes a few soldiers, however, to bring peace and quiet back to the sleepy village. (Source: Progress Film-Verleih)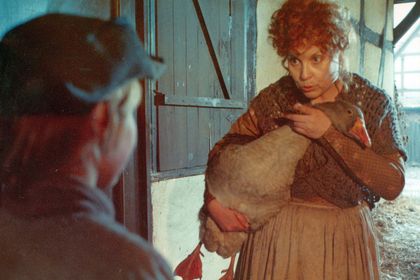 Film Crew
Camera

Werner Bergmann
Peter Badel

Cast

Rolf Hoppe (Dr. Hane)
Arno Wyzniewski (Albus)
Ursula Karusseit (Witwe Hornborstel)
Franziska Troegner (Regina)
Carl Heinz Choynski (Gräwedünkel)
Kaspar Eichel (Jacobs)
Reiner Heise (Herzog)
Jürgen Rothert (Schmidt)
Martin Trettau (Schlappupp)
Lothar Förster (Klafautius)
Edgar Külow (Kristeller)
Peter Pauli (Kaufmann)
Jaecki Schwarz (Bröcker)
Giso Weißbach (Steuereinnehmer)
Gerry Wolff (Ulebeule)
Carmen-Maja Antoni (Frau Gräwedünkel)
Angela Brunner (Renate Kristeller)
Karin Gregorek (Helene Klafautius)
Ruth Kommerell (Wirtin)
Christa Löser (Elise Ulebeule)
Karin Weser (Johanna Bröcker)
Waldemar Baeger (Scherpelz)
Hartmut Beer (Hoyer)
Paul Berndt (Holzrichter)
Peter Friedrichson (Narbe)
Jörg Kleinau (Harnisch)
Werner Kos (Compeer)
Jörg Panknin (Martens)
Dietmar Obst (Haase)
Willi Schrade (Rohde)
Herbert Kunkel (Alter Mann)
Peter Dommisch (Kranepuhl)
Hanswerner (auch: Hannswerner) von Gehr (Sekretär des Herzogs)
Ellis Heiden (Marktfrau)
Roman-Eckhard Galonska (Trödelhändler)
Theresia Wider (Eine Frau)
Sina Fiedler (Eine Frau)
Annemarie Siemank-Ripperger (Eine Frau)
Thea Schmidt-Keune (Eine Frau)
Horst Giese (Mann mit Karren)
Hans-Uwe Wardeck (Kutscher)
Willi Neuenhahn (Wachsoldat)
Horst Papke (Wachsoldat)
Andreas Albert (Grenadier)
Frank Haberland (Grenadier)
Andreas Hampel (Grenadier)
Heinz Przybylski (Grenadier)
Alexander Heidenreich (Christian Jacobs)
Andreas Kuhn (Kind Schmidt)
Heiko Pöhner (Kind Bröcker)
Andreas Palm (Kind Kranepuhl)
Michael Roth (Kind Compeer)

Assistant Director

Georg Krippendorf
Igor Kroitzsch

Assistant Camera

Norbert Kuhröber
Dieter Lück

Sound

Wolfgang Höfer
Gerhard Ribbeck (Tonmischung)

Make-Up

Frank May
Brigitte Wenzel

Props

Dietmar Scheer
Jürgen Rutzen

Unit Production Management

Wolfgang Bertram
Heinz-Jürgen Schmidt
Lutz Rabbach
Short Summary (German)
Das kleine Städtchen Bützow im Herzogtum Mecklenburg-Schwerin 1794. Die wohlhabende Witwe Hornborstel ist die beste Gänsezüchterin der Gegend. Seit sieben Jahren beköstigt sie den Bürgermeister Dr. Hane in der Hoffnung, ihn vor den Traualtar zu bekommen. Nun reicht es ihr und sie drängt ihn unzweideutig in ihr Schlafzimmer. Hane entflieht durchs Fenster. Um die Hornborstel zu verärgern und sie sich damit vom Leibe zu halten, erlässt der despotische Bürgermeister ein "Gänseedikt", das den Tieren das freie Herumlaufen verbietet. Zuwiderhandelndes Federvieh wird eingesperrt. Die couragierte Frau aber bringt den sie verehrenden und von der französischen Revolution beeinflussten Magister Albus dazu, die Bürger gegen Hane aufzuwiegeln. Sie revoltieren für die Freiheit der Gänse, der Herzog setzt das Edikt wieder ab und einen neuen Bürgermeister ein. Albus flieht bei Nacht und Nebel über die Grenze, und Bützow hat endlich seine alte Ruhe wieder.
(Quelle: Das zweite Leben der Filmstadt Babelsberg. DEFA-Spielfilme 1946-1992)
Short Summary (Other Languages)
Alla fine del XVIII secolo a Bützow, un paesino nel ducato del Meclenburgo-Schwerin, la ricca vedova Hornbostel, considerata la miglior allevatrice di oche della zona, spera di portare il sindaco Hane all'altare, deliziandolo con le carni dei suoi volatili. Un bel giorno, stanca di aspettare, la vedova cerca inequivocabilmente di sedurre il sindaco, che fugge dalla finestra della sua stanza da letto. Per dispetto alla vedova, ma soprattutto per liberarsi di lei, Hane emana un editto, vietando alle oche di scorrazzare liberamente. Con l'aiuto del giudice Albus, l'impavida signora incita i conpaesani alla rivolta contro il sindaco per la libertà delle oche. Hane ritira l'editto e si dimette dal suo incarico. A Bützow torna così a regnare la tranquillità. (Italienisch)