Die Glatzkopfbande
Director: Richard Groschopp, 77 Min., Black-White, Feature Film
Deutsche Demokratische Republik (DDR)
DEFA-Studio für Spielfilme, 1962
Film/Video Format

35 mm

Length in m

2125

English Title

The Baldheaded Gang

Premiere Date

Release Date (for Cinema)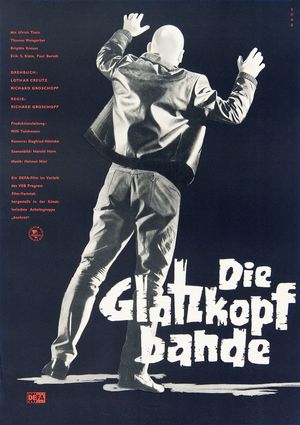 Short Summary (English)
The luring model of the USA - the "Golden West" tempts some very young people into imitating the West's behaviour: they give themselves smart-sounding nicknames and, copying their idol's example - Yul Brynner - they cut off their hair and proudly call themselves the "bald-headed" while on vacation. Their professional aim is to make a quick buck, which soon lands them in deep trouble: the gang cause an accident in which two people lose their lives. They have neglected preventive measures as a result of sheer bungling. While holidaying on the island of Usedom, they are out to make "bigger sums". Aping characters in cheap trivial books from the West, the youngsters start terrorizing tourists. But the chance of fleeing to the West after having the police on their heels is foiled when the Berlin Wall is built on August 13, 1961.
They are arrested, one after the other - also "King", the leader of the gang and former foreign legionnaire who boasts a long police record. The string-pullers in the Wrest are left out in the cold... (Source: Progress Film-Verleih)
Film Crew
Script

Lothar Creutz
Richard Groschopp

Cast

Ulrich Thein (Lothar Czernik, Leutnant der Kriminalpolizei)
Erik S. Klein (Abschnittsbevollmächtigter)
Paul Berndt (Schriftsteller Helmut Ritter)
Brigitte Krause (Journalistin Kirsten Köster)
Erika Dunkelmann (Frau Pohl)
Jutta Wachowiak (Marianne Pohl)
Irene Fischer (Mädchen Jackie)
Klaus Gendries (Leutnant der Kriminalpolizei Hansen)
Hans Knötzsch (Winter, Objektleiter)
Gerhard Lau (Bauleiter)
Thomas Weisgerber (King (Glatzkopfbande))
Rolf Römer (auch: Rolf Specht) (Johle (Glatzkopfbande))
Arno Wyzniewski (Conny (Glatzkopfbande))
Jürgen Rothert (Schnuppi (Glatzkopfbande))
Karl-Richard Schmidt (Opa (Glatzkopfbande))
Jürgen Pörschmann (Piepel (Glatzkopfbande))
Günter Meier (Wildschwein (Glatzkopfbande))
Peter Pollatschek (Stinker (Glatzkopfbande))
Herbert Graedtke (Warze (Glatzkopfbande))
Mathilde Danegger (Piepels Oma)
Steffie Spira (Opas Mutter)
Horst Friedrich (Opas Vater)
Otto Zedler (Meister Kranich)
Monika Hildebrand (Waltraud)
Jochen Diestelmann (Bauspezialist der Kripo)
Hans Hardt-Hardtloff (Wohnlagerverwalter)
Johannes Elchlep (Leiter des Betriebsschutzes)
Christoph Beyertt (Parteisekretär)
Gerry Wolff (Czerniks Vorgesetzter)
Hans Sievers (VP Bertram)
Otto-Erich Edenharter (Objektleiter des Bierzeltes)
Günther Polensen (Diensttuender Leiter des VP-Kreisamtes Wolgast)
Kurt Rackelmann (Wichtigtuer)
Hans Fiebrandt (Der Superschlaue)
Lothar Schellhorn (Direktor des Fischereikombinats)
Joe Schorn (Betrunkener)
Walter E. Fuß (Arbeiter)
Horst Kube (Arbeiter)
Karl Sturm (Arbeiter)
Axel Triebel (Arbeiter)
Kurt Sperling (Arbeiter)
Angelika Waller (Mädchen am Strand)
Helga Bialek (Mädchen am Strand)
Karin Bischoff (Mädchen am Strand)
Hans Maikowski (Tischnachbar im Bierzelt)
Helmut Hellstorff (Tischnachbar im Bierzelt)
Harald Popig (Tischnachbar im Bierzelt)
Heinz Hellmich (Moskwitschfahrer)
Eberhard Köster (Moskwitschfahrer)
Werner Troegner (Urlauber an der Theke)
Karl-Heinz Rothin (Urlauber an der Theke)
Gerhard Lah (Volkspolizist an der Wolgaster Brücke)
Anneliese Edenharter (Fernschreiberin)
Ursula Alberts (Kassiererin)

Make-Up

Alfred Fleischert
Liane Wilk

Unit Production Management
Short Summary (German)
Ende August 1961. Der ehemalige Fremdenlegionär King hat eine Band Rowdys um sich versammelt, mit der er in der DDR sein Unwesen treibt. Nach schlampiger Arbeit auf einer Baustelle, in deren Folge zwei Menschen ums Leben kamen, ziehen sie auf den Zeltplatz Bansin an der Ostsee. Mit Mopedgeknatter, Radiolärm und Gewalttätigkeiten macht die Bande Kahlköpfiger den Urlaubern das Leben zur Hölle. Leutnant Czernik stellt durch Zufall eine Verbindung zwischen dem Unfall auf der Baustelle und den Randalierern in Bansin fest. Da ihnen der Fluchtweg nach Westberlin abgeschnitten ist, gelingt es der Polizei und Czernik, die Bandenmitglieder nacheinander zu verhaften. Als Letzten, nach einer aufregenden Verfolgungsjagd, den Anführer King.
(Quelle: Das zweite Leben der Filmstadt Babelsberg. DEFA-Spielfilme 1946-1992)
Short Summary (Other Languages)
A fine agosto 1961 King, un ex soldato della legione straniera, ha radunato attorno a se un gruppo di teppisti con i quali imperversare nella RDT. Dopo aver lavorato superficialmente in un cantiere edile, causando la morte di due persone, la cricca si trasferisce nel campeggio di bansin sul Mar Baltico, rendendo la vita dei villeggianti un inferno. Impossibilitati a fuggire all'ovest, i membri della gang finiscono in manette. Dopo un avvincente inseguimento, la polizia cattura anche King. (Italienisch)