Die goldene Gans
Director: Siegfried Hartmann, 66 Min., Color, Feature Film
Deutsche Demokratische Republik (DDR)
DEFA-Studio für Spielfilme, 1964
Film/Video Format

35 mm

Length in m

1828

English Title

The Golden Goose

Premiere Date

Release Date (for Cinema)

Literary Source

Gebrüder Grimm: "Die goldene Gans", Märchen

Releases

DVD: ICESTORM Entertainment GmbH / www.icestorm.de
DVD: University of Massachusetts (UMASS) - DEFA Film Library / www.umass.edu/defa
Short Summary (English)
Klaus lives with his two brothers Kunz and Franz in a little village. Together; they ply their trade as cobblers in a small workshop. But the workload rests mainly on the shoulders of ill-treated Klaus. When Kunz and Franz go off into the forest to chop wood for fuel they run into an old woman who begs them for some wine and bread. Rudely and gruffly, they refuse her request and return home without any wood. Klaus then has to set out and he meets the old woman as well. He gladly offers her his frugal meal which is suddenly turned into pancakes and good wine. In addition, he receives a golden goose for his kindness. This fowl possesses a very special property: all those who are prying, nosy, envious and rapacious get stuck fast on it and glued to one another. On his subsequent journey, Klaus therefore collects a weird, motley following. This sight even makes the melancholy princess laugh. Whoever can make her laugh, the king has proclaimed, shall have her for his wife. But in view of the prospective bridegroom's poverty, the king sets Klaus new tasks. But he carries them out with much skill and even manages to disentangle the stuck-together human snake.
The king has no choice but to agree to the wedding. (Source: Progress Film-Verleih)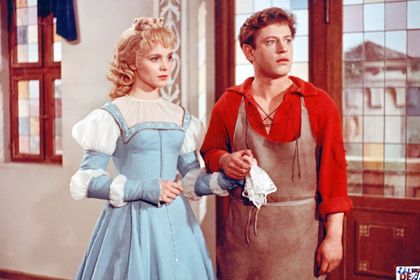 Film Crew
Script

Günter Kaltofen
Siegfried Hartmann

Cast

Kaspar Eichel (Klaus)
Karin Ugowski (Prinzessin)
Uwe-Detlev Jessen (Kunz)
Peter Dommisch (Franz)
Heinz Scholz (König)
Gerd E. Schäfer (Hofgelehrter)
Katharina Lind (Lies)
Renate Usko (Gret)
Fritz Schlegel (Wirt)
Gerhard Rachold (Prinz Störenfried)
Jochen Thomas (Raufbold)
Joachim Fuchs (Schreihals)
Ralph J. Boettner (Hauptmann des Königs)
Walter E. Fuß (Reiter des Königs)
Fritz Decho (Graf Ohnewitz)
Karl Heinz Oppel (Musikant)
Horst Papke (Musikant)
Lutz Erdmann (Musikant)
Karen Fredersdorf (Alte Frau)
Georg Kranz (Herold)
Eva Przezicha (Braut)
Paul Rendelmann (Bräutigam)
Harald Hebenstreit (Tänzer)
Jürgen Funke (Tänzer)
Gerhard Wolff (Tänzer)
Bernd Röther (Spießgeselle)
Hartmut Beer (Spießgeselle)
Hermann Kläring (Müller mit Esel)
Gerhard Töpel (Brautvater)
Hans-Gotthilf Brown (Diener)
Michael Dejak (Wachsoldat)
Karlheinz Haarnagell (Wachsoldat)
Günter Herold (Wachsoldat)
Rainer Leiding (Wachsoldat)
Kurt Zabel (Wachsoldat)
Günter Quast (Wachsoldat)
Regina Will (Stubenmädchen)
Karin Gundermann (Stubenmädchen)
Irmgard Schneider (Die Dicke)
Irmgard Roskos (Die Hagere)

Production Design

Hans-Jorg Mirr
Georg Kranz

Script Editing

Margot Beichler
Gudrun Rammler

Make-Up

Margarete Walter
Helfried Köthke

Unit Production Management

Christel Kruse
Heinz Bullerjahn

Design

Inka Unverzagt (Choreografie)
Awards
Internationales Kinderfilmfestival Gijon (1966): Teilnahmediplom
Short Summary (German)
Klaus lebt mit seinen beiden faulen Brüdern in einer Schusterwerkstatt. Er muß alle Arbeit allein machen. Eines Tages trifft er beim Holzfällen im Wald eine alte Frau, die ihm seine Freundlichkeit mit einer goldenen Gans vergilt. Die hat eine besondere Eigenschaft: Alle Neugierigen, Neidischen, Habgierigen bleiben an ihr hängen. Auf seiner Wanderschaft sammelt Klaus so ein buntes Gefolge, selbst ein Müller mit seinem Esel ist klebengeblieben. In der nächsten Stadt bringt er damit die aus Langeweile in Schwermut verfallene Königstochter zum Lachen. Der König, der demjenigen seine Tochter als Lohn versprach, der dies schafft, stellt angesichts des armen Klaus neue Bedingungen. Klaus löst sie jedoch mit viel Geschick und bekommt die Königstochter.
(Quelle: Das zweite Leben der Filmstadt Babelsberg. DEFA-Spielfilme 1946-1992)
Short Summary (Other Languages)
Grullo, il minore di tre figli, vive in una calzoleria con i fratelli sfaticati, che lo costringono a lavorare per tre. Un giorno, andato nel bosco a far legna, il ragazzo incontra una vecchietta, che per ringraziarlo della sua gentilezza, gli regala un'oca d'oro: tutti i ficcanaso, invidiosi e avidi, che toccano l'animale, rimangono appiccicati l'uno con l'altro. Lungo il suo cammino, Grullo raduna così una lunga fila di persone, costrette a corrergli dietro. Questo fa ridere la figlia di un Re, che la noia aveva reso malinconica. Nonostante il Re avesse promesso la figlia in sposa a chi l'avrebbe fatta ridere, per paura che un volgare ragazzetto gli porti via la figlia, pone altre condizioni. Grullo soddisfa anche queste e sposa la ragazza. (Italienisch)