Die Hochzeit von Länneken
Director: Heiner Carow, 83 Min., Black-White, Feature Film
Deutsche Demokratische Republik (DDR)
DEFA-Studio für Spielfilme, 1963
Film/Video Format

35 mm

Length in m

2282

English Title

The Laenneken Wedding

Premiere Date

Release Date (for Cinema)

Literary Source

Nachbar, Herbert: "Die Hochzeit von Länneken", Roman
Short Summary (English)
Länneken, a little island on Lake Constance, is a place where time seemingly stands still. Traditional customs and age-old power relations are still in place and are unaffected by modern-day influences. Not even the foundation of a fishery cooperative has diminished the power of the two richest fishermen, Pröpping and Grabe. Both men have been bitter rivals for ages. Nevertheless, Grabe's son Henning and Pröpping's daughter Bärbel prepare to break with the traditions that restrict their lives, as they are had over heels in love with each other and want to marry. When Henning's father learns about his son's plans, he throws him out of the house. Old Pröpping puts the young man up because he expects to get access to the best fishing grounds by Henning's and Bärbel's marriage. But when he learns that Bärbel and Henning want to strengthen the cooperative and to give every fisherman a fair share of the fishing grounds, he disinherits his daughter. Yet, neither Grabe nor selfish Pröpping can stop the marriage of their children. Furthermore, the old men will not be able to defy economic equity and progress much longer.
(Quelle: filmportal)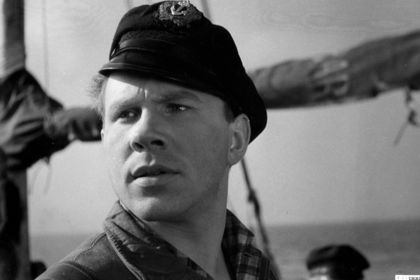 Film Crew
Script

Herbert Nachbar
Heiner Carow

Cast

Hanns Anselm Perten (Heinrich Pröpping, genannt König)
Harry Hindemith (Johannes Grabe, genannt Admiral)
Agnes Kraus (Friederike Pröpping)
Otmar Richter (Henning Grabe)
Brigitte Beier (Bärbel Pröpping)
Dorothea Thiesing (Marta Fögenteich)
Arthur Kupke (Max Wussow)
Ruth Kommerell (Helene Wussow)
Fritz Bartholdt (Klaus Wussow)
Werner Czalla (Fritz Wussow)
Christa Knie (Rotraud Wussow)
Wolfgang Arnst (Fritz Kemper)
Fred Delmare (Karli)
Maria Besendahl (Telegrafen-Timmsche)
Ralph Borgwardt (Schuster)
Dorothea Vieth (Frau von Schuster)
Hermann Badendieck (Bernhard Kalla)
Hermann Wagemann (Hannes Lüssing)
Elisabeth Behnke (Frau von Hannes Lüssing)
Karl-Heinz Nehls (Karl Dassow)
Hans Klering (August Beckmann)
Willi Schwabe (Pastor)
Horst Ziethen (Werner Pröpping)
Walter Lendrich (Versammlungsredner)
Erika Dunkelmann (Anna Grabe)
Friedrich Behnke (Richarding)
Hannelore (auch: Hanna, Hanne) Freudenberger (Amanda)
Günter Propp (Genosse von der Bezirksparteileitung)
Heinz Berlau (Junger "Admiral")
Dieter Unruh (Junger "König" / Genosse der Bezirksparteileitung)

Assistant Camera

Hans-Joachim (auch: Jochen) Zillmer
Rolf-Eckhardt Rambow

Sound

Werner Heller
Konrad Walle

Make-Up

Alois Strasser
Helga Märtens

Unit Production Management

Günter Propp
Waldemar Döring
Short Summary (German)
Auf der Boddeninsel Länneken halten sich die alten Sitten und Machtverhältnisse zäh. Auch die Gründung der Fischereigenossenschaft hat den Einfluss der reichsten Fischer, Heinrich Pröpping und Johannes Grabe, nicht brechen können. In ihren Kindern, Henning Grabe und Bärbel Pröpping, sind ihnen jedoch nicht nur Widersacher im Hinblick auf den alten Familien-Konkurrenzkampf erwachsen, sondern auch Verfechter der neuen Zeit. Henning wird von seinem Vater des Hauses verwiesen, weil er Bärbel heiraten will, von deren Vater aber freudig aufgenommen. Der hofft, durch diese Vereinigung im Kampf um die seit langem umstrittenen besten Fangplätze den Sieg davonzutragen. Doch Henning und Bärbel setzen sich für eine Genossenschaft höheren Typs ein, die die Konkurrenz der einzelnen Brigaden beseitigt und eine gerechte Verteilung der Fangplätze an alle Fischer herbeiführen soll. Der alte Pröpping enterbt daraufhin seine Tochter. Die Hochzeit der jungen Leute und den Fortschritt können die beiden Alten jedoch nicht aufhalten.
(Quelle: Das zweite Leben der Filmstadt Babelsberg. DEFA-Spielfilme 1946-1992)