Die Legende von Paul und Paula
Director: Heiner Carow, 105 Min., Color, Feature Film
Deutsche Demokratische Republik (DDR)
DEFA-Studio für Spielfilme, 1972
Film/Video Format

35 mm

Length in m

2881

English Title

The Legend of Paul and Paula

Premiere Date

Release Date (for Cinema)
Short Summary (English)
Paul and Paula have known each other for a long time, they grew up in the same neighbourhood. Paul has made a career and is married, although unhappily. Paula works in a grocery store and lives alone with her two children. She is about to get married only for safety. Paula and Paul meet each other in a bar by accident. They fall in love, and this feeling very soon develops into a profound emotion. Paul enjoys the moment of happiness, but does not want to risk his position as an employee at the Ministry of Foreign Trade by getting divorced. Paula feels betrayed by him. And when her child dies in an accident she blames herself for it and splits up with Paul. Only now does he realize how much he loves Paula. But she rejects him. He starts to fight for her and and wins her love back. But Paula dies at the birth of their child.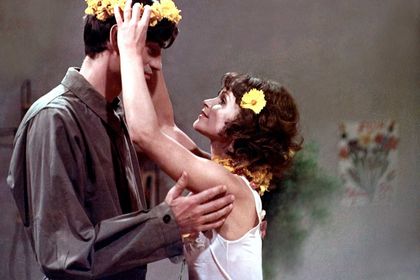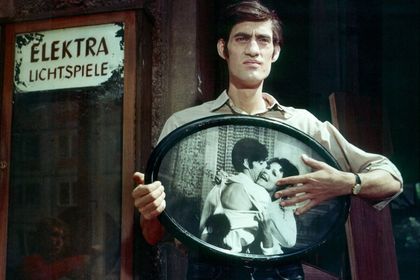 Film Crew
Script

Heiner Carow
Ulrich Plenzdorf

Cast

Angelica Domröse (Paula (Adam))
Winfried Glatzeder (Paul)
Heidemarie Wenzel (Die Schöne (Ines))
Fred Delmare (Reifen-Saft)
Rolf Ludwig (Professor)
Hans Hardt-Hardtloff (Der Schießbudenbesitzer)
Käthe Reichel (Frau des Schießbudenbesitzers)
Frank Schenk (Kollege Schmidt)
Dietmar Richter-Reinick (Kumpel)
Peter Gotthardt (Ein anderer Kollege)
Jürgen Frohriep (Der blonde Martin)
Eva-Maria Hagen (Freundin vom blonden Martin)
Hertha Thiele (Frau Knuth)
Willi Schrade (Liebhaber der Schönen)
Marga Legal (Alte Dame)
Christian Steyer (Colly)
Frank Michelis (Ein Rentner)
Brigitte Beier (Verkäuferin)
Elvira Schuster (Jüngere Verkäuferin)
Jessy Rameik (Richterin)
Wilfried Wolter (Pfarrer)
Victor Keune (Aufpasser)
Edgar Külow (Fotograf)
Bodo Krämer (Mann an der Schießbude)
Bernd Manthey (Wolga-Fahrer)
Hans Merker (Chef)
Detlef Willecke (Bauarbeiter)
Ruth Harter (Garderobenfrau)
Irina Süß (Sehr junges Mädchen)
Manfred Rosenberg (Dirigent)
Robert Glasnek (geb. Ströh) (Pauls Sohn Michael 4 Jahre)
Robert Glatzeder (Pauls Sohn Michael 1 Jahr)
David Wenzel-Veth (Pauls Sohn Michael als Säugling)
Brigitte Kaukel (Paulas Tochter 6 Jahre)
Constanze Engelhardt (Paulas Tochter 3 Jahre)
Mike Zessin (Paulas Sohn Colly 3 Jahre)
David Nietzschke (Paulas Sohn Colly als Säugling)

Sound

Werner Blass (auch: Blaß)
Georg Gutschmidt

Musical Performance

DEFA-Sinfonieorchester (Leitung: Manfred Rosenberg)
György Garay (Violinsolist)
Gustav Schmahl (1. Violinist beim Konzert auf dem Berg im Volkspark Friedrichshain)
Puhdys (Musikgruppe)

Costume Design

Barbara Braumann (geb. Müller)

Make-Up

Bernhard Schlums
Regina Teichmann

Unit Production Management

Dieter Krüger
Karl-Heinz Rüsike
Theo Scheibler

DEFA Photography

Manfred Damm
Herbert Kroiss
Short Summary (German)
Paul und Paula kennen sich schon lange - vom Sehen. Sie sind im selben Viertel aufgewachsen. Paul hat beruflich Karriere gemacht, aber führt eine unglückliche, zur Routine erstarrte Ehe. Paula lebt allein mit ihren beiden Kindern. Bei ihrer ersten wirklichen Begegnung werden beide von einer leidenschaftlichen Liebe erfasst. Für Paula, die schon mit dem Gedanken gespielt hat, eine "Sicherheits-Ehe" mit Reifen-Saft einzugehen, ein Glücksgefühl, dem sie sich kompromisslos hingibt. Paul dagegen ist verwirrt und nicht bereit, seine gesellschaftliche Position als Mitarbeiter im Ministerium für Außenhandel aufs Spiel zu setzen. Er genießt den kurzen Augenblick des Glücks und wahrt ansonsten den Schein - in der Ehe und vor seinen Kollegen. Für Paula wird der Unfalltod ihres Kindes zum auslösenden Moment, sich von Paul, der sich nicht zu ihr bekennt, zu trennen. Erst angesichts des Verlusts erkennt er die Tiefe seiner Liebe und auch, dass Paula ihn braucht. Aber nun verweigert sie sich. Paul wirft alle Scheu und die Angst vor den zu erwartenden Konsequenzen von sich, belagert tagelang Paulas Wohnungstür, die er schließlich unter dem Beifall der Hausbewohner mit einer Axt einschlägt - und erobert Paula zurück. Doch das gemeinsame Kind, Paulas drittes, bringt ihr den Tod.
(Quelle: Das zweite Leben der Filmstadt Babelsberg. DEFA-Spielfilme 1946-1992)
Short Summary (Other Languages)
"La légende de Paul et Paula" est une des histoires d'amour les plus charmantes des années 70 et devenu un film culte qui a touché les plus jeunes et les plus âgés en Allemagne de l'Est. (Französisch: Maison Heinrich Heine / 60 Jahre DEFA)
Histoire d'amour entre un homme jeune, mariè et père d'un petit garçon, que sa situation professionnelle, son caractère n'incite pas à divorcer, et une jeune femme, mère célibataire de 2 jeunes enfants, qui a décidé de demander tout à la vie et même l'impossible. (Französisch: Archives Seine Saint Denis)
Paul e Paula, cresciuti nello stesso quartiere, si conoscono da tempo, ma solo di vista. Paul, funzionario in carriera, conduce una monotona e infelice vita coniugale; Paula vive sola con i suoi figli. Al loro primo vero incontro i due sono travolti dalla passione. Mentre Paula si concede senza compromessi, sognando il matrimonio, Paul è confuso e teme di compromettere la sua posizione presso il Ministero per il Commercio Estero. La morte di uno dei figli in un incidente porta Paula a troncare la sua relazione. Solo ora Paul si accorge di quanto la ami e fa di tutto per riconquistarla. Nuovamente insieme, concepiranno un figlio, ma questa terza gravdanza costerà a Paula la vita. (Italienisch)
Paul y Paula son dos vecinos que tan sólo se conocen de vista desde que eran jóvenes. Paul es un alto cargo del gobierno de la RDA pero vive inmerso en una crisis matrimonial. Paula es una mujer soltera con dos hijos. Paula nunca ha tenido suerte con el amor. Ellos se encuentran en un bar y la pasión entre ellos empieza a brotar. El espíritu libre e independiente de Paula trata de liberar a Paul de su vida supuestamente perfecta. Pero no será hasta el final, cuando él ve que la va a perder y por eso afrontará su verdaderos sentimientos. (Spanisch)