Die Mörder sind unter uns
Director: Wolfgang Staudte, 87 Min., Black-White, Feature Film
Deutschland (Sowjetische Zone)
DEFA-Studio für Spielfilme, 1946
Film/Video Format

35 mm

Length in m

2400

Other Title

Den Mann, den ich erschießen werde

English Title

The Murderers Are among Us

Premiere Date

Release Date (for Cinema)
Short Summary (English)
For many years The murderers are among us set the tone for the postwar discussion of German gulit and atonement. According to The New York Times (4/11/02) it is the "noirish debut of the postwar German film industry, wich baldly confronted issues of guilt for mass murder." The story's lack of explicit references to Jews and their fate at the hands of the Nazis now seems incongruous in this otherwise forthright film and reveals much about the contradictions of the early postwar period. Hildegard Knef's first major screen role.
(Source: DEFA Film Library - Shadows and Sojourners)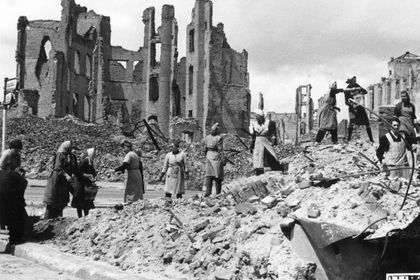 Film Crew
Camera

Friedl Behn-Grund
Eugen Klagemann

Film Editing

Hans Heinrich (geb. 1911)

Cast

Hildegard Knef (Susanne Wallner)
Ernst Wilhelm Borchert (Dr. Mertens)
Erna Sellmer (Frau Brückner)
Arno Paulsen (Ferdinand Brückner)
Michael Günther (ihr Kind Herbert)
Christian Blackwood (auch: Schwarzwald) (ihr Kind Otto)
Robert Forsch (Mondschein)
Elly Burgmer (Mutter des kranken Kindes)
Marlise Ludwig (Sonja)
Hildegard Adolphi (Daisy)
Albert Johannes (Bartholomäus)
Ursula Krieg (Carola Schulz)
Wolfgang Dohnberg (Fritz Knochenhauer)
Ernst Stahl-Nachbaur (Arzt)
Wanda Peters (Schwester)
Käthe Jöken-König (Kundin)
Christiane Hanson (Dienstmädchen)

Assistant Director

Hans Heinrich (geb. 1911)

Assistant Camera

Rudolf (auch: Rudi) Müller

Make-Up

Friedrich (auch: Fritz) Havenstein
Otto Fustrück

Unit Production Management

Willy Herrmann
Max Sablotzki
Short Summary (German)
Berlin 1945. Susanne Wallner, eine junge Fotografin, kehrt aus dem Konzentrationslager zurück, doch ihre Wohnung ist besetzt. Hier lebt seit kurzem der aus dem Krieg heimgekommene Chirurg Mertens, der seine furchtbaren Erinnerungen mit übermäßigem Alkoholgenuss zu verdrängen sucht. Die beiden arrangieren sich, und mit Susannes Hilfe findet Dr. Mertens langsam wieder zu sich selbst. Da begegnet ihm sein ehemaliger Hauptmann Brückner, nun ein aalglatter Geschäftsmann, dem es egal ist, ob er aus Stahlhelmen Kochtöpfe macht, oder umgekehrt. Mertens' Gewissen rebelliert, und am Weihnachtsabend 1945 will er Sühne fordern für ein von Brückner drei Jahre zuvor im Osten befohlenes Massaker an Frauen, Kindern und Männern. Im letzten Moment kann Susanne ihn davon überzeugen, dass die Vergeltung solcher Schuld keine Privatangelegenheit ist, sondern der Kriegsverbrecher vor ein Gericht gehört.
Filmtext: Ellen Blauert (Hrsg.): Die Mörder sind unter uns. Ehe im Schatten. Die Buntkarierten. Rotation. Vier Filmerzählungen nach bekannten DEFA-Filmen. Berlin: Henschelverlag 1969.
(Quelle: Das zweite Leben der Filmstadt Babelsberg. DEFA-Spielfilme 1946-1992)
Short Summary (Other Languages)
Nel 1945 Susanne Wallner, una giovane fotografa sopravvissuta al campo di concentramento rientra a Berlino, ma trova il suo appartamento occupato dal Dott. Mertens, un chirurgo militare ossessionato dalle atrocità a cui ha assistito durante la guerra. Il Dott. Mertens scopre che un suo superiore, responsabile di vari crimini, si è riciclato come rispettabile industriale. Vorrebbe ucciderlo, ma ne è distolto dall'amore per Susanne che lo convince a denunciarlo. (Italienisch)
É o primeiro a abordar a questão dos crimes cometidos durante a Segunda Guerra, buscando se opor aos filmes de propaganda nazista. Foi realizado por Wolfgang Staudte, cineaste que começou sua carreira durante o regime nacional-socialista. Suas imagens contêm forte influência expressionista, estética condenada pelos nazista. Berlim, a poderosa capital do Terceiro Reich, é mostrada em escombros e ruínas, revelando a destruição de que foi alvo. Ele faz parte do projeto de reeducação do povo alemão para se libertar dos valores nazistas e enfrentar as questões do pós-guerra. O antifascismo é uma das principais características e metas da producão da DEFA. (Portugiesisch: atrás do muro havia cinema: filmes da defa, alemanha oriental 1946-1992)