Die Pflaumenbäume sind wohl abgehauen...
Director: Kurt Tetzlaff, 10 Min., Black-White, Documentary
Deutsche Demokratische Republik (DDR)
DEFA-Studio für Dokumentarfilme, 1978
Film/Video Format

35 mm

Length in m

265

Other Title

Marie A.

English Title

The Plum Trees have no doubt been lopped

Premiere Date

Release Date (for Cinema)

Releases

DVD: University of Massachusetts (UMASS) - DEFA Film Library / www.umass.edu/defa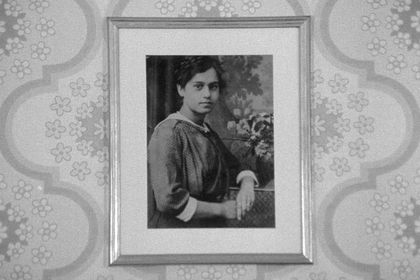 Film Crew
Script

Joachim (auch: Jochen) Niebelschütz
Kurt Tetzlaff
Short Summary (German)
Vor der Kamera äußert sich die heute fast 80jährige Marie Amann, eine Jugendliebe des damals 18jährigen Bertolt Brechts. Sie erinnert sich an den jungen Dichter und an ihre eigenen Gefühle für ihn, die aus Neugier, Stolz, Liebe, Unverständnis und auch Angst zusammengesetzt waren. Sie war es die das Verhältnis beendete. Brecht widmete ihr eines seiner schönsten Gedichte "Einnerungen an Marie A.". Aus dem Gedicht wurde ein Lied, das von Ernst Busch im Film gesungen wird. Die einzelnen Strophen kommentieren die Erinnerungen der alten Dame, die durch Fotografien anschaulich gemacht werden.