Die Reise nach Sundevit
Director: Heiner Carow, 75 Min., Black-White, Feature Film
Deutsche Demokratische Republik (DDR)
DEFA-Studio für Spielfilme, 1965 - 1966
Film/Video Format

35 mm

Length in m

2042

English Title

The Journey To Sundevit

Premiere Date

Release Date (for Cinema)

Literary Source

Pludra, Benno: "Die Reise nach Sundevit", Erzählung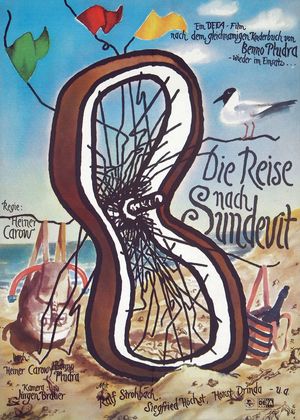 Short Summary (English)
Timm is the son of a lighthouse keeper. In his remote home setting, Timm often feels lonely. When Young Pioneers pitch their tents nearby, he is overjoyed. Friendships develop very fast. When Timm is allowed to travel to Sundevit with his new friends he is delighted. Before the journey, however; he has to carry out an assignment - but this takes longer than he hoped it would. On the way, he keeps meeting people in need of his help. And Timm helps them although he becomes increasingly pressed for time.
When he finally returns, the Young Pioneers have al ready left. Tim decides to follow them but, due to carelessless, he exposes himself to danger. Finally, he is picked up in a military exercise area and taken to the police. When he relates his experiences, kind people help him - in the end, he manages to reach his destination Sundevit and to meet up with his friends.
Source: Progress Film-Verleih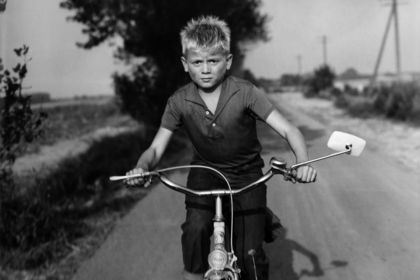 Film Crew
Script

Heiner Carow
Benno Pludra

Cast

Ralf Strohbach (Tim Tammer)
Siegfried Höchst (Kalli)
Horst Drinda (Abschnittsbevollmächtigter)
Arno Wyzniewski (Oberwachtmeister Schröder)
Ralph Borgwardt (Theo Brom)
Fritz Bartholdt (Vater Tammer)
Ursula Wolf (Mutter Tammer)
Hans Hardt-Hardtloff (Bradenkuhl)
Otmar Richter (Herbertchen)
Peter Stegmann (Hermann)
Ilse Hirt (Alte Frau)
Ernst-Georg Schwill (Arbeiter)
Günter Drescher (Volkspolizist)
Detlef Heintze (Henry)
Klaus-Jürgen Kramer (Edgar)
Peter Dommisch (Ober)
Elvira Dinse (Angela)
Birgit Seibt (Angelas Freundin)
Armin Mechsner (Freddy)
Petra Kelling (Elisa)
Kurt Klamann (LPG-Vorsitzender)

Music

Wolfgang Ziegler (Komponist, Instrumentalist "Beat Quartett")
Lothar Seyfarth (musikalischer Berater, Dirigent; Arrangeur, Komponist zweier Titel)
Karl-Ernst Sasse (Bearbeitung)

Musical Performance

Eckard Woytowicz (Instrumentalist "Beat Quartett")
Wolfgang Fennel (Instrumentalist "Beat Quartett")
Hans-Joachim Seering (Instrumentalist "Beat Quartett")

Unit Production Management

Horst Schmidt
Günter Berger

DEFA Photography

Horst Blümel
Wolfgang Klose
Awards
Heinrich-Greif-Preis I. Klasse (1967): Dramaturgin - Gudrun Rammler
Heinrich-Greif-Preis I. Klasse (1967): Kameramann - Jürgen Brauer
Heinrich-Greif-Preis I. Klasse (1967): Regisseur - Heiner Carow
Short Summary (German)
Tim, der als Sohn eines Leuchtturmwärters ein recht einsames Leben führt, ist glücklich, als Pioniere ihre Zelte bei ihm aufschlagen. Die Kinder freunden sich an, und er darf mit ihnen nach Sundevit fahren, um dort die Ferien zu verbringen. Einen Auftrag aber muss er vor der Reise noch schnell erledigen. Unterwegs trifft er immer wieder auf Menschen, die seine Hilfe brauchen. Er hilft, obwohl ihm die Zeit davonläuft. Endlich zurück, sind die Pioniere weg. Tim fährt ihnen nach und gerät dabei durch Unvorsichtigkeit in Gefahr. Auf einem Manövergelände wird er aufgegriffen und zur Polizei gebracht. Als er seine Geschichte erzählt, finden sich Menschen, die ihm jetzt helfen. So erreicht er Sundevit und seine Freunde doch noch.
(Quelle: Das zweite Leben der Filmstadt Babelsberg. DEFA-Spielfilme 1946-1992)