Die Russen kommen
Director: Heiner Carow, 95 Min., Black-White, Feature Film
Deutsche Demokratische Republik (DDR)
DEFA-Studio für Spielfilme, 1968 - 1987
Film/Video Format

35 mm

Length in m

2612

Other Title

Um den Preis unseres Lebens

English Title

The Russians are coming

Premiere Date

Release Date (for Cinema)

Literary Source

Richter, Egon: "Die Anzeige", in: "Ferien am Feuer", Erzählung

Releases

DVD: Filmmuseum München, DEFA-Stiftung und Goethe-Institut München / www.edition-filmmuseum.com
University of Massachusetts (UMASS) - DEFA Film Library / www.umass.edu/defa
DVD: ICESTORM Entertainment GmbH / www.icestorm.de
Short Summary (English)
It is March 1945, and 15-year-old Günter still believes the war will end in victory. During a manhunt for a runaway immigrant laborer, Günter proves himself the ablest hunter. He turns the man over to the local police who then shoot the foreigner. Günter is proud of himself, and although his father has recently died in battle, the boy volunteers to be sent to the front. On his first mission, Günter comes under attack from the Russians, and he flees. When the Russian army marches in to Günter's village, the boy is arrested for the murder of the laborer. His experiences throw him into intense confusion. Soon he asks himself: How can he live with his guilt?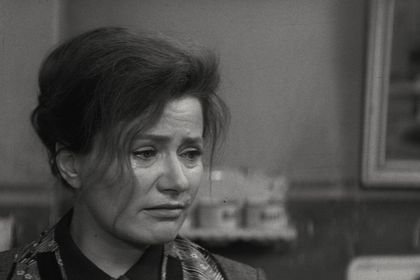 Film Crew
Script

Claus Küchenmeister
Heiner Carow

Cast

Gert Krause-Melzer (Günter Walcher)
Viktor Perewalow (Russischer Junge)
Dorothea Meissner (Christine)
Norbert Christian (Vater Bergschicker)
Karla Runkehl (Mutter Bergschicker)
Wsewolod Safanow (Golubkow)
Rolf Ludwig (Vater Walcher)
Lissy Tempelhof (Mutter Walcher)
Hans Hardt-Hardtloff (Polizist)
Claus Küchenmeister (Willi)
Alexander Slobotschikow (Kulossow)
Walter Ruge (Mann mit Jägerhut)
Ulrich Teschner (Bannführer)
Frank Schenk (Ritterkreuzträger)
Peter Bause (Deutscher Soldat)
Renate Heymer (Junge Frau)
Berko Acker (Junger Soldat)
Max Klingberg (Pedel)
Hildegard Friese (Christines Großmutter)
Erika Müller-Fürstenau (Günters Tante)
Igor Turewitsch (Sowjetischer Soldat)
Gerhard Hänsel (Deutscher Soldat)
Christian Stövesand (Deutscher Soldat)
Norbert Speer (Matrose)

Sound

Hans-Joachim Kreinbrink
Werner Klein

Unit Production Management

DEFA Photography

Eberhard (auch: Franz-Eberhard) Daßdorf
Awards
5. Nationales Spielfilmfestival der DDR in Karl-Marx-Stadt (1988): Preis für Regie - Heiner Carow
5. Nationales Spielfilmfestival der DDR in Karl-Marx-Stadt (1988): Preis für Schnitt - Evelyn Carow
5. Nationales Spielfilmfestival der DDR in Karl-Marx-Stadt (1988): Preis für Kostüm - Werner Bergemann
Short Summary (German)
Frühjahr 1945. Günter, ein 15-jähriger Junge in einem kleinen Ostseebad, glaubt noch immer an den Endsieg. Bei der Jagd auf einen entflohenen Fremdarbeiter ist er der Schnellste. Er stellt ihn, der dann vom Dorfpolizisten erschossen wird. Stolz nimmt Günter das Eiserne Kreuz II entgegen und meldet sich freiwillig zum Fronteinsatz, obwohl sein Vater bereits gefallen ist. Weder die Mutter noch der Lehrer können ihn davon abhalten. Bei seinem ersten Einsatz wird er von sowjetischen Soldaten angegriffen, kann aber nach Hause fliehen. Kurz nachdem die Sowjetarmee den Ort besetzt hat, wird Günter wegen Mordes an dem Fremdarbeiter verhaftet. Er verrät den wirklichen Mörder nicht, doch der Fall wird aufgeklärt. Und als der Polizist Günters Schweigen erzwingen will, weigert er sich, den Mörder zu decken. All diese Ereignisse bringen ihn dem Wahnsinn nahe. Der Einmarsch der Roten Armee, seine Verhaftung, die folgenden Tage im Keller stürzen ihn in tiefste Verwirrung, lassen ihn seine Schuld erahnen.
(Quelle: Das zweite Leben der Filmstadt Babelsberg. DEFA-Spielfilme 1946-1992)
Short Summary (Other Languages)
Nel 1945 Günter, un quindicenne originario di una piccola località turistica sul Baltico, crede ancora nella vittoria finale. Contribuendo alla cattura e, dunque, alla fucilazione di un lavoratore immigrato fuggito, il ragazzo viene insignito con la Corce di Ferro. Malgrado la morte del padre, caduto in guerra, e il parere contrario della madre e del suo insegnante, Günter parte per il fronte, ma al primo attacco sovietico, fugge e ritorna a casa. Con l'occupazione sovietica Günter viene arrestato per l'uccisione del lavoratore immigrato. L'avvento dell'Armata Rossa, la sua cattura e i giorni in prigione portano il ragazzo a intuire le sue colpe. (Italienisch)