Die Schönste
Director: Ernesto Remani, 94 Min., Feature Film
Deutsche Demokratische Republik (DDR)
DEFA-Studio für Spielfilme, 1957 - 1959
Short Summary (English)
13-year old Thomas Berndorf, the son of the rich business man Alexander Berndorf, becomes friends with Hannes Wille, whose father works as foreman. They get to know each because Hannes sometimes is allowed to polish Berndorf's Mercedes 300. They make a bet whose mother is the most beautiful. Hannes assumes that Mrs. Berndorf is only admired for her expensive jewellery. Thus, he suggests that Thomas should steal a collier from his mother. Out of solidarity, he also robs a golden brooch from his mother.
At home at the Berndorfs, a severe crisis threatens Thomas's parents' "marriage of convenience", and financial hardships are following on the theft. When Hannes and Thomas are hitchhiking to Hamburg, a tramp gets them back to Berlin. They give back the collier, the situation ameliorates, and everything is back in order. Nevertheless, the Berndorfs start to ask themselves about the meaning of their life and promise each other to better care for each other in the future.
(Quelle: filmportal)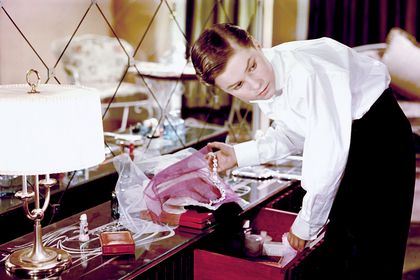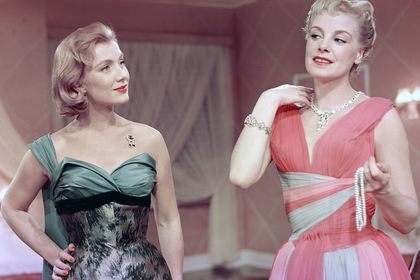 Film Crew
Script

A. Arthur Kuhnert
Ernesto Remani
Ilse Langner

Cast

Willy A. Kleinau (Berndorf)
Ursula Burg (Frau Berndorf)
Jürgen Büttner (Thomas Berndorf)
Gerhard Bienert (Wille)
Gisela May (Frau Wille)
Jochen Hesse (Hannes Wille)
Hildegard Schreiber (Susanne, Berndorfs Geliebte)
Siegfried Schürenberg (Wiedemann)
Charlotte Daudert (Frau Berndorfs Freundin)
Waltraud Becker (Frau Berndorfs Freundin)
Jarmila Ksirova
Friedrich Gnaß
Maly Delschaft
Hans Stetter
Gerd Michael Henneberg
Gabriele Hoffmann
Wolf Beneckendorff
Waltraud Kogel
Herbert Kiper
Ilse Abel
Axel Triebel
Margarete Gräf
Kurt Ulrich
Harro Tenbrook
Rudolf Ulrich
Manfred Krug (Straßenmusiker (Fassung Walter Beck))

Production Design

Alfred Hirschmeier
Artur Günther

Make-Up

Marian Babiuch
Gertraut Bodenstein

Unit Production Management

Christel Kruse
Otto Schröder
Short Summary (German)
Mitte der 1950er-Jahre in Westberlin. Die Familie des Geschäftsmannes Alexander Berndorf ist reich, die des Werkmeisters Hannes Wille rechtschaffen. Dessen Sohn Hannes verdient sich sein Taschengeld, indem er gelegentlich den Mercedes 300 von Berndorf auf Hochglanz poliert. Thomas, Berndorfs 13-jähriger Sprössling, freundet sich mit Hannes an. Beide kommen auf die Idee, ihren Müttern Schmuck zu entwenden: Frau Berndorf das teure Kollier, Mutter Wille die mühsam zusammengesparte Goldbrosche. Für Hannes ist es nur ein Streich - nachdem er sieht, dass die Mutter den Verlust mit Gelassenheit trägt, legt er die Goldbrosche wieder zurück. Thomas aber möchte sehen, ob seine Mutter auch ohne Kollier die Schönste ist. Das Verschwinden des Schmuckes löst im Hause Berndorf eine Krise aus. Ein für die Scheinfinanzierung der neu gegründeten Firma des Vaters wichtiger Geldgeber erfährt von einem Juwelier, dass das Kollier nicht bezahlt war und verweigert sich. Auch die "Vernunftehe" der Berndorfs droht zu zerbrechen. Hannes und Thomas sind derweil nach Hamburg getrampt und treffen dort auf einen Landstreicher, der sie - nebst Kollier- wieder zurück nach Berlin bringt. Die Geschäfte sind gerettet, die Berndorfs dem Ruin entgangen. Nun stellen sie sich die Frage nach dem Sinn des Lebens neu, und beschließen, künftig mehr füreinander da zu sein, besonders für Thomas. Den Wettbewerb, wer die Schönste ist, hat jedoch Hannes` Mutter gewonnen.
(Quelle: Das zweite Leben der Filmstadt Babelsberg. DEFA-Spielfilme 1946-1992, S. 538)
Informationen zur Digitalisierung/Rekonstruktion des Films:
Der DEFA-Film "Die Schönste" (Regie: Ernesto Remani) entstand von Januar bis April 1957. Er wurde aus politischen Gründen nicht zum Kinostart freigegeben. Bis 1959 erfolgten Kürzungen, Umschnitte und Neuaufnahmen (Regie: Walter Beck), um den Film ideologisch zu "reinigen". Am 24. August 1961 wurde er endgültig verboten und im Staatlichen Filmarchiv der DDR eingelagert.
Die 2002 erstellte Fassung entspricht dem Original von 1957. Die Rekonstruktion des Films erfolgte in Zusammenarbeit zwischen der DEFA-Stiftung und dem Bundesarchiv-Filmarchiv, Berlin. Redaktion und Dokumentation: Ralf Schenk, Schnitt: Ingeborg Marszalek, Petra Dimitrov. Der Film wurde am 24. Mai 2002 im Berliner Kino "Babylon" uraufgeführt.
Die Remani- und die Becksche Fassung sind zusammen auf DVD erschienen.
Short Summary (Other Languages)
A metà degli anni 1950, a Berlino ovest, Hannes Wille, un ragazzo di modeste origini, si guadagna la paghetta lucidando l'auto del dott. Berndorf, ricco uomo d'affari. Suo figlio Thomas diventa amico di Hannes. Insieme decidono di sottrarre i gioielli delle loro madri: il prezioso collier della signora Berndorf e la modesta spilla dorata della signora Wille. Mentre per Hannes si tratta solo di una marachella, a cui la madre assiste senza scomporsi, Thomas vuole capire se sua madre continui a essere la più bella, anche senza collier. La scomparsa del gioiello manda in rovina la famiglia, rischiando di compromettere anche il matrimonio dei coniugi Berndorf. Hannes e Thomas, fuggiti ad Amburgo in autostop, incontrano un vagabondo che li riporta a casa con tanto di collier. Gli affari sono salvi e così anche la famiglia Berndorf, che, d'ora in poi, si concentrerà meno sulla ricchezza e più sul giovane Thomas. Il premio per la più bella va comunque alla mamma di Hannes. (Italienisch)