Die seltsamen Abenteuer des Herrn Fridolin B.
Director: Wolfgang Staudte, 89 Min., Black-White, Feature Film
Deutschland (Sowjetische Zone)
DEFA-Studio für Spielfilme, 1948
Film/Video Format

35 mm

Length in m

2345

English Title

The Strange Adventures Of Fridolin B

Premiere Date

Release Date (for Cinema)

Releases

DVD: ICESTORM Entertainment GmbH / www.icestorm.de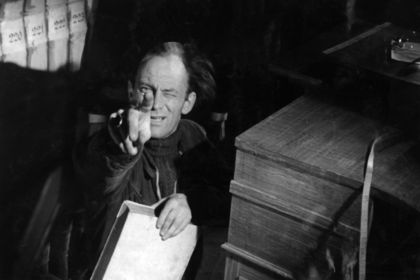 Film Crew
Camera

Friedl Behn-Grund
Karl Plintzner
Ernst Kunstmann (Trick)

Cast

Axel von Ambesser (Fridolin Biedermann)
Ilse Petri (Marlen Weber, Malerin)
Hubert von Meyerinck (Der falsche Biedermann)
Ursula Krieg (Biedermanns Geliebte)
Ruth Lommel (Elvira Sauer)
Joachim Teege (Heini Bock)
Franz Stein (Der Standesbeamte)
Otto Matthies (Ein weiterer Standesbeamter)
Paul Henckels (Der Scheidungsbeamte)
Arno Paulsen (Der Gefängnisdirektor)
Aribert Wäscher (Der Polizeikommissar)
Ernst Legal (Der Polizeipräfekt)
Else Ehser (Die Pensionsdame)
Friedrich Maurer (Der Hagere)
Hans Schwarz jr. (Der Polizist)
Walter Tarrach (Der Registrator)
Eduard Wenck (Der Schreiber)
Egon Brosig (Der Ministerpräsident)
Wolfgang Kühne (Der Kriminalkommissar)
Wulf Rittscher (Der Nachtportier)
Erwin Biegel (Der Gefängniswärter)
Franz Weber (Brückenwache)
Gotthilf Wollmann (Gefängniswärter)
Friedrich Teitge (Polizist)
Helmut Jaeger (Kellner)
Helmuth Bautzmann (Schreiber)
Ludwig Sachs (Begleiter des Ministerprädidenten)
Edgar Pauly (Passant)
Charlotte Ritter (Beamtin)
Erich Schubert (Beamter)
Jean Brahn (Beamter)
Alfred Stein (Beamter)
Rolf Gunold (Beamter)
Gerd Eberhardt (Beamter)

Sound

Klaus Jungk
Günther Bloch

Unit Production Management

Friedrich Kurth
William Neugebauer
Short Summary (German)
Ein anständiger Kleinstadtbürger namens Fridolin Biedermann fährt nach Berlin und möchte endlich einmal etwas erleben. Das gelingt ihm auch. Zuerst fällt er einem Gaunerpärchen in die Hände, das ihn fürchterlich ausnimmt, und - wieder zu Hause - der Justiz. Denn mit den gestohlenen Papieren hat der Gauner in Fridolins Namen nicht nur eine Ehe geschlossen, sondern auch noch anderen Betrug betrieben. Der Biedermann landet als Sträfling erneut in der Hauptstadt, wo er auf einer abenteuerlichen Reise durch die Klippen von Bürokratie und Paragraphen schließlich den Polizeipräsidenten doch noch von seiner Unschuld überzeugen kann. - Der gleiche Stoff wurde 1944 bereits einmal von Wolfgang Staudte verfilmt. Diese Arbeit, Der Mann, dem man den Namen stahl, blieb unvollendet. Laut Staudte wurden Teile des Films in die Neufassung übernommen.
(Quelle: Das zweite Leben der Filmstadt Babelsberg. DEFA-Spielfilme 1946-1992)
Short Summary (Other Languages)
Fridolin Biedermann, onesto cittadino di provincia, decide di recarsi a Berlino per provare l'ebbrezza della grande città. Derubato da una coppia di furfanti, dovrà rientrare subito a casa e fare i conti con la giustizia. Con i documenti di Fridolin, infatti, gli imbroglioni hanno contratto un matrimonio e commesso altre truffe. Biedermann torna a Berlino, questa volta da detenuto. Superando gli scogli burocratici e legali, riuscirà a convincere il questore della sua innocenza. (Italienisch)