Die Weihnachtsgans Auguste
Director: Günter Rätz, Color, Animation Film
Deutsche Demokratische Republik (DDR)
DEFA-Studio für Trickfilme, 1984 - 1985
Film/Video Format

35 mm

Length in m

614

Type of Animation

Puppentrickfilm

English Title

Auguste the Christmas Goose

Release Date (for Cinema)

Literary Source

Wolf, Friedrich: "Die Weihnachtsgans Auguste", Erzählung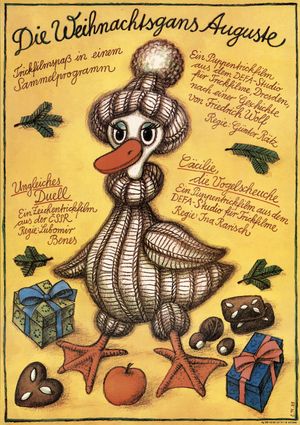 Short Summary (English)
Luitpold Löwenhaupt, the opera singer, buys a goose to roast for Christmas dinner—a month early, in November! His children have other plans for the goose, however. They name her Auguste or "Gustie" and want to keep her as a pet and playmate. Problems inevitably ensue: the parents think Gustie should sleep in the basement, but the children bring her up to their rooms. Little Peter becomes especially attached to the goose and shares his bed with her. Although their mother tries to persuade Luitpold to let the children keep their pet, father is determined to have roasted goose for Christmas dinner. Grandmother is firm: if Luitpold wants roasted goose, he must slaughter Gustie himself. But try as he might, Luitpold just can't do it: he tries once, twice - and seems to succeed. But in the end, Gustie is welcomed back into the family and shares Christmas Eve with the Löwenhaupts. Based on Friedrich Wolf's story of the same title.
(Quelle: DEFA Film Library)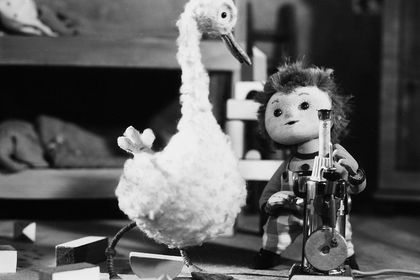 Film Crew
Production Design

Walter Rehn
Gert Morzinek

Sound

Manfred Mammitzsch (Tonregie)
Detlev Weber (Geräusche)

Design

Walter Rehn (Puppengestaltung)
Sybille Härtel (Puppengestaltung)

Animation

Günter Rätz (Puppenführung)
Sibille Zumpe (Puppenführung)

Narrator

Katarina Tomaschewsky
Hildegard Alex
Ruth Kommerell
Wolfgang Dehler
Anja Bräunlich
Antje Mosch
Jens Scharge
Short Summary (German)
Herr Kammersänger Löwenhaupt kauft für das bevorstehende Weihnachtsfest eine lebende Gans, die einen vortrefflichen Braten abgeben soll. Die Mitglieder der Familie freunden sich schnell mit der Gans Auguste an, und keiner ist bereit, das Tier zu schlachten, geschweige denn zu essen. Also versucht der Kammersänger, ein starker Mann zu sein, aber auch er scheitert. So bleibt Auguste in der Familie und wird der Spielkamerad der Kinder.
(Quelle: Die Trick-Fabrik. DEFA-Animationsfilme 1955-1990)