Don Juan - Karl-Liebknecht-Str. 78
Director: Siegfried Kühn, 99 Min., Color, Feature Film
Deutsche Demokratische Republik (DDR)
DEFA-Studio für Spielfilme, 1979
Film/Video Format

35 mm

Length in m

2706

Other Title

Don Juan aus der Provinz

English Title

Don Juan, 78 Karl Liebknecht Str.

Premiere Date

Release Date (for Cinema)
Short Summary (English)
In a backwater town, opera director Andrej Wischnewsky is supposed to put on a production of Mozart's "Don Giovanni". Wischnewsky is a man who is not only fervently devoted to the theater; but he is also someone who passionately loves to work. What makes things difficult for him in this provincial theater is that Wischnewsky finds that he must overcome a host of ironclad, worn conceptions as well as an attitude of particular self-satisfied complacency One of the most pressing problems that Wischnewsky faces, is that presented by the Giovanni stage character; an obese and aging singer; who actively resists the directors attempt to portray his stage role - from the singers viewpoint - in a newfangled dramatization. Finally, the insulted actor chucks his role. Wischnewsky feels obliged to apologize to the offended singer; however; this apology leads to the beginning of truly co-operative teamwork between the two men.
Dealing with the female members of the ensemble proves to be even more complicated for Wischnewsky Vera Kronenthal, who plays the role of Donna Anna, has been in love with the director for a long time, and now she wants to divorce her husband because of Wischnewsky Actually, Wischnewsky would't mind a love affair with Vera, but for the following two reasons an affair with her is simply out of the question: Wischnewsky is himself married, and what's more, he finds Beate Weber; who plays Elvira, more interesting than Vera. But just as he thinks that he has finally reached his goal, Beate gives him the cold shoulder. In spite of everything, the premiere is a great success. Don Juan Wischnewsky, however; simply can't control himself - he's already trying his luck with the understudy actress for the role of Zerline...
Source: PROGRESS Film-Verleih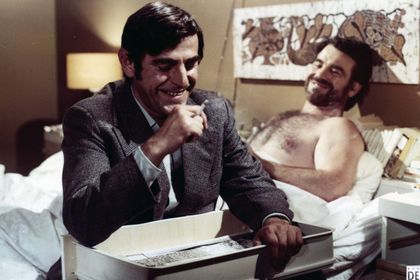 Film Crew
Cast

Hilmar Thate (Wischnewsky)
Ewa Szykulska (Vera)
Beata Tyszkiewicz (Beate Weber)
Helmut Straßburger (Eberhard)
Carin Abicht (Zerlina)
Hilmar Baumann (Kronenthal)
Gertrud (auch: Trude) Bechmann (Wirtin)
Carl Heinz Choynski (Requisiteur)
Fred Delmare (Leporello)
Monika Hildebrand (Frau Eberhard)
Elli Jessen-Somann (Putzfrau)
Ute Lubosch (Regieassistentin)
Günter Margo (Inspizient)
Fritz Marquardt (Eisenbahner)
Hertha Thiele (Alte Sängerin)
Wolf Thiessen (Kapellmeister)
Klaus-Peter Hermann (Ottavio)
Heinz Schmidt (Masetto)
Ulrich Voss (Komtur)
Werner Lierck (Vater)
Horst Beeck (Trainer)
Rudolf Frickau (Alter Meister)
Armin Gröpler (Repetitor)
Heinz Reeh (Adam)
Thea Schmidt-Keune (Frau)
Sina Fiedler (Arbeiterin)
Carlo Schmidt (Arbeiter)
Arnim Mühlstädt (Arbeiter)
Michael Klobe (Arbeiter)
Andreas Müller (Mann in Weiß)
Jan Bereska (Bernd)
Katharina Rothärmel (Frau Mitte 30)
Christel Hertzer (Malerin)
Eveline Schnell (Malerin)
Heidrun Welskop (Sybille)
Wolfgang Bathke (Mann mit Bart)
Tamara Trampe (Frau)
Barbara Rogall (Frau)
Regine Kühn (Frau)
Theresia Wider (Chorfrau)
Cornelia Jahr (Junges Mädchen)
Jürgen Huth (Junger Mann)
Andrea Schmidt (Elviras Zofe)
Hans Feldner (Gast)
Victor Keune (Gast)
Marina Waligora (Gast)
Eva-Maria Schulze (Ältere Dame)
Hanna Petkoff (Dame im Foyer)
Wolfgang Scheuer (Zauberkünstler)
Christian-Victor Keune (Junger Schauspieler)
Zdzislaw Ciupek (Junger Techniker)
Margitta Preil (Gast)
Monika Apelt (Gast)
Lilo Qualmann (Gast)
Rosemarie Langhammer (Gast)
Dagmar Henkel (Gast)
Linda Schmidt (Gast)
Doris Steinmann (Gast)
Ewi Plaue (Gast)
Renate Berg (Gast)
Rosemarie Matner (Gast)
Joachim Binsau (Filvorführer)
Ursula Virgens (Höllentänzerin)
Irmtraut Becher (Höllentänzerin)
Irmgard Sümnick (Höllentänzerin)
Walheide Güldner (Höllentänzerin)
Gudrun Jaster (Höllentänzerin)
Dieter Pose (Höllentänzer)
Wolfgang Jaster (Höllentänzer)
Walter Ruge (Höllentänzer)
Rudolf Kimpfel (Höllentänzer)
Walter Bucksch (Höllentänzer)
Oskar Gose (Höllentänzer)
Rudi Killat (Höllentänzer)
Alfred Fleischer (Höllentänzer)
Helga Wassmer-Witt (Choreografin)
Johanna Freiberg (Ballettmeisterin)
Ronald Reuter (Repetitor)
Margrit Linser (Junge Frau)
Karin Hofmann (Junge Frau)
Gertraut Last (Nachbarin)
Jürgen Hölzel (Erhenkter)
Jan Leitzmann (Höllentänzer)

Assistant Camera

Frank Bredow
Klaus Goldmann

Music

Karl-Ernst Sasse (Und musikalische Beratung)
Wolfgang Amadeus Mozart (Ausschnitt aus der Oper "Don Giovanni")
Joseph Haydn (Ausschnitte aus "Die Schöpfung")
Albert Lortzing (Ausschnitte aus "Zar und Zimmermann")

Sound

Klaus Heidemann
Helga Kadenbach (Tonmischung)
Klaus Wolter (Musikaufnahme)

Musical Performance

DEFA-Sinfonieorchester (Leitung: Manfred Rosenberg)
Elisabeth Breul (Gesang (Beate Weber))
Jürgen Freier (Gesang (Eberhard))
Heidrun Halx (Gesang (Zerlina))
Rolf Tomaszewski (Gesang (Leporello))
Klaus-Peter Hermann (Gesang (Ottavio))
Heinz Schmidt (Gesang (Masetto))
Waldemar Wild (Gesang (Komtur))
Heinz Reeh (Gesang (Adam))
Helga Termer (Gesang)

Make-Up

Jürgen Holzapfel
Christa Eifler

Unit Production Management

Dubbing (Dubbing Actor)

Helga Korén (Vera)
Ursula Genhorn (Beate Weber)
Short Summary (German)
Der Berliner Opernregisseur Andrej Wischnewsky inszeniert in der Provinz den "Don Giovanni". In seinem Bestreben, eingefahrene Arbeitsweisen zu überwinden, stößt er auf Schwierigkeiten - vor allem bei dem Interpreten der Titelrolle. Das führt zu Streit, aber letztlich doch zu einer Einigung. Mit seinem Liebesleben kommt der Regisseur allerdings weniger gut zurecht. Vera, die Sängerin der Donna Anna, ist eine alte Liebe Andrejs, die sich neue Hoffnungen macht. Andrej stellt dagegen Beate nach, der Sängerin der Donna Elvira. Diese jedoch erklärt sich mit Vera solidarisch, sodass der moderne Don Juan es bei der Soubrette versucht - nebenbei ist er auch noch verheirateter Familienvater. Die Inszenierung jedenfalls wird ein Erfolg.
(Quelle: Das zweite Leben der Filmstadt Babelsberg. DEFA-Spielfilme 1946-1992)
Short Summary (Other Languages)
Andrej Wischnewsky, un regista d'opera berlinese, decide, non senza difficoltà, di portare in scena il "Don Giovanni". Vera, l'interprete di Donna Anna, è una sua vecchia fiamma che spera di riconquistare il regista. Andrej, invece, è innamorato di Beate nel ruolo di Donna Elvira. Quest'ultima, solidale con Vera, lascia che il moderno Don Giovanni ci provi con la Soubrette. Peccato che Andrej sia anche già marito e padre di famiglia. Nonostante gli intrighi interni, l'opera riscuote un enorme successo. (Italienisch)